If the makers of sriracha were motivated to make as much money as possible, they might consider selling their famous hot sauce in keychain bottles, the better to serve their most ardent fans—the ones who say they put sriracha on everything they eat.
Alas, David Tran, the owner of Huy Fong Foods in Los Angeles, claims to be uninterested in maximizing profits. Fortunately for consumers, another company has stepped up to provide the packaging that is so obviously desired. It's called Sriracha2Go, and it's selling 1.25-oz. bottles that are adorned with a design closely imitating the Huy Fong rooster sauce label and meant to be clipped onto keychains or thrown into purses. Sriracha2Go is selling empty bottles, instructing customers to fill them with sriracha purchased separately from an authentic distributor.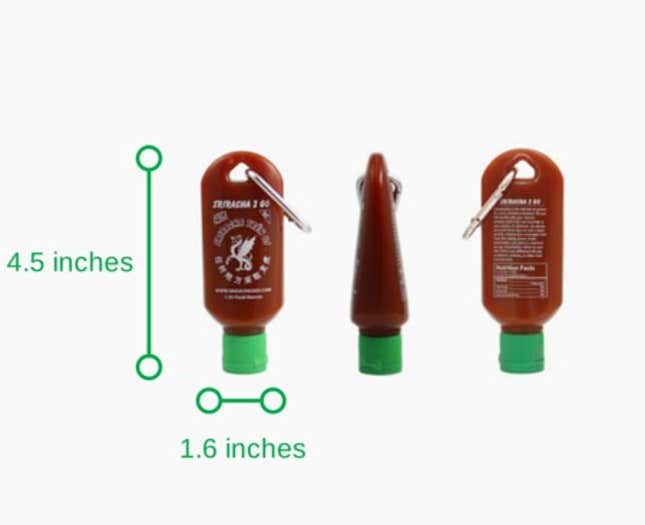 "With S2G, you'll never worry about a sriracha-less meal again," reads the coattail-riding company's website. "Simply fill your empty S2G bottle with your favorite sriracha and clip it to your keychain, slide it in your pocket, or toss it in your purse—you're now set to add sriracha to your breakfast, lunch, dinner, and everything in between."
Carrying one's favorite condiments around to flavor food outside the home is hardly unusual. Alton Brown carries a keychain with kosher salt and nutmeg; Nigella Lawson apparently keeps a container of mustard in her handbag.
Even those who might not call themselves "foodies," if sufficiently attached to a particular ingredient (ahem, sriracha), do this shamelessly.
Sriracha2Go is merely an enabler, then, and an opportunistic one at that.