When Slack launched in February, it was hardly the first chat/messaging service aimed at corporate users. But thanks to smart product decisions, the right mix of features, and good marketing, it has become one of the fastest growing.
Slack now has 285,000 users per day, up from 171,000 in August. This explosive growth allowed Slack to raise a large round of financing this month at a valuation greater than $1 billion.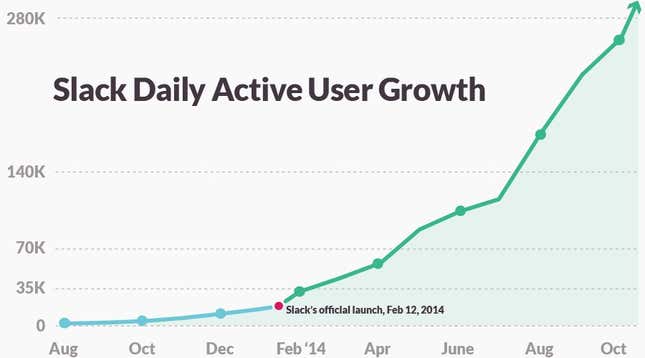 Why is Slack winning while many similar services have failed to catch on? We've identified several things Slack has done right—many of which could be useful lessons for other startups.
Slack is simple enough for new users to jump right in. Many competing group-messaging or collaboration services are either over-engineered or poorly designed. Slack has a great balance. It has an obvious interface, focused around channels—communal chat rooms, typically organized around a topic or team—and direct messaging. Chats can be live in real time, or asynchronous, depending on who's online when. Teams can sign up and start talking to each other right away.
But Slack quickly becomes more powerful when you dig just a little deeper. It launched with several simple but useful "integrations" with other tools, such as Github, a service that software developers use to collaborate on code. In addition to mobile apps, Slack launched with a Mac app. This is an often-overlooked feature that's a delight to people who sit in front of an Apple computer for half the day, such as creative pros or startup workers—influential early adopters who have promoted Slack to their friends and followers. The company says almost half of its users access Slack via the Mac app, and about 55% are using both mobile and desktop on a given day.
Slack has an air of quality that many apps lack—both from startups and big companies. Founder Stewart Butterfield, who previously helped create Flickr, says a bunch of little things add up here. For example, when you paste a link into a Slack chat, it automatically pulls in the title of the webpage and a snippet of content, potentially including an image. If it's a YouTube video, you can play it right within the chat. If it's a link to a tweet, it displays the whole tweet. And you can search all of that information. This elegant sophistication might give companies more confidence to invest time and money into it.
Slack has also been very reliable. It has to be. If it's going to replace email—which almost always works—it needs to stay up.
Slack has an actually-useful free service. The key to growth is to remove as much friction as possible, in both product design and economics. Many groups (including Quartz) are happily communicating on Slack for free. Meanwhile, Slack's "freemium" model is starting to work. The company says more than 73,000 of its daily users are paying customers. Starting at around $7 per user, per month, groups can access premium features like maintaining a full message archive, including search. (Free teams are limited to their last 10,000 messages.) As Slack catches on, and becomes more crucial to its users, those paid features start to feel as important as being able to search your entire email archive.
Slack doesn't nag to convert free customers into paid—it just makes itself essential. The big question now is whether it can ever become a truly mainstream business utility with tens of millions of users. Related to that is whether Slack winds up being acquired by a bigger tech company—such as Microsoft, Google, Facebook, LinkedIn, or Dropbox—that could help further accelerate its growth.