Earlier this week, the rapper Jay Z, acquired the Armand de Brignac champagne brand for an undisclosed amount from Sovereign Brands. The champagne, made in the town of Chigny-les-Roses, comes in a gold bottle embossed with a logo from a deck of cards (hence its nickname of Ace of Spades) and sells for about $300 each.
But for much of the recent history of rap Armand de Brignac was not a champagne that anyone cared to boast they were drinking—if anyone had heard of it. It was all about brands like Moët et Chandon and, especially, Cristal.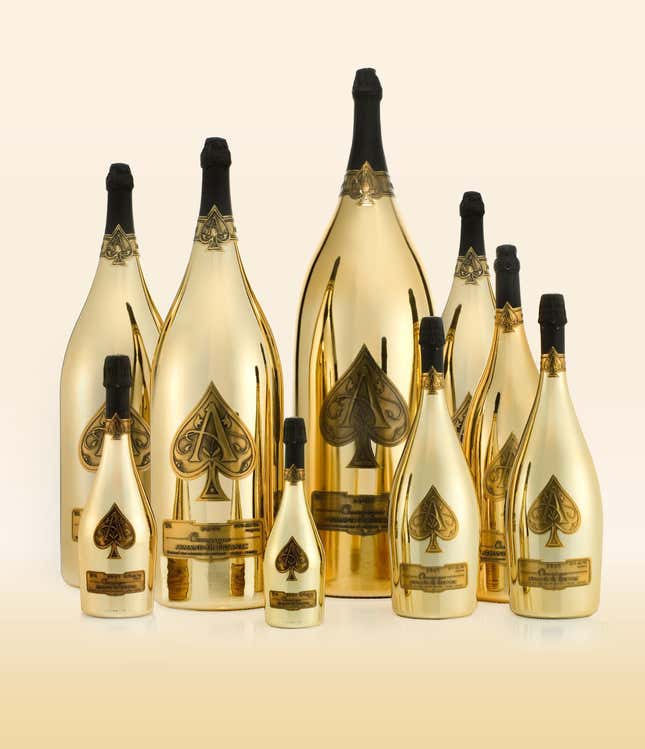 Jay Z recounts in his memoir, Decoded, how he would be drinking Cristal in clubs in 1994, when few of his contemporaries had heard of it. "It told people that we were elevating our game, not by throwing on a bigger chain, but by showing more refined, and even slightly obscure, taste," he says. "We didn't have a record deal yet, but back then we'd show up at clubs in Lexuses and buy bottles of Cristal, while most people in the clubs were buying Moët. It was symbolic of our whole game—it was the next shit."
And at the start of another song, he even teaches listeners how to pronounce Cristal properly (the French way) if you're feeling "grown and sexy."
What happened? In 2006, The Economist interviewed Frederic Rouzaud, the managing director of the company that makes Cristal, on how its owners felt about seeing rappers drink the champagne in their videos. "That's a good question, but what can we do?" he replied. "We can't forbid people from buying it. I'm sure Dom Pérignon or Krug would be delighted to have their business."
Jay Z recounted how he felt to hear that. "That was like a slap in the face… I released a statement saying that I would never drink Cristal or promote it in any way or serve it at my clubs ever again," he said. "I felt like this was the bullshit I'd been dealing with forever, this kind of offhanded, patronizing disrespect for the culture of hip-hop." The rapper put it more succintly in another track, "On To The Next One":
I used to drink Cristal, them motherfuckers racist
So I switched gold bottles on to that Spade shit
He debuted "that Spade shit," meaning Armand de Brignac, in a music video for his single "Show Me What You Got," in 2006, soon after Rouzaud's comments offended rappers and their fans everywhere. Jay Z has been promoting this brand of champagne ever since.
It has never been purely about the taste. (Champagne connoisseurs agree that Armand de Brignac isn't the finest bubbly they ever sipped.) Researching for his book, Empire State of Mind: How Jay-Z Went from Street Corner to Corner Office, Zack O'Malley Greenburg found that from the start, Jay Z was paid millions of dollars (and equity in Sovereign Brands) to promote a champagne brand that no-one had heard of.
O'Malley Greenburg also breaks down the profit margins from the venture. "The production cost per bottle of Armand de Brignac is about $13; the wholesale price is $225. The maximum output is 60,000 bottles per year. If Jay Z splits the $212-per-bottle profit evenly with Cattier and Sovereign, a back-of-the-envelope calculation suggests his annual take would be a little over $4 million." It probably doesn't hurt that Jay Z's champagne comes in gold bottles, just like Cristal did—ergo, the line about "switching gold bottles."
This isn't the first time Jay Z has taken a small step and turned it into big business. For much of the past few years, Jay Z has been associated with partial ownership of the Brookyln Nets basketball team and its home arena, the Barclays Center, where he performed eight sold-out shows to open the venue. As he said at the time:
They call me "Eight Shows H-O,"
You can stunt like that when you own the whole place, though.
Which is true, but not the whole story. Jay Z's face was featured on a 200-foot-tall billboard near Madison Square Garden next to majority owner Mikhail Prokhorov—despite Prokhorov owning 80% of the Nets and Jay Z owning around as little as 0.07% of the team and 0.2% of the Barclays Center, according to the New York Times. (Jay Z since sold his stake.) But the brand association between the rapper and the basketball team worked out brilliantly—giving Prokhorov credibility and a ready-made fanbase, and allowing Jay Z to make a lucrative move into sports management. Here is one client, the baseball player Robinson Cano, celebrating his birthday—with some Ace of Spades:
Don't bet against Jay Z, now with sole ownership of Armand de Brignac, turning it into a brand to rival some of its more storied competitors in French champagne country. He said it himself:
I'm not a businessman,
I'm a business, man.