This is part six of our holiday gift guide for your Quartziest friends and relatives. Collect all the installments here.
You're not being paranoid: Drones really are everywhere these days. And when you're the one at the controls, it's not hard to see why.
The good news is, at least in the US and UK they're legal for non-commercial use. The US Federal Aviation Administration (FAA) says individuals are allowed to fly drones for recreation, so as long as they stay below 400 feet. But there's still plenty of legal gray area around small quad copter drones.
The FAA has a "do's and don'ts" list on its website to educate consumers on where they can fly their drones (i.e. not near airports or out of your line of sight, and not for commercial purposes). The UK's Civil Aviation Authority has a well-designed graphic pamphlet laying out some best practices ("consider rights of privacy," for example). Amazon offers customers a couple of other useful guides. The FAA has said it expects to release comprehensive rules on small drones by the end of the year. Those new rules will likely apply only to those flying drones for commercial use and are reportedly likely to be more restrictive than some had hoped.
Quartz has compiled a selection of some of the best fliers on the market–ranging from around $100 to just under $1,000–for every stripe of lovable geek who would want to fly one.
For the beginner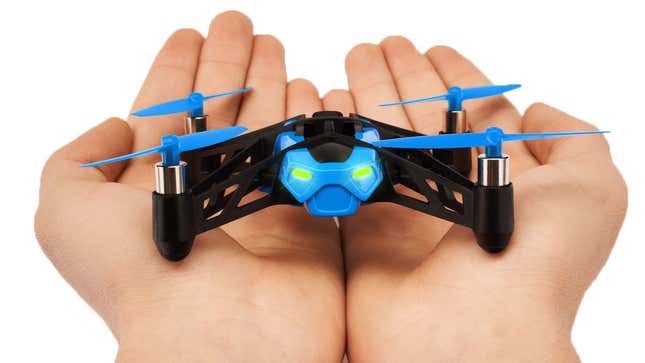 Price: $99
Camera: Yes
Controlled by: Mobile app
Dimensions: 7.6 x 2.6 x 8.1 inches (19.3 x 6.6 x 20.6 cm)
Weight: 55 grams, or 65g with wheels (2 ounces, or 2.3 ounces with wheels)
Battery Life: 8 minutes (6 minutes with wheels) of flight time
Range: Up to 20 meters (66 feet)
At under $100, this is one of the more affordable options, and perfect for beginners. The Rolling Spider is controlled by the Free Flight 3 mobile app (available on most smartphones' and tablets' operating systems). At just 55 grams (2 ounces), it is a lightweight, ultra-compact drone that fits in the palm of your hand.
It has removable wheels that can spin sideways and perform u-turns or execute front and rear loops. And for flying, the drone is equipped with sensor technology that signals to the drone's engines to start when you drop it.
For Facebook-worthy aerial selfies, the Rolling Spider has a vertical camera built in that snaps photos at 60 fps, every 16 milliseconds, of a set point on the ground. These images are taken at a resolution of 300,000 pixels and can be viewed or downloaded from the app.
For the observant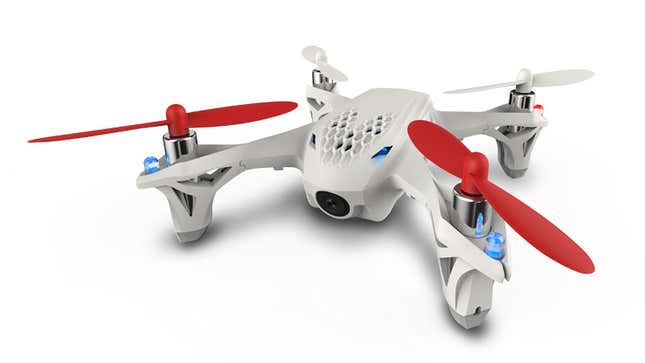 Price: $157
Camera: Yes
Controlled by: Remote
Dimensions: 4 x 4 x 2 inches (10.2 x 10.2 x 5.1 cm)
Weight: 1.7 lb
Battery Life: 5-7 minutes of flight time
Range: Up to 100 meters (330 feet)
This sleek-looking mini-quadcopter, made by the Chinese consumer drone manufacturer Hubsan, is a good pick for the drone enthusiast looking for an interactive flying experience, and less concerned with shooting high-quality aerial photos and video.
With only 0.3M pixels that yield a 640 x 480 resolution, the camera itself isn't as impressive as the others on this list. Hubsan's key selling point is the drone's transmitter remote, which has a built-in-screen allowing you to control the drone's flight from a first-person view (FPV) giving you a real-time bird's-eye observation of what the drone is seeing.
For the speed demon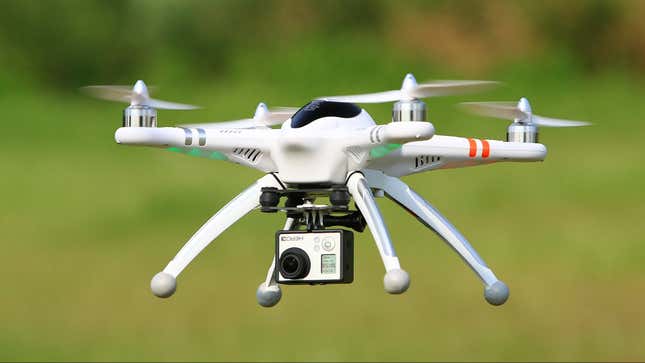 Price: $250
Camera: No
Controlled by: Remote
Dimensions: 11.4 x 11.1 x 7.1 inches (29 x 28.2 x 18 cm)
Weight: 4.2 lb
Battery Life: 9-11 minutes of flight time
Range: Up to 100 meters (330 feet)
This drone is geared to the adept pilot or the drone expert, rather than just the occasional hobbyist. A small portable drone with a GPS built into it, the Walkera has a 1,000-kv motor that makes it one of the fastest consumer drones on the market. It can reach maximum speeds of 45 miles per hour, compared to 35-40 for AirDroid's Pocket Drone, for example.
While most other drones we found were focused on providing high-quality imagery and stability in mid-air, the Walkera prioritizes speed and agility.
It doesn't have a built-in camera, but users can connect their GoPro camera mounts to the X350 to record beautiful aerial video. This is good investment for those who already own and enjoy using their GoPro.
For the cinematographer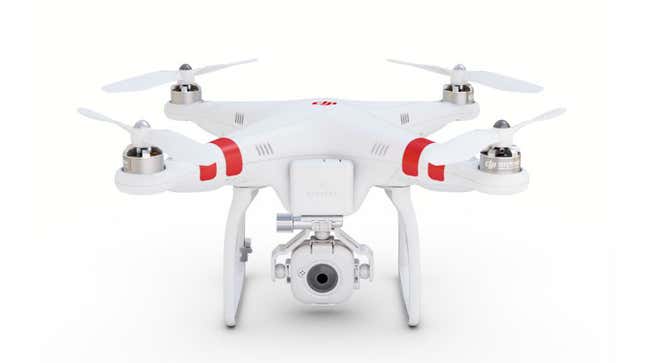 Price: $499
Camera: Yes
Controlled by: Mobile app
Dimensions: 18.9 x 13.4 x 4.7 inches (48 x 34 x 11.9 cm)
Weight: 1.2 kilograms (2.65 lbs)
Battery Life: 10-15 minutes of flight time
Range: up to 100 meters (330 feet)
The Phantom FC40 is geared toward photographers and videographers, but is a good choice for anyone who appreciates aerial cinematography of hard-to-reach places.
It is maybe the most famous consumer drone in America, after it was featured on an episode of the CBS news show 60 Minutes this past summer. It dazzled correspondent Morley Safer as it flew over Austin, Texas, and with good reason.
The Phantom has its own built-in smart camera that records HD video at 720p/30fps and it is controlled by the DJI FC40 app (compatible with iOS or Android). Much like a GoPro, the FC40 camera is mounted onto the Phantom to shoot from different angles.
The device's operating system uses a 2.4G Wi-Fi connection, providing you a longer first person view (FPV) experience than that of the Hubsan. Using the smartphone app, users can see what the camera sees in real time.
For the passionate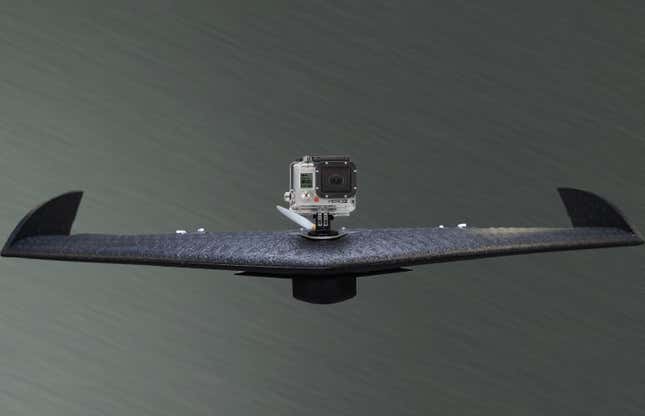 Price: $990
Camera: No
Controlled by: Mobile app
Dimensions: 36.2 x 17.7 inches (92 x 45 cm)
Weight: 850 grams (2 lb)
Battery Life: 25-30 minutes of flight time
Range: 80m-100m (262-330 ft)
The LA100 is geared toward the drone-obsessed and, at just under $1,000, it's a major commitment. The French drone-maker Lehmann Aviation released the revamped LA100 this year, and it is an impressive machine.
The LA100 can support two GoPro cameras (which must be purchased separately) to capture aerial photo and video. The drone's built-in navigation system operates on Wi-Fi connectivity via the Windows-based OperationCenter app (compatible with any touchscreen Windows8 tablet or phone).
Unlike other drones that are controlled in real time, the LA100 has you program the drone via its app, telling it where you want it to go, and once the data is transmitted, the drone launches. Five minutes later—the flights are automated and the time is limited for safety purposes—the drone returns to the spot from where you launched it and lands autonomously, like a futuristic boomerang. 
No piloting is required, which of course takes out the most interactive portion of drone flying. But for those who are less interested in piloting and more in capturing jaw-dropping aerial photo and video, this could be a plus.
At only two pounds, the LA100 can fly at speeds of up to 50 miles per hour, and is designed to endure harsh cold, sweltering heat, and high winds.
The Quartz holiday gift guide