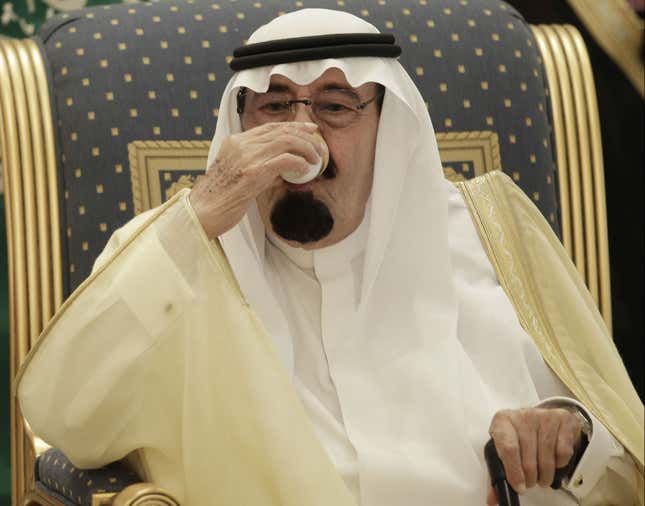 King Abdullah adds some liquidity
Saudi Arabia, vulnerable to the same turbulence that has shaken the rest of the Middle East, has managed to cut the oil price it needs to balance the state budget and maintain domestic peace. In a note to clients, Citigroup's Eric Lee said that Saudi now needs to earn just $70 a barrel to $80 a barrel of oil in order to balance its books. That compares with about $117 a barrel required by Iran and Russia, and the estimated $90 a barrel that the Saudis themselves needed just a few months ago.
The kingdom has achieved this by pumping a lot more oil. Output has been about 10 million barrels a day since at least May, compared with an average of about 8.5 million barrels a day in 2010 and 2011, according to OPEC:
At the time, the ramp-up was an explicit effort by Saudi Arabia to lower global oil prices, in its traditional role as OPEC's chief moderate. Early this year, prices pegged to the Brent benchmark surged above $120 a barrel, and the Saudis sought to reduce them to an average of $100 a barrel (though they are currently higher due to fears of an Israeli attack on Iran). Doing so helped smooth oil price volatility driven by the Arab Spring, and market fears that the political turbulence could spread to Gulf oil producers, including Saudi Arabia itself. The boost also compensated for the loss of oil supplies from Iran due to Western-led sanctions, which have triggered a plunge in Iranian oil exports to just over 1 million barrels a day from 2.4 million last year.
What hasn't been noticed up to now is the Saudis' domestic dividend from all this oil production. When the Arab Spring broke out, King Abdullah sought to tamp down any potential unrest of his own by announcing a $130 billion increase in social spending, such as direct cash bonuses to his working population. Some called that largesse the "Arab Spring tax." But it raised Saudi's break-even oil price to an estimated $90 a barrel. Now, Citibank says, thanks to the higher oil output, the price may be as low as $72.