Egypt's high-end culinary scene has long been dominated by foreign cuisine—sushi, classic French, pizza, international fast food franchises. For the most part, the country's upper class consumes Egyptian food at home, while opting for international cuisine at restaurants.
But this reality is changing in post-revolutionary Egypt, where a resurgence of nationalism has led to a demand for high-end Egyptian restaurants. This charge is being led partly by Chris Khalifa, 29, a rising star in Egypt's culinary landscape. The former investment banker quit his job at EFG Hermes, a leading investment bank in the Middle East, to establish Zooba, a restaurant that serves Egyptian food to Cairo's elite.
"With Zooba, we've managed to create a young, eclectic and trendy culture around Egyptian street food," he said, and customers seem to be eating it up.
The restaurant, located in the posh enclave of Zamalek in central Cairo, opened its doors last March, and serves about 200 customers a day. The menu includes items that were once perceived as "food for the poor," as a customer pointed out while devouring a ful sandwich, on a busy Friday night.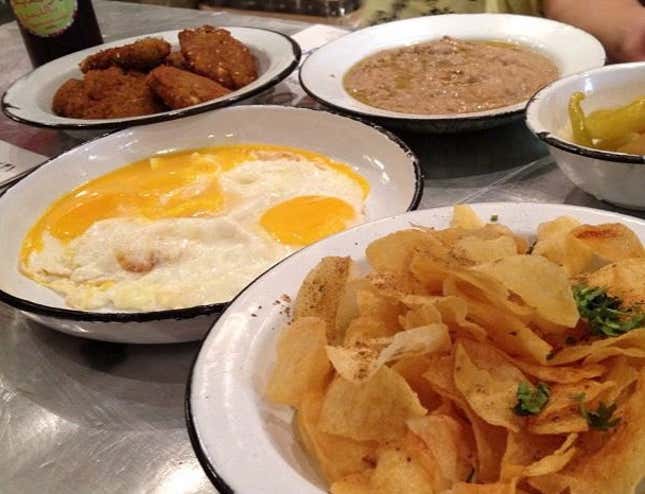 Ful is the king of classic Egyptian street food. The sandwich is typically made of mashed fava beans, olive oil, and lemon juice, although many variations exist. For the 15 million Egyptians living on less than $1 a day, ful makes up an essential part of the daily diet, as it is affordable, and contains fiber that keeps stomachs satisfied for long hours. The sandwich can be purchased from street vendors in Cairo's less affluent neighborhoods for under $0.10 a pop.
Over at Zooba, customers are shelling out nearly 10 times the amount for the same sandwich, in addition to other fare such as lentil soup, falafel, and roasted sweet potato, a popular desert. While Khalifa has to worry about costs like expensive rent, which do not apply to street vendors, much of what he sells is the cool factor he has managed to attach to foods that were once perceived as anything but trendy.
"We've spent a lot of time on developing recipes, but also paid particular attention to details like the decor, packaging, and the brand identity," he said. His efforts and attention to detail are evident in the every nook and cranny of Zooba, from the playful neon letters hanging above the restaurant's entrance, to the potted herbs scattered throughout, and the bright, funky packaging of the food.
Restauranteurs around the country are taking notice to Khalifa's success and offering customers their take on gourmet Egyptian street food. In the last couple of months, similar restaurants have popped up in Zamalek, and other wealthy neighborhoods throughout the sprawling metropolis.
So far, Zooba reigns as fan favorite. "I go to Zooba two or three times a week with friends," said Ghufran El Katatney, a customer and self-proclaimed "Zooba fanatic." She added, "We love the food, and the atmosphere is really fun. I've tried the other new restaurant serving Egyptian food here in Zamalek, but I prefer Zooba. The food is better and the atmosphere is more fun."
At a time when Egypt's ailing economy struggles while transitioning to democracy, Zooba's success is a breath of fresh air. Egypt's unemployment rate has reached a record high, rising from 11.8 percent to 12.6 precent from the first to second quarter of 2012 (according to CAPMAS, Egypt's official statistics agency). Khalifa employs a staff of 30 people, whom he believes are the establishment's biggest asset. In a novel move, he is giving the entire team—from busboys to the head chef—a percentage of the companies profits at the end of the year, along with a portion of the tips and service charges. While this is an uncommon practice in Egypt, Khalifa believes it will make his employees feel personally invested in the company, thus allowing for stellar customer service and brand loyalty.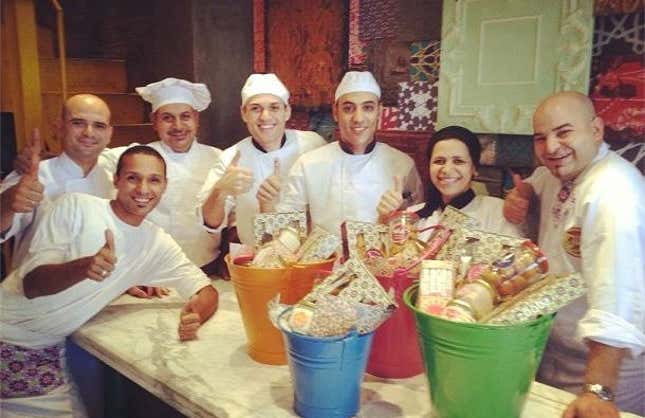 Khalifa is hoping to add two new branches of Zooba in Cairo within the next two years, while working to eventually scale the concept internationally.
His expansion plans may face hurdles. Recent events, such as the deadly anti-American protests across the Arab world, are potentially discouraging signs for foreign investors in the region.
Some, experts, however, are optimistic. Mustafa El- Halwagi, chair of the trade and industry committee at the American Chamber of Commerce in Egypt, and a member of the Egyptian Council for Foreign Affairs, told Quartz, "It is no doubt that foreign investors prefer to see a period of stability; however, many investors from around the world are encouraged by the fact that Egypt has taken steps on the road of democracy. Despite the recent violence, most multinationals corporation currently operating in Egypt have expansions plans that they are continuing to implement up to this minute."
In spite of political and economic turbulence, Khalifa has managed to create a successful brand by providing classics with a twist, to a niche market. In an increasingly globalized world, ethnic street food has taken center stage, so it is no surprise to see the trend emerge in every corner of the globe. It is only a matter of time until Cairo sees its first food truck rolling past the Pyramids of Giza.