HANGZHOU, China—At Alibaba's headquarters here, one man is commanding the world's largest day of online shopping: China's "Singles Day."
"This is my war room," Daniel Zhang, Alibaba's chief operating officer, said to Quartz from behind a small faux wooden desk. In front of him is a Macbook and three large screens attached to a wall, all dark right now—some of the information is confidential, Zhang explained, apologizing. Printouts of contingency plans—in case the company's e-commerce sites buckle under the torrent of traffic, or the customer service center fails—are taped to a white board next to his desk.
It was Zhang's idea some six years ago to offer shopping promotions on Nov. 11, an anti-Valentines Day started by a group of single Chinese university students in the 1990s. Now, the holiday has morphed into an annual flagship event whose sales surpass those of America's Black Friday and Cyber Monday combined. Preparation for the day consumes the company and many of the over 20,000 merchants that sell their wares on Alibaba's platforms during the event. Alibaba has trademarked the "11.11" logo for the holiday, to some controversy.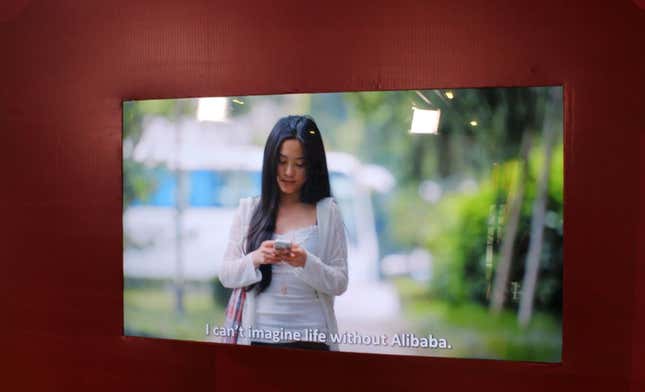 After the e-commerce giant's blockbuster listing on the New York Stock Exchange earlier this year, the company and today's performance are under even more scrutiny. Alibaba's operation on Singles Day mirrors the complex operations that underlie the company, which its executives have taken to calling Alibaba's "ecosystem" of e-commerce. Executives have taken pains to stress Alibaba's distinction from Amazon or its smaller Chinese rival, JD.com: Rather than holding inventory or delivering goods itself, Alibaba connects merchants, customers, and logistics firms to complete e-commerce sales.
It's a model that Alibaba believes can handle the exponential growth of a holiday whose sales so far today—49 billion yuan, or $8.1 billion—are already almost 40% higher than last year's Singles Day, which itself was 90% bigger than the year before. "The most important thing is that our business model is scaleable. If we are simply keeping our own inventory, we would not be able to handle this kind of volume,"Alibaba vice president Joseph Tsai said.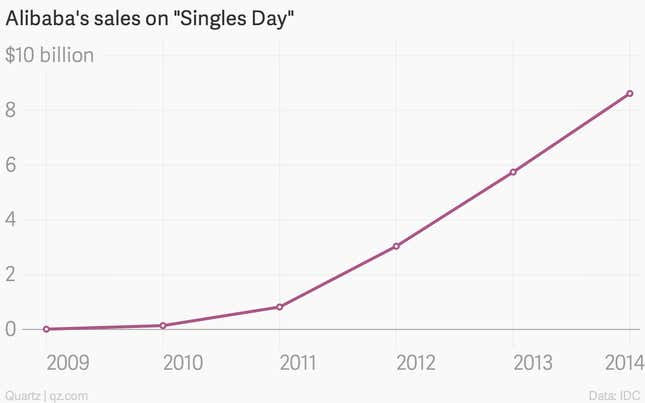 For Alibaba's staff, long hours fueled by Red Bull and Starbucks—there is one on the Alibaba campus, which is also home to a gym, a library, and a post office—have become the norm over the past few weeks. About 11,000 staff have been involved in the holiday's execution.
"I know that people will be happy if they get a good number," Zhang said from the temporary office he uses for Singles Day, "but here, we have to keep quiet and I have my team around me, a small team, I call them my brain."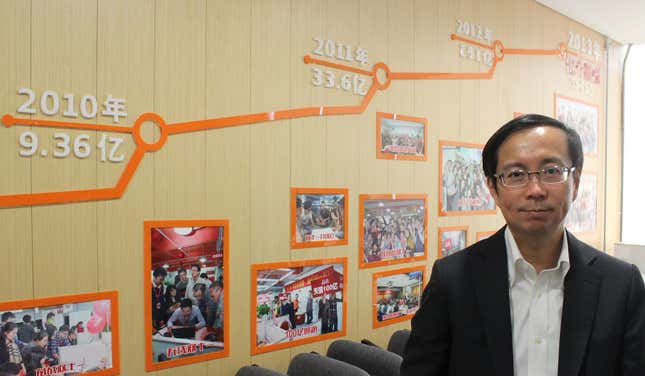 From his perch, Zhang can see everything from how much stock various merchants have, conversion rates that measure how page views translate into purchases, and data on whether people are paying with their bank cards, through cash advances, or Alibaba's third party payment system, AliPay. Zhang and his small team of two or three staffers analyze this data to make decisions throughout the day, including which merchants to feature on the site or how to target customers.
Of the various operations that have to be coordinated—technology, customer service, marketing, working closely with the merchants, and Alipay—maintaining Alibaba's Tmall platform, where most of the discounts take place, is perhaps the most important. In another building on the Alibaba campus, hundreds of engineers and staff from Aibaba's technology department have been standing guard since before the clock struck midnight on Nov. 11. A banner hanging in the back of the room says, "Global shopping party, Ali tech team united." Zhang, who was stationed in that room last night, said he had to ignore a call from founder Jack Ma who was visiting the various operation centers. "I sent a text to him saying, "Sorry boss, I cannot host you right now. He said, 'that's all right,'" Zhang recounted.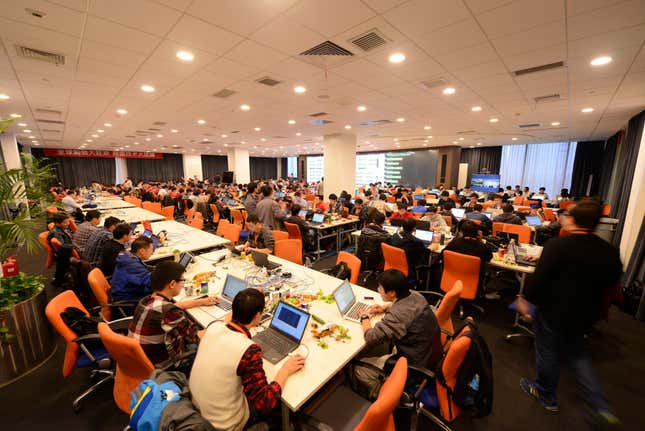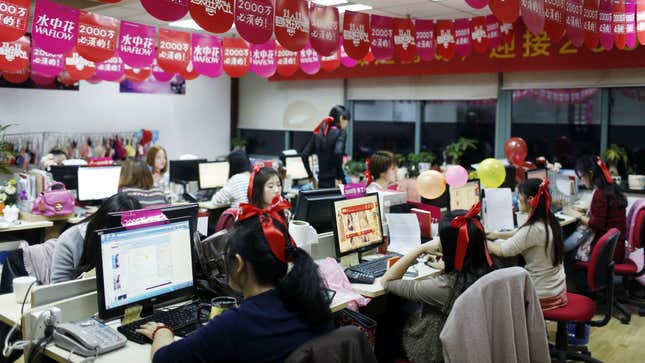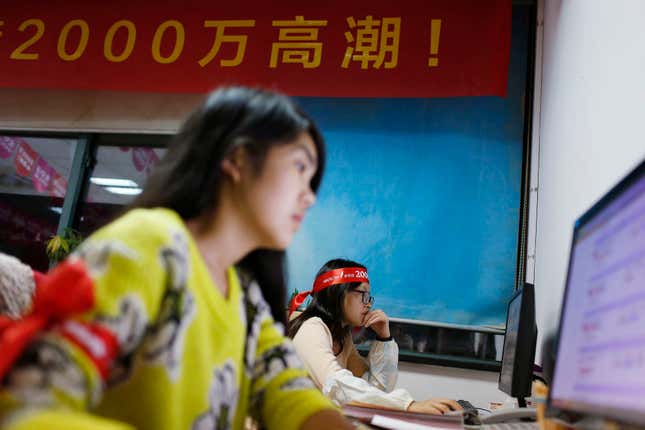 There are always things that can't be predicted. In 2011, incorrect colors and sizes were being listed on merchant sites. In 2009, when Alibaba held its first Singles Day, one contingency plan was to change all the photographs to black and white from color if the website began to fail. More sophisticated contingency plans are in place now that would shut down less important systems, Zhang says.
The holiday generates an enormous amount of traffic and attention for Alibaba but it's not so clear what the ultimate net gain might be. Some merchants complain of depressed sales ahead of 11.11, the cutthroat discounting means lower profit margins, and for some, the entire production is a logistical nightmare.
For Alibaba, Singles Day accounts for only 2% of its annual volume of transactions, but consumes an increasingly large portion of the company's marketing and advertising budget. Last year, expenses during the fourth quarter when the holiday takes place, were almost double what they were for the third quarter, and 50% higher than the year before during the same period, according to the company's prospectus.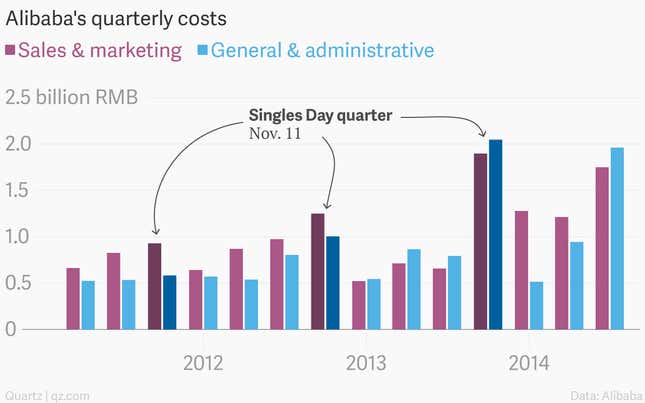 Tsai says that the holiday brings more than just revenue—it creates traffic and with that brand awareness. And he argues that transactions have started to pick up before the holiday, as shoppers start to browse Tmall in preparation. "If you look at the few days leading up to Singles Day our [gross merchandise volumes] are improving. We're not deferring people's purchases and bunching everything into Singles Day. It's actually the opposite," he told Quartz.
Alibaba says Singles Day also allows the company to put its entire operation under a kind of stress test. In the hallways of Alibaba, outside of Zhang's office, the smell of instant noodles is strong. Stacks of plastic lunch boxes, crackers, and candy are strewn across desks that are decorated with balloons and images of the black cat that is Tmall's mascot: Tianmao, or "sky cat."
Some of the staff have been here through the night—two are tucked away in a corner asleep in a set of chairs, wrapped in sleeping bags; a tent has been set up on the carpeted floor nearby.
"It's like a war," Zhang said. "A virtual war but no enemy."