His name is Scott Borchetta, and he looks like the archetypal entertainment industry executive—a curly haired, country music version of Simon Cowell.
Borchetta, 52, is the CEO of Big Machine Records, Taylor Swift's record label. And lately he's been making it abundantly clear to anyone listening that he heavily influenced Swift's decision last week to pull her entire back catalog from Spotify.
He articulated his thinking to Bloomberg Businessweek, which ran a detailed piece this week about Swift's career.
I went to her [Swift] and said, 'If we're going to make a statement, let's be very specific and bold. All of your music has value.' And she agreed.
In an interview with Time, Borchetta claimed that Big Machine received less than $500,000 in Swift-related royalties from Spotify over the past year, which doesn't square with Spotify's claim that it paid out $2 million on her music over that period—although the two sides seem to be cherry-picking data points that don't directly compare.
Elsewhere, Borchetta claimed the Spotify snub was about respecting Swift's biggest fans, by sparing them the indignity of being made fun of by their friends for purchasing music that other people stream for free. But as a war of words with Spotify erupted—the streaming service's CEO fired back with his own, stirring defense of the royalties the company pays—it became increasingly clear (if it wasn't already) that the move by Swift's camp was really about business.
"We're not responsible for new business models," Borchetta told Businessweek.  "If they work, fantastic, but it can't be at the detriment of our own business."
***
Borchetta and Big Machine did not respond to a request for comment from Quartz for this article. But it's not hard to find details about Borchetta's rise to country music prominence.
According to a first-person piece published in the New York Times in 2011, the short version of his backstory is as follows: He grew up in California in the 1970s. His parents divorced in 1978, and his father, a record company executive, left for Nashville. In 1981, at the age of 19, Borchetta followed him there, joined a country band, quit eight months in, and got a job in the mailroom at his father's label.
In the 1980s and '90s he worked his way up through the Nashville outposts of various major record labels, rising to the executive ranks in artist promotion and development. During that time, he spent his weekends as a fairly serious (and moderately successful) racing car driver.
In 2005, he started Big Machine, and in 2006 he signed his first artist: Swift. To borrow one of Swift's own lyrics, after that, "everything changed."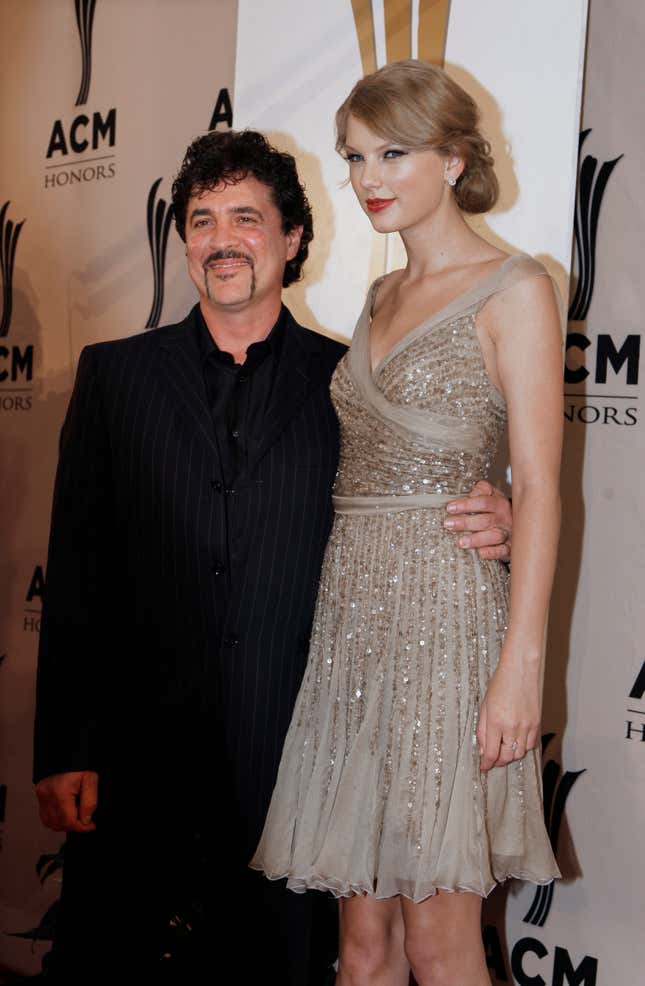 Big Machine helped turn Swift into a country music megastar, and then transition into a genuine global phenomenon, a feat that should not be discounted, since country music typically lacks appeal outside of America (and even within certain corners of the country music community).
***
 Multiple reports have suggested that the decision to pull Swift's music from Spotify was really motivated by his desire to sell Big Machine for at least $200 million. But Borchetta has denied his label is up for sale.
In any case, it's worth noting that Swift's music remains available on myriad other streaming services. Spotify was probably singled out because of its free tier, which allows for on-demand, all-you-can-eat listening, but with advertisements, and not offline.
Nicholas Carlson at Business Insider reported that major label Universal, which distributes Big Machine's albums (and could even be a potential buyer) tried to persuade Borchetta against cutting ties with Spotify. In many ways, it looked like a risky bet.
The recorded music industry has been shrinking for the better part of the last decade as piracy and the ability to download individual songs (rather than the bundles known as "albums") eviscerated sales revenue.
But a rebound looks to be in the industry's sights. Last month, analysts at Credit Suisse projected that streaming subscriptions will soon overtake more traditional revenue sources, and that thanks to streaming, overall revenue growth will resume by 2017.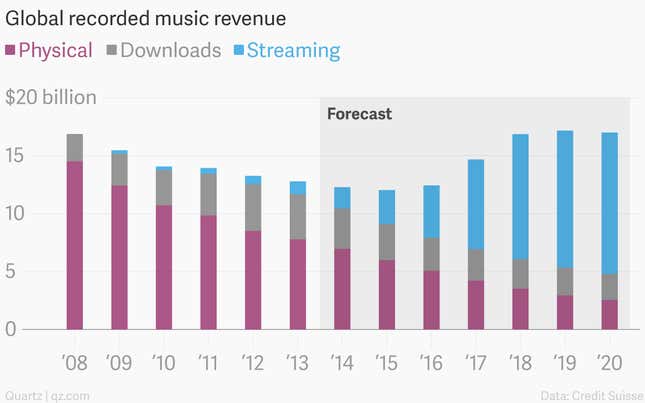 So far, Borchetta's strategy of sitting out the Spotify portion of the revolution doesn't seem to have hurt Swift any. Her new album, 1989, continues to shatter records. Whether that holds true remains to be seen.
But one thing is clear: her row with Spotify has changed the entire conversation about the future of the music business, and streaming's role in it.