When the Swedish journalist Jenny Nordberg set out for Afghanistan in 2009, she went to report a TV documentary on the progress of Afghan women since the US invasion. What she found herself drawn to, however, was a different story: bacha posh, a traditional Afghan practice in which girls are chosen by their families to live as boys.
"On a very practical level, parents do this in Afghanistan for a number of reasons," Nordberg tells Quartz. "If there is no son in the family, you are not only perceived as weak. You are weak."
The term bacha posh literally means "dressed up as a boy" in Dari, one of Afghanistan's most widely spoken languages. Nordberg spent five years researching and reporting on the phenomenon, which was virtually unknown in the West. Her work began with a 2010 New York Times feature and culminated with the release of her book, The Underground Girls of Kabul: In Search of a Hidden Resistance in Afghanistan, last month.
Mehran's story
Most prominent among the characters that Nordberg follows around Kabul in her book is 7-year-old Mehran Rafaat, whose female name was Manush and whose mother, Azita, was at the time a member of the Wolesi Jirga, the lower house of Afghanistan's parliament.
As the youngest of four daughters in a family with no sons—a non-starter for an ambitious female politician in Afghanistan—Azita and her husband changed their daughter's identity to male at the age of five.
The conversion began with a haircut, a trip to the local bazaar to buy pants, and a new denim shirt. "In a single afternoon, the family went from having four daughters to being blessed with three daughters and a spiky-haired boy," Nordberg writes.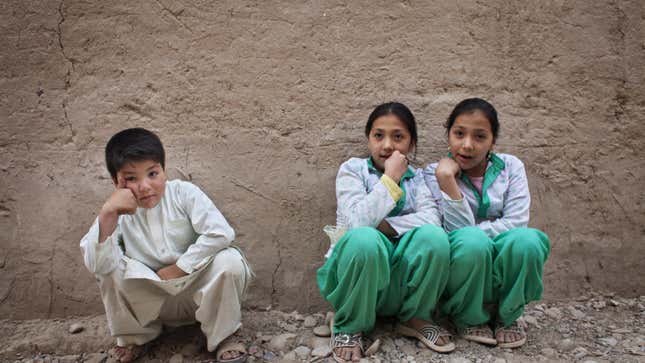 For Mehran, the perks of the situation included playing sports, dressing as she pleased, and sitting at the dinner table with her father's guests, Nordberg says. Her three older sisters looked to her as their male guide, and she gladly filled the role. Mehran escorted her sisters to school, the market and the neighborhood playground. Her situation is largely known to the family's neighbors and to her mother's constituents, but "even a made-up son is better than no son," says Nordberg.
As is typical with the practice, when Mehran reaches puberty, the plan is to change her back into a girl, Azita told Nordberg.
For some, this can be a difficult transition. Zahra, 15, told Nordberg that the freedoms she had before she returned to a female identity were hard to give up, and the change took a psychological toll. "Nothing in me feels like a girl," she explained.
The history of bacha posh
No one actually knows when the practice began, because there is very little literature available, Nordberg says: "One guess is that it may stretch as far back as pre-Islamic times." Few Afghan families admit publicly that they engage in it or even know someone who does.
Nordberg has asked the historians, political advisors, gender experts, and aid workers who have flooded Kabul in America's longest war about bacha posh, she says, and many appeared oblivious to the issue or outright hostile to her reporting on it.
"These people came with the agenda of turning Afghanistan into a beacon of Western-style democracy in a country that has never known it," said Nordberg. "The last thing they wanted was to acknowledge that something that might be perceived in the West as repressive and socially backwards actually exists."
Why it still exists 
The debate on bacha posh is one that largely centers on gender, but Nordberg argues that for some of the children it's really about freedom: The right to move around easily, go to school, eat and dress as they please.
American forces will finally leave Afghanistan at the end of 2016 and the prospects for girls like Mehran will likely not change. "As long as Afghanistan's entrenched gender segregation exists," Nordberg says, "bacha posh will continue to be a creative way to buck the system."