Every three years, a select group of 15-year-old students from around the world is tested on their knowledge of math, science, and reading. In the latest round of tests, performed in 2012 by the Organization for Economic Co-operation and Development (OECD), U.S. students ranked 36th in math, 28th in science, and 24th in reading out of the 65 countries in the survey. Clearly, there is plenty of room for improvement.
One emerging area with the potential to significantly improve the performance of U.S. students might lie in harnessing something that has revolutionized the business world over the last several years: data analytics.
Because the education system places great emphasis on measurement—grades, national averages, teacher performance, etc.—it's no stranger to data, especially large data sets that have been used for years to analyze things such as standardized tests. These analyses tend to focus on a measurement of what has been learned and how that compares to a larger population, all of which is important when evaluating students. However, the retrospective nature of this type of information fails to capitalize on the power of data to improve student performance in the classroom while they are actively learning.
Imagine a system that provides teachers with real-time insights to understand how a student is performing. The teacher can then use the data to spot weak areas and adjust the lesson plan accordingly. This type of tailored instruction has the ability to greatly improve student performance.
Over the last seven years, Xerox researchers have been developing such a system by spending more than 400 hours embedded with teachers, administrators, and students from school districts in New York and California. They discovered that teachers wanted a simpler way to grade, analyze, and chart each student's progress. They then could determine what concepts were being taught successfully and which were missing the mark—and they could do it on a student-by-student, class-by-class basis.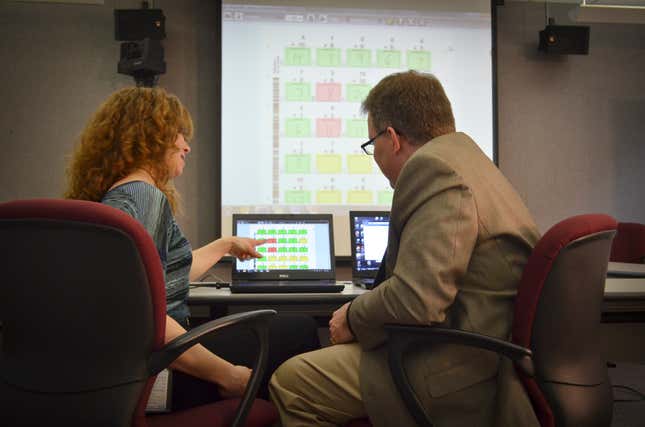 This insight led Xerox to develop Ignite, an automated student assessment tool that combines scanning hardware and analytics software. It not only grades exams faster, but also extracts student performance measurements and creates real-time feedback for teachers. This gives the teachers the ability to quickly address the reality that students learn concepts at different paces and in different ways, and to customize their teaching, so, individually or in small groups, students get the extra attention they need to achieve.
"Instead of spending time scoring tests and making sense of the data, teachers can quickly access relevant views of the data and focus on meeting the needs of each individual student. This is something that is making our lives more effective as educators" said Principal Marc Nelson of Harris Hill Elementary in Penfield Central School District, one of several districts using Ignite in New York.
Demonstrating its broader importance, the benefits of the system go beyond even the teachers and students. Parents receive one report that shows the progress of their child over the course of the school year. Meanwhile, another report is made available to school administrators showing how students are progressing throughout their district by class, grade, or subject—information which was previously only available from state-mandated tests.
No one wants American education to succeed more than American educators, 98 percent of whom view teaching as more than a profession, but a commitment to the world's future. Empowering teachers with the data and insight they need to be smarter educators is just one example of how recent technological advancements can help dramatically improve teaching and the learning experience.
This article was produced by Xerox and not by the Quartz editorial staff.