Hospitals strive to be the safest and healthiest place to recover.
Unfortunately, hospital-acquired infections (HAI) affect 5 to 10 percent of hospitalized patients in the United States each year. That amounts to approximately 1.7 million people and results in 75,000 yearly deaths, according to the Center for Disease Control and Prevention.
In response, hospitals are taking a multi-faceted approach to address the problems: one that combines traditional infection control practices, such as enforcing strict hand hygiene policies to prevent the spread of infection, with new technology that can help providers identify problems before they arise.
Healthcare systems across the country have spent the last two decades collecting data on patients during hospital stays. Originally gathered to comply with federal regulatory and accreditation standards, the data provides invaluable insights into health conditions and care. The historic data, combined with the adoption of electronic medical records (EMR)—providing real-time patient information—has created a comprehensive set of searchable, sortable patient data and opened up the field to new information-based technologies.
Xerox has developed a clinical surveillance platform that uses these data sets to help minimize the impacts of HAI. The Juvo Care Performance platform utilizes real-time patient data and applies algorithms to identify emerging conditions, providing doctors with the information they need to quickly address potential infections.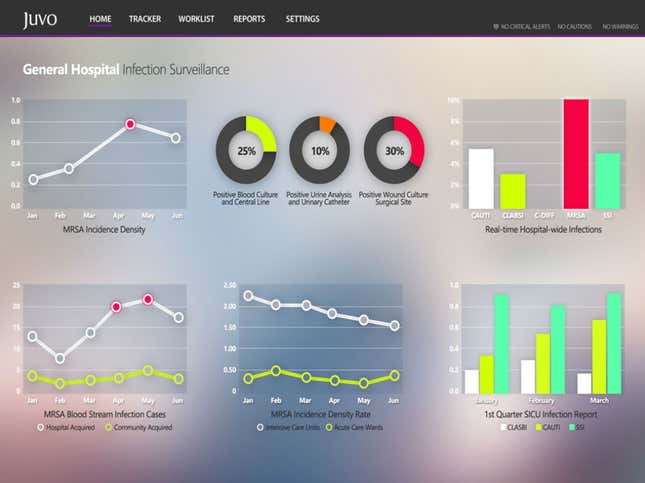 "Through an increasingly rich data set, we study and understand which signs and symptoms are indicative of emerging conditions and use them prospectively for healthier and safer patient environments," said Lois Gillette, vice president, Product Design, Midas+ Solutions, a Xerox company.
For clinical monitoring, the platform benefits healthcare providers in two major ways. First, it provides a holistic view of the EMRs allowing doctors easy access to information. But more importantly, instead of navigating through medical records and piecing all the information together, real-time analytics provide a new, smarter way to look at the data, identifying medical issues before complications even arise.
For example, a 77-year-old female recovering from a partial hip replacement has a high temperature, elevated respiratory rate, and dramatically low blood pressure. Subtle combined variations in these vitals can indicate the early signs of sepsis, a potentially deadly infection. Juvo identifies this risk and immediately sends a sepsis warning to the doctor, who can then organize a rapid response.
"When you consider how big an issue preventable infections are in the healthcare field, using analytics to get ahead of and manage these problems is a priority for every hospital," said Justin Lanning, the managing director for Midas+ Solutions at Xerox.
But the benefits of real-time data analytics extend far beyond hospitals.
The richness of the data can lead to powerful macro insights, including the potential to determine the frequency of diseases in a given population.
"When you combine claims, clinical and socio-demographic market data, you can see how a whole population is acting," Lanning said.
The information revolution is changing the face of the world's industries. Big data is even more crucial in a field such as healthcare, where life and death decisions must be made instantly, based on the information at hand.
Better access to vital information can help doctors understand patients' conditions faster and the ability to analyze that information provides comprehensive insights that can change the way conventional medicine works.
This article was produced by Xerox and not by the Quartz editorial staff.