Stories about the lengths people will go to secure a parking spot in the world's big cities are the stuff of legend. But if you think you've gone to such lengths, imagine literally going to the moon and back—twice. That's the equivalent distance (950,000 miles) people drive annually in search of curbside parking in a 15-block section of Westwood Village, Los Angeles. The effort consumes 47,000 gallons of gas, produces 730 tons of carbon dioxide, and should tell you that the worldwide waste of time and gas, as well as the emission of CO2 and pollutants during the process, are cosmic in scale.
These calculations are the work of Donald Shoup, a UCLA distinguished professor of urban planning and go-to expert on parking. Shoup estimates that on average, up to 30 percent of cars in congested downtown traffic are driven by people looking for parking, who take an average of 3.5 to 14 minutes each to find an open spot.
In his research, Shoup also suggests several solutions to tackle this problem, some of which are beginning to take hold in cities around the world. One of those cities is Los Angeles, where a recent year-long pilot of a smart parking program developed by Xerox successfully analyzed real-time parking data to increase space availability and reduce overall parking-related congestion by 10 percent.
What is smart parking?
Smart parking is the application of technology and data toward helping manage and, hopefully, improve the parking infrastructure, with the ultimate goal of creating a more livable and sustainable city.
For the driver, the Los Angeles iteration is fairly simple. Smartphone apps give drivers real-time information about parking availability and pricing, then provide turn-by-turn directions to available spaces—eliminating the time and frustration associated with searching for a parking spot. Even paying becomes more convenient with new options, including credit cards and mobile apps—which also permit drivers to remotely check the time remaining on the meter and make additional payments without physically returning to the spot.
The city benefits from reduced congestion, pollution and carbon dioxide emissions, and becomes a friendlier, healthier, and greener place to live, work, and visit.
To manage parking demand, the Los Angeles system uses variable, demand-based pricing that places a premium on the most desired spots—those near offices during business hours or close to concert halls during show times. Spots farther from such areas are offered at a discount, to attract drivers who are seeking longer-term parking or are willing to walk a further distance to their destination.
The majority of drivers typically choose the less expensive areas for parking. That is the key to relieving overall congestion. The pricing model is adjusted to ensure 10-30 percent of spots on every block are free at any given time, so that parking is always available to those who want it.
The technology behind the open spot
The system covers about 6,000 parking spaces in 4.5 square miles of downtown Los Angeles, and draws from several recent technical innovations that are integrated and managed by Xerox. The company has developed smart parking solutions for 25 cities worldwide.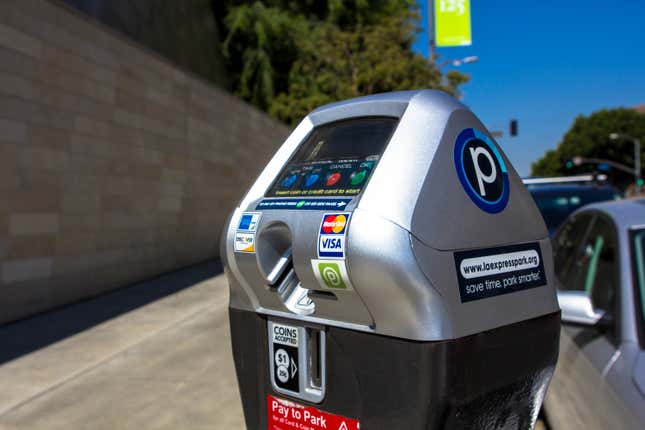 There are several sources for this data. Physical parking spaces are outfitted with wireless sensors that detect and communicate real-time occupancy status. Multi-space pay stations also replace parking meters and provide city parking officials with data about payments and violations.
The data is collected and integrated using the latest in parking management systems. City officials rely on a single, convenient dashboard to access real-time maps of parking activity and data on system occupancy, maintenance, collections status, financial performance, and customer service response. The information is analyzed to identify trends, patterns, variances, and other insights that help the city to continually optimize downtown parking.
Finally, developers of mobile apps and navigation systems can access the data stream on a block-by-block basis, creating even more opportunities for such information to help alleviate congestion and make parking easier.
An intriguing solution
Smart parking systems are a great example of how the application of real-time data and analytics can greatly impact difficult and large-scale problems. Once in place, they create more available parking spaces and reduce driving time, traffic congestion, and associated air pollution and CO2 emissions, all while streamlining city parking management.
Perhaps the problem with city parking isn't a limited number of spots, but the inability to efficiently use all of them. Smart parking systems can help to change that without going to the moon and back. Twice.
This article was produced by Xerox and not by the Quartz editorial staff.