In early November, as rumors spread that the grand jury decision in the case of Darren Wilson was about to be released, Ferguson began to board itself up. Nearly all stores on the small area of West Florissant Avenue that has been the hub of protest activity are boarded, save for Ferguson Burger Bar, a popular restaurant among protesters.
Since August, the media have described Ferguson in apocalyptic terms. The region has been compared to Gaza and Iraq, and today phrases like "riot-scarred" and "riots that engulfed the city" punctuate mainstream press. The reality is that the violence and looting that took place in Ferguson was limited to a small strip in the commercial district of West Florissant Avenue, with one business, QuikTrip, burned to the ground. The few stores that were looted reopened shortly afterward.
It is debatable whether the August violence, limited in damage and scope, could be classified as a riot. The police response, which included tear gassing residents on their property, was more pervasively destructive than the actions of protesters on the ground. For over 90 days, protests continued with minimal property damage. Ferguson remains a suburb of unassuming homes and faltering businesses, much as it was before. Its scars run deep, but they are largely emotional, not physical.
Some have interpreted the boarding of Ferguson as racist, a sign of business owners' lack of faith in residents and protesters. But the boarding of Ferguson needs to be examined in the context of St. Louis's racial politics and economic decline.
It is easy to find other parts of St. Louis that resemble the aftermath of riots. Shattered windows, roofless dwellings, boarded buildings, and stately homes whose bricks were stolen by the poor are all part of St. Louis's landscape. Blighted suburbs like Wellston, Pagedale, Berkeley, and Kinloch bear the burden of decades of white flight, municipal corruption, and resource denial. Drive down the once thriving Page Boulevard, now a thoroughfare between crumbling majority black suburbs, and you will find sites like a forsaken VCR repair shop with shattered windows, a sign affixed to the front advertising a Democratic electoral candidate. The election was in 2010.
This is not the legacy of riots. This is the legacy of apathy and abandonment, which has harmed St. Louis more than looting ever has.
In majority black North St. Louis, where life expectancy is similar to that of Iraq, entire streets are emptied of inhabitants who fled its crumbling infrastructure—many to northern suburbs like Ferguson. Though famed for the sounds of gunshots, North St. Louis's quiet spaces also unnerve. In 1972, Pruitt-Igoe, a public housing complex constructed in the 1950s, was demolished, and a forest began to grow where it once stood. Every year St. Louis debates what to build on Pruitt-Igoe, and every year, the trees grow taller.
The ruins of St. Louis stick out like reminders, like repercussions. Wealthier residents tend to take the highways around them.
Ongoing economic vulnerability
The newly boarded businesses of Ferguson are mostly small stores and restaurants that serve a majority black low-income community—African hair braiding, nail salons, beauty parlors, and chop suey stands. Large chain stores in the same area, like Target, have not boarded, and with the exception of a T-Mobile, a Sprint, and a Family Dollar, smaller chains remain unboarded as well.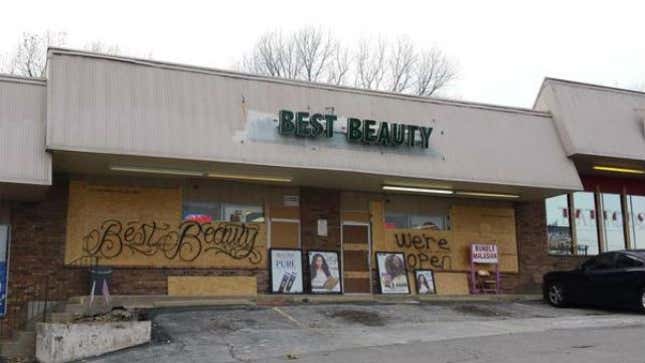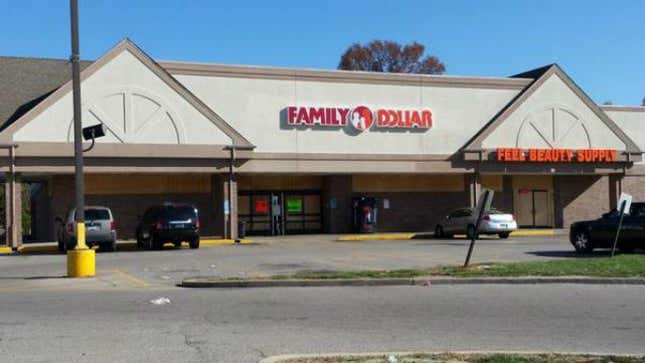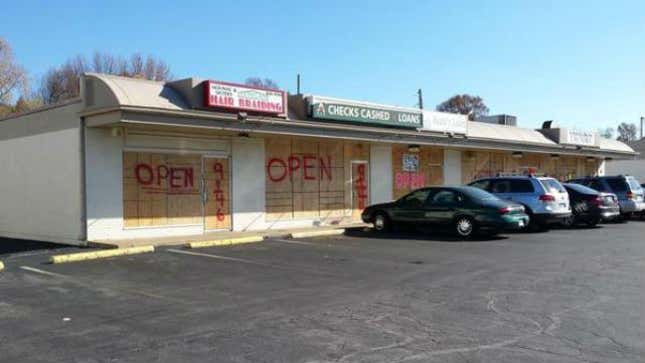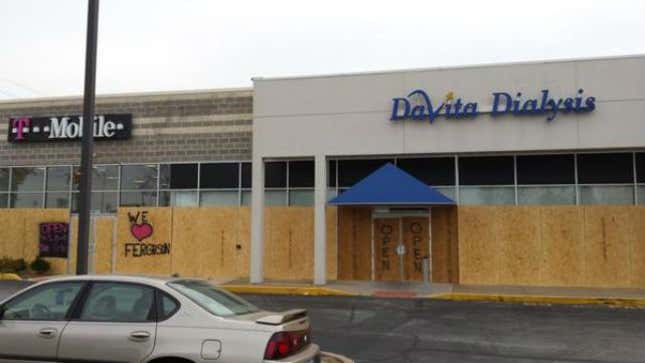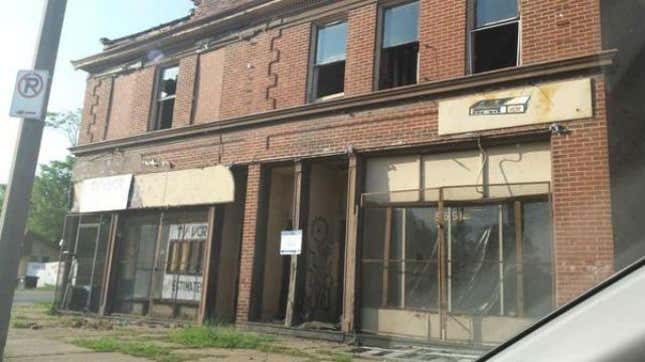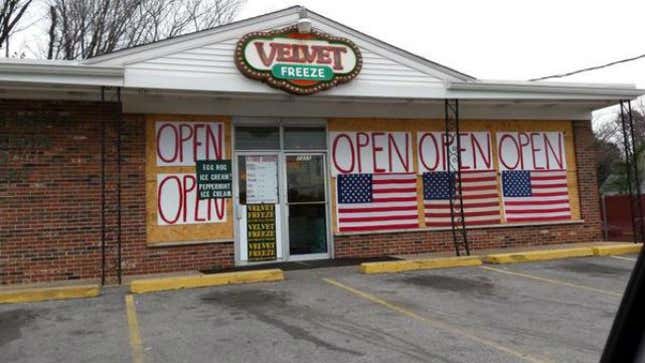 Ferguson's boarded storefronts are symbolic of an economic vulnerability in place long before the August violence. The small businesses of Ferguson struggle in a devastated landscape typical of post-recession America. The new Main Street, USA is a strip mall of dollar stores, pawn shops, check cashing centers and payday loan outlets, and Ferguson exemplifies this trend. Small businesses are barely hanging on, and owners usually lack the savings or insurance to make repairs or endure extended closure.
Most of all, small business owners have witnessed St. Louis's history of abandonment of black communities. Their modest wares stand surrounded by the shells of enterprises left behind. Drive further down West Florissant Avenue, away from the protest site, and you will find a giant shopping plaza with almost no stores left, a casualty of the 2008 recession from which this part of St. Louis never recovered. As I drove through the area on a Saturday afternoon, I saw two people holding signs—one saying "Arrest Darren Wilson," and one advertising a 50% off sale at the local K-Mart, which was now going out of business as well.
Nothing is safe in St. Louis. But the culprit is not protest—it is the lack of investment in and support for black communities, a pattern that has replicated itself in the region for decades. Protests did not destroy Ferguson. Destruction—social, economic, and political—created the protests. In St. Louis, one can drive from neighborhoods boarded up out of fear to neighborhoods boarded up due to abandonment. Unless systemic racism and economic discrimination are addressed, Ferguson may transition from the former to the latter.