Amazon shares have been stuck in the doldrums this year, with investors apparently tiring of its post-profit business model.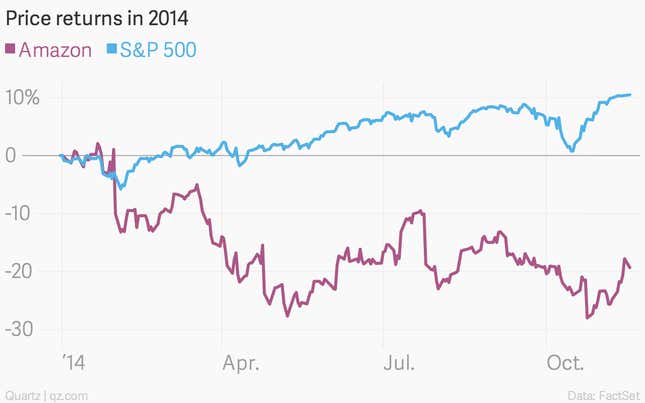 Last week the Financial Times' esteemed Lex column (paywall) had an intriguing idea about how to reignite them. The newspaper argued that Amazon CEO Jeff Bezos should spin off the company's cloud computing division (Amazon Web Services) from its core retail operations.
Amazon Web Services (AWS) is a beast of a business. As Christopher Mims explained for Quartz earlier this year, it has dominated the market for renting computer power to companies such as Netflix for years. Yet despite surging revenue growth, it is also losing money amid a fierce price war (paywall) in cloud services with Google and Microsoft.
Still, Morgan Stanley last week argued AWS could be worth, in enterprise value terms, $32 billion. It arrived at that figure by taking the average revenue multiple for two publicly traded competitors, Rackspace Hosting and Salesforce.com, and applying that to its 2015 revenue forecast for AWS, which stands at $6.6 billion.
Amazon's entire enterprise value is $148 billion currently, and analysts expect the full company to generate $89.5 billion in revenue this year, according to FactSet. Whether the market is discounting the value contributed by AWS is the key question.
In any case, since it is losing money, spinning off AWS would bolster the bottom line of Amazon's remaining and much bigger core retail business, and theoretically support a higher valuation for it, too. And as Lex argued, cloud-computing companies, even unprofitable ones, aren't having much trouble at the moment obtaining financing, so it shouldn't be difficult finding someone to fund the losses.
This isn't the first time the AWS split idea has been bandied about. And there's certainly plenty of recent precedent for big spinoff by a tech company (see eBay/PayPal, Hewlett-Packard, and Symantec). Yet the reality is that despite a difficult year for the share price, Bezos, who professes not to care about profits, is not under any real investor pressure, either. The returns he has delivered for Amazon stockholders over almost any other period remain staggering.
Bezos  is an empire builder who wants to dominate global commerce, not a financial engineer. Relinquishing part of Amazon's empire would be a tantalizing prospect for investors, M&A bankers, and people interested in the future of the internet, but it's also not likely to happen anytime soon.