Over the past two decades or so, a cultural phenomenon has taken hold in America. It involves grown men and women pretending to be the owners of imaginary professional sports teams on the internet. It is known as fantasy football.
That may sound ridiculous. But it's a serious business that has spawned its own economy. More than 30 million Americans participate in fantasy football leagues, according to the Fantasy Sports Trade Association. (Yes, there is a trade association.) Together they spent an estimated $11 billion on the activity last year.
For most, it's a bit of fun with friends or colleagues. But for some, thanks to a new cadre of startups, it's a full-time job. And a big part of that comes down to an obscure loophole in America's laws against gambling.
A loophole
Betting on sports is illegal in everywhere in the US except Nevada. That hasn't stopped people. There is a long tradition (paywall) of wagering money on football games, which is why news articles and previews for National Football League (NFL) and college football games often quote "point spreads"—the expected final points difference between two teams, which are used as the basis for betting in Las Vegas.
For decades, Americans outside of Nevada have simply used bookmakers with connections in Vegas to wager on games. Authorities in many states have turned a blind eye to this practice.
Fantasy football, and specifically a new, shortened format of it, provides an easier and more legal method. What makes it possible is a carve-out in the 2006 legislation that all but banned internet gambling in the US (and led to the demise of the country's once-booming online poker industry). The law says that games of "skill" played for prize money are allowed to exist online, while games of "chance" are not.
For reasons too complex to go into, poker is considered a game of chance, and fantasy sports are games of skill, even though both can involve meticulous preparation and analysis. The rapid growth in fantasy sports "can at least be partially credited towards the lack of regulated sports wagering outside of Nevada," Adam Krejcik, digital & interactive gaming analyst for Eilers Research, wrote in a research note.
The mechanics of fantasy football
Here's how it all works.
There are fantasy basketball, baseball, and other leagues, but fantasy football remains by far the biggest. It appeals both to football obsessives and to geekier types who could never dream of playing the highly strategic, often brutal and peculiarly American game in real life.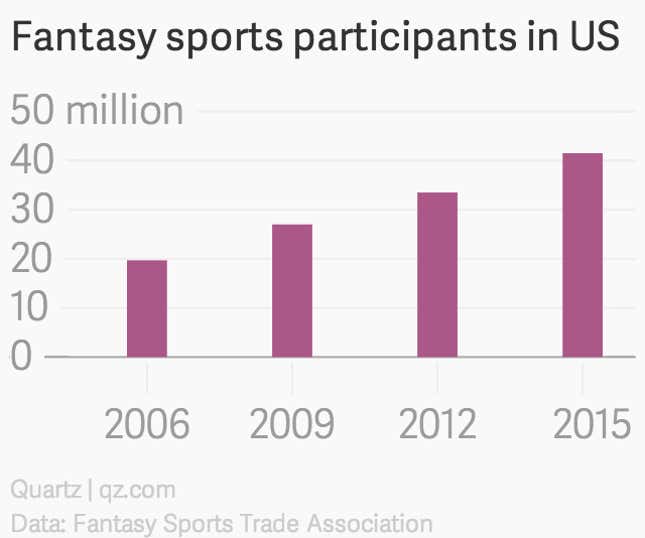 Every year, before the football season starts in September, groups of people get together and form fantasy football leagues. These are comprised of invented teams, which are made up of invented combinations of real players from the National Football League. For example, you might choose the New England Patriots' Tom Brady as your quarterback, the Seattle Seahawks' Marshawn Lynch as your running back, the New York Giants' Odell Beckham Jr. as your wide receiver, and so forth.
Before the season starts, a (fake) draft is held where everyone selects their players based on how they performed last season. Then, the (real) performance of players in (real) games—based on objective statistics like passing yards, runs, catches, and touchdowns—determines the performance of the various fantasy teams in a league.
Importantly, (real) money is usually pooled at the start of the season. It's distributed to the winner (and sometimes place-getters) when the season concludes. That moment is fast approaching, because the fantasy season typically finishes one week before the end of the regular season in the NFL. Which happens to be next weekend.
The basis of the industry
Manually doing all the calculations to run a fantasy football league would be hard work. Instead, ESPN, Yahoo, CBS Sports, and the NFL itself, among others, have all built technological platforms for the tasks a fantasy football league requires, such as allocating players fairly among participants, awarding points based on statistical performance, and processing trades of players.
The investment in technology is considerable, but for most of the big companies involved, there is a strong business case. ESPN's head of fantasy sports, George Leimer, says that during the football season, fantasy participants drive 17% of traffic to the company's websites, which average around 90 million unique visitors each month. "Which is amazing when you think about it," he tells Quartz. "We could stop right there, full stop, period. That's proof of how important it is."
But there are also spillover benefits. Fantasy players are considered the most engaged fans of the NFL. Unlike ordinary fans, their interest is not just limited to a single team but to many, because fantasy teams draw players from across the league. For the same reason, their interest also does not wane if a contest in the real world becomes one-sided, when a weak and strong team are pitted against each other.
Ultimately, their enthusiasm helps drive viewership for ESPN's flagship NFL show, Monday Night Football. CBS's fantasy platform helps drive interest to its NFL broadcasts. ESPN also produces a specific show, Fantasy Football Now, where panelists discuss strategy for the fantasy leagues. Leimer says it is consistently the highest-rating studio program on ESPN's second channel, ESPN2.
The NFL itself has a similar philosophy. The league operates its own fantasy-football strategy program, NFL Fantasy Live, on its own cable network. Each Sunday, when most games are played, the NFL network airs a real-time highlights show, NFL Red Zone. It is designed to appeal to the fantasy football fan. "Even if your team isn't playing well," commissioner Roger Goodell said earlier this year, "you're still following your fantasy league or you're following the Red Zone or your mobile device."
Where the growth is coming from
Now a newer format promises to wring even more money out of fantasy sports. Companies such as FanDuel and DraftKings let participants pay a small fee to enter public leagues that last for only one week, so there is no ongoing commitment. Instead of playing with friends, participants are competing against people they typically don't know, for a much bigger pool of money.
For example, FanDuel's biggest public league, Sunday Millions, guarantees a payout of roughly $2.25 million each weekend. First place gets $250,000, with prizes as small as $50 allocated to roughly 21,000 participants.
Earlier this year, FanDuel secured $70 million from investors including NBC Sports Ventures, giant private-equity fund KKR, and—a coup—the National Basketball Association. "Having a league like them as a shareholder, it was immeasurable for our legitimacy, our brand and our positioning in the market," FanDuel CEO Nigel Eccles tells Quartz. DraftKings raised $40 million from investors in August.
FanDuel clips the ticket on each entry fee (taking about a 9% cut). Eccles says it pays out about 90% of entry fees in prize money, and the payouts are predetermined. If it doesn't get enough people to sign up each week, it loses money. If it does get enough sign-ups, it makes a tidy profit. In short, it's a scale business.
The Vegas connection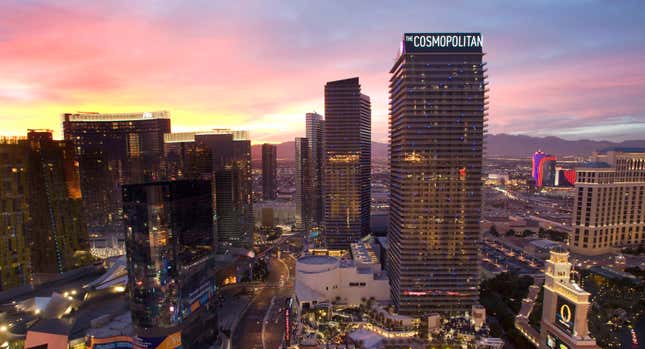 As many as 1 million Americans now participate in week-to-week fantasy leagues during the peak of the football season, Krejcik, the analyst, estimates. With so much prize money up for grabs, some people are trying to make a living out of it—people like Mark Guindi, a 24-year-old Brooklyn-based college dropout, who claims to have made $50,000 so far this year playing fantasy sports. "I can definitely do this full time," he recently told the New York Post. "I'm only getting better and better every week."
This weekend, Guindi will be at the Cosmopolitan casino in Las Vegas, competing against the 99 other best players in FanDuel's leagues for the World Fantasy Football Championship. The winner will be flown home in a private jet and get $2 million in prize money. In total, $7 million in prizes is up for grabs.
The setting of the tournament in America's gambling capital is fitting, because the links between daily fantasy sports and more traditional forms of wagering are strong. Many members of FanDuel's executive team used to work in online gambling. (Eccles worked for the UK's Betfair.) DraftKings is one of the main sponsors of the World Series of Poker, the planet's largest land-based poker tournament.
Eilers Research estimates that Americans spent $160 billion on illegal sports gambling last year, 44 times as much as they did on legal gambling in Nevada (see chart below).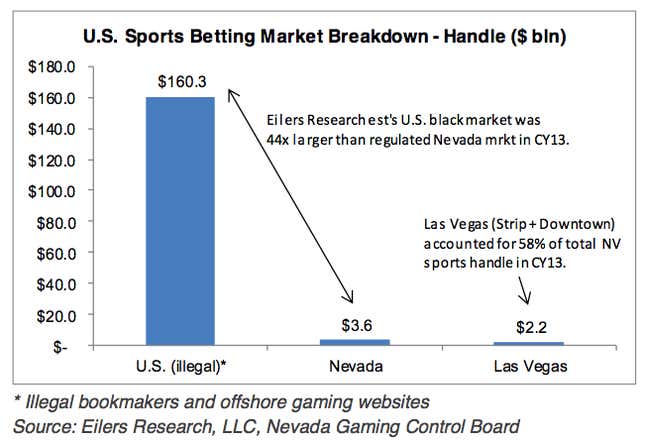 That's clearly a huge opportunity for fantasy platforms, if they can redirect some of the money into their leagues. But it could also mean the risk of stricter regulations. Already concerns about addiction to fantasy football are beginning to mount. Five states—Arizona, Iowa, Louisiana, Montana and Washington—forbid residents to play in daily fantasy leagues.
Another reason why more regulatory scrutiny is possible: Eccles, FanDuel's CEO, says the company might go public soon. "We have very good growth numbers. We are conservatively looking about two years out," he says.
However, not surprisingly, Eccles is keen to distance FanDuel from illegal gambling. (So is the Fantasy Sports Trade Association, which has an entire section of its website devoted to the topic). He says most of the company's growth is coming from a "huge migration" of people who have played the more traditional, season-long format with friends or colleagues for years, and not from people who were gambling illegally switching over, or from hardcore professional types. And he thinks stricter regulation for the industry is unlikely. "We have a federal law that is pretty clear. I am pretty comfortable that we sit within that."
All the same, since they can only make a profit if they sign up enough players, it makes sense for both FanDuel and DraftKings to target professional and serious gamblers as well as casual customers. That could hurt their appeal, however. "Our research suggests an increasing number of high-volume players (pros) are already having an adverse impact on casual user growth," Krejcik wrote. "The perceived 'hard-core' nature of DFS [daily fantasy sports] could preclude the industry from ever reaching critical mass."
Growing or fading?
With one of America's biggest sports leagues (the NBA) and one of its biggest broadcasters (NBC) both explicitly backing the industry, it seems a safe bet that fantasy sports, in some shape or form, is here to stay. Nobody I spoke to in the industry thinks that ESPN, despite being involved in season-long fantasy football, will get into weeklong leagues; its corporate parent, Walt Disney, which also operates theme parks, has long distanced itself from anything remotely associated with gambling. That could mean it is a two-horse race between FanDuel and DraftKings for control of the fast-growing short-term market.
Regardless, the boom in fantasy games is helping drive record interest in football. This is at a time when the sport is facing pressure because of both violence on the field and unseemly scandals off it. That makes fantasy football, for now at least, something for the football business to smile about."It's making its way into the lexicon of popular culture in everyday life," Leimer says. "No matter where you are, when I tell someone I run the fantasy football product group at ESPN, everybody's got a fantasy football story."