I make my living writing and showing people the beauty of Mexican food, but once people learn I'm Mexican-American, they inevitably think I grew up with my mom and grandma making tortillas in the back room. That was not my story.
My mom speaks Spanish and knows how to make flour tortillas, but she made them constantly growing up and had no desire to make them again. My dad, a smart Chicano guy from Los Angeles, doesn't speak Spanish, although his mother and father did. Until I went to college on the East Coast—when people asked me, "Where are you really from? and "You weren't born in Mexico, but your parents were, right?"—I had no idea I was anything other than American.
Our Thanksgiving table usually looked like this: turkey and ham on the table, sometimes a canned ham, sometimes a Honeybaked. We had mashed potatoes and yams and occasionally a cranberry salad that my mom made with sour cream, Jell-O and walnuts. (It was really, really good.) We had brown-and-serve rolls and frozen pies warmed in the oven.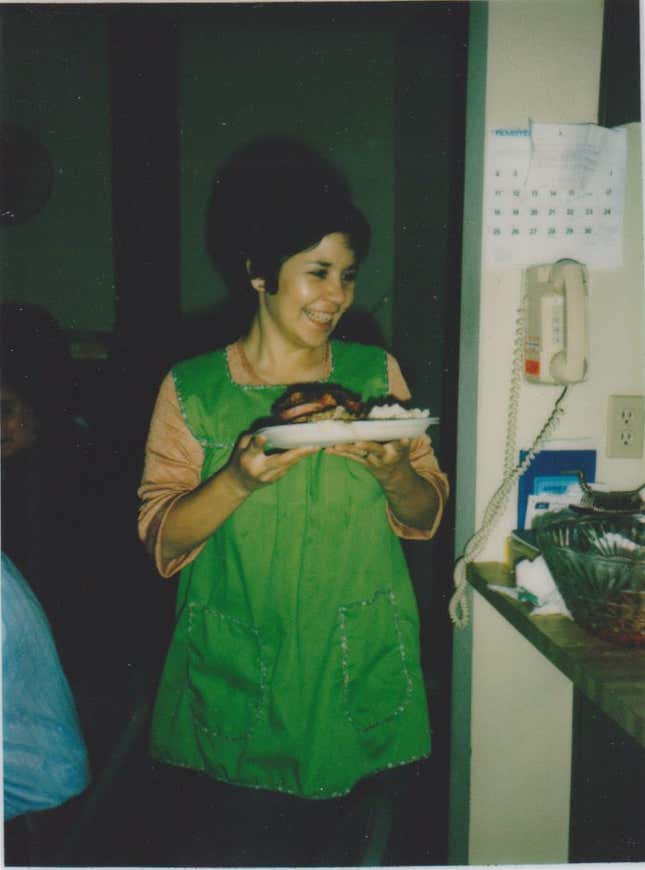 At my grandma's house in Pico Rivera, just outside LA, the Thanksgiving centerpiece was always potato salad—a big, mayo-drenched pile of chunky potatoes, black olives and hardboiled eggs, served out of a plastic floral-print bowl from the 1970s. There was never enough of it. We ate potato salad with our turkey, our ham, our tamales. We ate it with little sandwiches made out of the turkey and ham, layered in dinner rolls. Strangely, the first bite for me always straddled the line between subtle and plain, because my grandma used no mustard or sugar. Somehow the dish worked. After the first bite, I always wanted more.
My grandma died in February, and it's been too painful to plan or think about my first holidays without her. Instead I let my mind drift to the future, to what I might make for my own family. I'm expecting our first child next February.
On our Thanksgiving table at our New York apartment a year from now, with my husband, me, and our baby in a high chair, we could have grandma's potato salad and roasted root vegetables from the local farmer's market. We'd have tamales, but not the kind she used to make with chunks of meat and red chile—mine would have a vegetable filling, the way I like them and learned to make them when I lived in Mexico City for four years and studied Mexican cooking.
We could make a pork roast or carnitas instead of turkey, because it's a pain to lug a frozen turkey home in the cold, and it's much more fun to simmer things in lard. We'd have my Southern mother-in-law's buttery mushrooms, and maybe her broccoli-cheese-and-egg casserole. And we'd have something sweet: a chocolate chip pie, maybe. Or coconetes, the Dominican coconut cookies I've been craving lately.
As my inbox fills up this time of year with press releases for Latin-infused holiday foods, I'm realizing that I don't want my kid to feel like it's necessary to buy into any of it—what people say being Latino should mean, the right way to talk or act, or the right foods to eat, despite my close ties to Mexican cuisine. I want him or her (we are not finding out the gender) to be conscious of and proud of his roots, and know there are a million different answers to the question of what makes someone American. Our Thanksgiving table will be proudly rooted in this country, even if we're eating lamb curry and fresh corn tortillas, or if we decide to skip dinner and visit the Cantonese restaurant next door.
Thanksgiving potato salad
This potato salad contains no sugar or mustard because that's the way my family always preferred it. I've adjusted only a few things from my grandma's recipe, keeping the potato peel on (I like the taste) and adding slightly less mayo. I find this easiest to mix with clean hands, like my grandma used to do.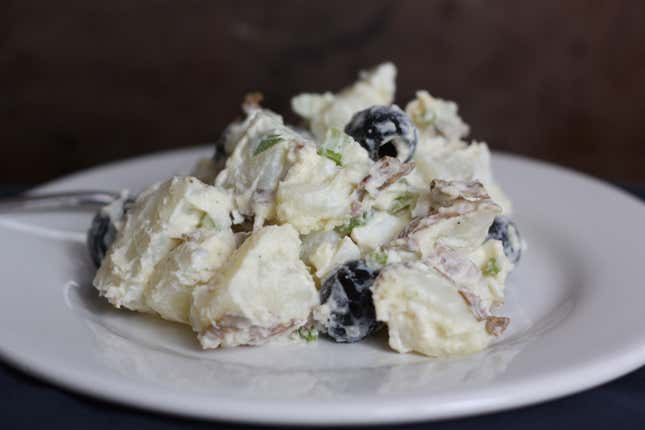 Ingredients
2 1/2 pounds Russet Potatoes (about 6 small- to medium-sized potatoes), rinsed and scrubbed clean of any dirt
2 teaspoons kosher salt
2 large eggs
2 celery stalks, chopped small
1/4 teaspoon ground black pepper
1 (6-ounce) can small whole black olives, drained and rinsed
1/2 cup plus 1 tablespoon mayonnaise, or to taste
Method
Place potatoes in a large pot and cover with one to two inches of cold water. Add one teaspoon salt. Bring to a boil, then lower the heat to medium and simmer until potatoes are tender when pierced all the way through with a fork, about 20 minutes.
Rinse the potatoes in cold water. Let cool, then refrigerate for three hours or until cold. Cut potatoes into medium-sized chunks and set aside. (They shouldn't look too perfect, as this is a rustic potato salad.)
For perfectly boiled eggs: Fill a small saucepan two-thirds full with water and bring to a boil. Add the eggs, cook for 30 seconds, then lower the heat the lowest it will go. Cover and cook eggs for 11 more minutes. Cool eggs in a bowl of ice water, about 15 minutes, then crack and peel them under a cold running faucet. Chop eggs into small pieces—I usually cut them in quarters lengthwise, then eighths, then dice them.
Place potatoes in a large bowl with the chopped celery and hardboiled egg. Sprinkle on remaining teaspoon of salt and ground black pepper and stir well. Add about half the can of olives, or more to taste, and the mayonnaise. Mix well with clean hands or a large spoon. Taste and adjust salt and pepper if desired.
Refrigerate, tightly covered, until ready to serve. Serves four to six as a side dish.
Carnitas
You may be tempted to use oil instead of lard in this dish, but that would make every carnitas vendor in Mexico (and me) weep. If you can't find seven pounds of pork shoulder, you can use less, as long as you use the equal weight of lard.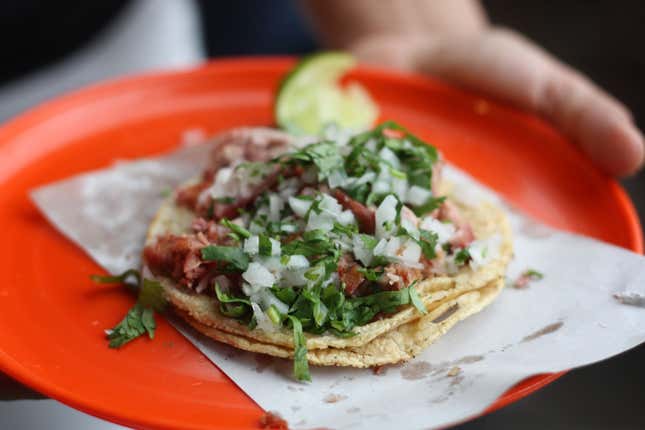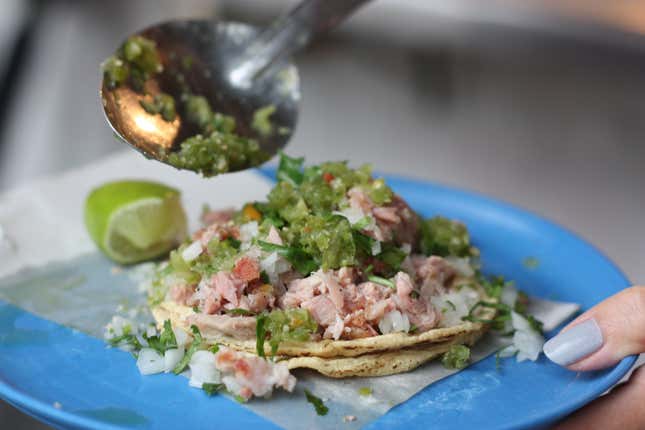 Ingredients
4½ (32-ounce) containers of lard (about 7 pounds)
7 pounds pork shoulder, left whole or cut into 3 large pieces, depending on the size of your pot
7 cloves garlic, peeled
Juice of one orange (about ¼ cup), with half the juiced orange reserved
2 teaspoons salt
16 to 20 corn tortillas
Lime wedges, for serving
1 cup of chopped onion and cilantro, for serving
Salsa of choice for serving
Method
Melt the lard in a 12-quart pot over medium-low heat.
Add the pork, making sure the meat is covered with the hot fat. Raise the heat and bring to a high boil.
Lower the heat to a simmer—the lard should be a bit foamy—and cook for 90 minutes, uncovered. The lard surface should show consistent, small, gentle bubbles; if it doesn't, raise the heat. Conversely, if it bubbles too roughly and begins to crackle, lower the heat.
Meanwhile, mash the garlic cloves in a molcajete (lava-rock mortar) or regular mortar with about one tablespoon of the orange juice. If you don't have either, toss the garlic cloves and ¼ cup orange juice into a food processor. Scrape into a small bowl and set aside.
After the meat has cooked for 90 minutes, add the garlic paste, the juiced orange half (rind and all), and the salt.
Continue simmering another 90 minutes, for a total cook time of about 3½ hours,, or until the meat is tender and falls apart when pierced with a fork. (Note this may take less than three hours if using meat in pieces, rather than one large shoulder.)
Transfer the meat to a wire rack lined with a baking sheet to cool. Strain the lard, let cool, and store in the refrigerator for future use, such as refrying beans.
About 10 minutes before serving, warm the tortillas on a comal or nonstick skillet. Wrap in a dish cloth to keep warm.
Chop the meat against the grain—don't shred, or else it will become chewy—and serve on a platter, accompanied by the tortillas, lots of lime wedges, a sprinkle of onion and cilantro, and the salsa, so guests can make their own tacos. Serves at least eight with two large tacos per person.
Green-chile mushroom tamales
This recipe uses brown beech mushrooms, which resemble the "clavito" mushroom found in Mexico City. You can generally find them at Chinese supermarkets, or you can use crimini or another flavorful mushroom (not white button). Like any tamal recipe, this works much faster if you've got a friend to help you stuff them. You'll need a large steamer pot.
Boxed chicken stocks can overwhelm the delicate mushroom flavor, so avoid those here if possible. I highly recommend using fresh masa for tamales, found at many tortillerías, instead of masa harina.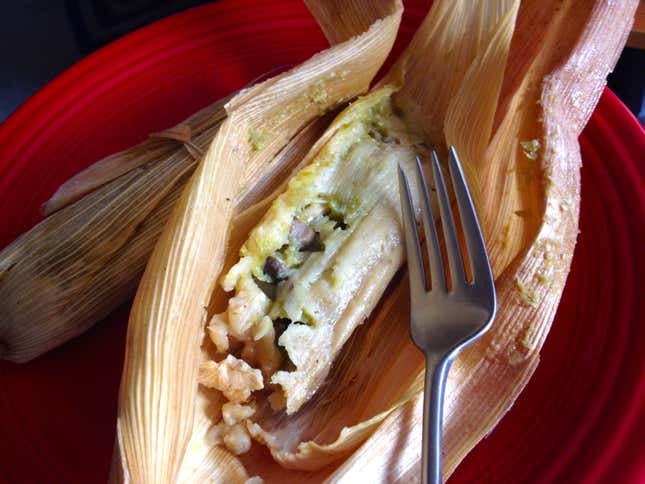 Ingredients
At least 36 dried cornhusks
1 pound tomatillos, husked and rinsed
1 medium garlic clove, peeled
2 serrano chiles
¼ medium white onion
¼ cup light homemade chicken stock or water
2 teaspoons lard or canola oil
¼ teaspoon ground cumin
¾ teaspoon salt, or to taste
10 ounces brown beech mushrooms, roots trimmed and mushrooms separated into individual stems, or crimini mushrooms cut into quarters
For the masa
4 cups masa harina or 3 pounds fresh masa for tamales (the latter should not contain lard)
2 teaspoons baking powder
1½ teaspoons salt
3 cups room-temperature light homemade chicken stock if using masa harina, 1 1/4 cup if using fresh masa
1⅓ cups lard, or 1 1/2 cups if using fresh masa
Method
Place the corn husks in a large pot of hot water to soften for 45 minutes.
Place the tomatillos, garlic, chiles and onion in a large saucepan. Cover with cold water and bring to a boil, then lower the heat and simmer on medium until the tomatillos turn pea-green and soften, about 12 minutes.
Stem the chiles and chop roughly with the garlic. Add to a blender jar with the tomatillos, onion, and stock. Blend until smooth.
Warm the lard in a large skillet over medium heat. When melted, add the sauce in one quick pour. (Careful, it might splatter.) Cook until the flavors meld, about five minutes. Transfer to a bowl and let cool.
Prepare the masa. If using masa harina, whisk together with the baking powder and salt in a large bowl. Working first with a spatula, and then with your hands, gradually add three cups of stock, stirring and then kneading lightly until all liquid has been absorbed. Set aside for 10 minutes to allow the liquid to fully soak into the flour.
If using fresh masa, moisten with about 1 cup of stock, adding a little at a time, depending on how dry it is. Knead well until soft, slightly sticky and pliable.
Meanwhile, whip the lard on medium speed with a standing mixer equipped with the paddle attachment, until it's smooth glossy, about five minutes. Increase the speed to high and integrate small, golf ball-sized bits of masa into the lard a little at a time, mixing well after each addition until a cohesive, very sticky dough forms. It should look similar to a thick, muffin batter. Add more liquid if the dough looks too dry and dense.
If using fresh masa, now sprinkle the baking powder and salt onto the dough. Mix well for several more minutes, and taste to see if the masa needs more salt. If so, add and keep mixing until well combined.
Dough made with masa harina can be stored in the refrigerator, tightly covered, for up to 1 day until ready to use. (You may need to add more stock when you're ready to use it—masa harina sucks up liquid quickly.) Dough made with fresh masa must be used the very same day or it will turn sour.
To form the tamales, lift some of the husks out of the pot and dry them lightly with a kitchen towel. Place a husk vertically in your hand. Add one fourth of a cup of masa and spread it, using the underside of a spoon, into a longish rectangle, about three and a half by six inches, on the bottom half of the husk, one inch away from the rounded base. Place three to four pieces of mushroom on top and cover with one tablespoon of sauce.
Clutch both edges of the husk and pinch them together, so that the masa covers the filling almost like a little empanada or taco, then roll one side of the husk under the other, to wrap securely around the filling. The tamal should seal securely, and the filling should not spill out. If it does, you've added too much and open the husk to add more masa.
Once wrapped, press down on the narrower end of the husk to seal. Fold the husk's narrower end over toward the rounded end. Look over the tamal carefully to make sure there aren't any holes where masa could seep out while cooking. If there are holes, wrap it in another leaf. The finished tamal should look like a slightly flattened sausage. Set aside on a baking sheet and repeat.
Add water to the steamer pot and place a coin in the bottom; the coin will rattle when the water starts to boil. Very carefully, place the tamales in a loose vertical position in the steamer pot, with the folded side touching the pot floor. Cover with more husks, then a layer of plastic wrap, then the lid. If the pot has a side opening for the purpose of adding water, cover that as well, with aluminum foil.
Steam for 50 to 60 minutes on high heat. (At higher altitudes, this may take longer.) Listen to the pot occasionally to make sure the coin keeps rattling; if not, add more water, taking extreme care not to dampen the tamales. To check for doneness, remove one tamale from the pot and open the husk. If it peels back cleanly, without sticking, the tamal is done.
Let cool for at least 15 minutes before serving. Serve in the husk, with plenty of salsa. Makes about two dozen tamales.
Carnitas and tamales recipes copyright Lesley Tellez from Eat Mexico, used by permission of Kyle Books.