This week, Italian police arrested 40 people accused of being part of the 'Ndrangheta, the Calabria-based mafia, after they were caught on video being initiated into the organization. The arrests were in the northern cities of Milan, Como, and Lecco, which shocked those who think organized crime is predominantly a southern Italian problem.
Although less known than Cosa Nostra (the Sicilian-based mafia) and the Napoli-based Camorra, the 'Ndrangheta is enormous—and enormously profitable. According to a report by Demoskopika (link in Italian), a research institute, the 'Ndrangheta generates annual revenue of €53 billion ($66.4 billion) and can call on the services of some 60,000 people to do its dirty work across 30 countries.
The bulk of the organization's income comes from drug trafficking and illegal waste disposal, but it also dabbles in extortion, gambling, gun-running, prostitution, counterfeiting, and much else besides. And as the recent arrests show, the 'Ndrangheta is active in the economic heart of Italy, not just the impoverished south—Demoskopika notes that the organization is all too often seamlessly integrated into the country's business landscape, with its agents and sympathizers practically indistinguishable from those who aren't involved.
Putting the 'Ndrangheta's size into context is eye-opening. By revenue, it would be the fifth largest company in Italy—twice as large as the country's biggest bank, UniCredit: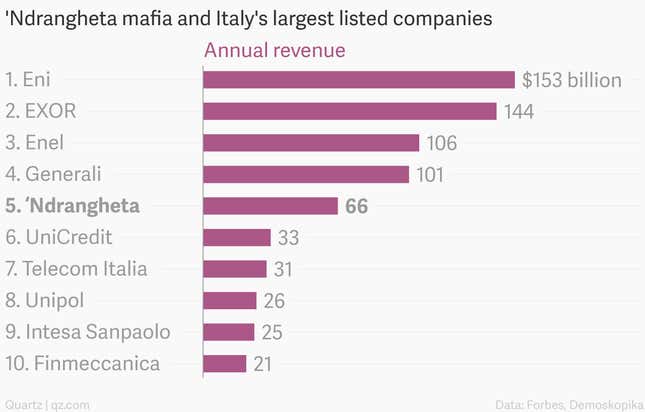 If the 'Ndrangheta was its own country—in parts of Calabria, it probably feels that way—it's annual sales volume would rank it, in terms of GDP, just below Sri Lanka and above Luxembourg: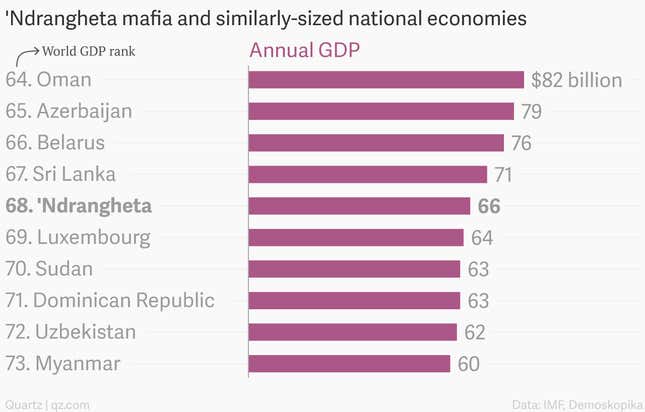 In its home "market," the 'Ndrangheta's revenue is worth 3.5% of Italy's GDP. In Calabria, from where it draws its strength, the organization benefits from a pool of eager young recruits who see little opportunity elsewhere. Even by southern Italy's depressed standards, Calabria is one of the worst-off regions—youth unemployment was 56% last year, well above Italy's already terrible 42% national average.