Regardless of its bigoted editing, the Hollaback video that went viral in October documented a nasty reality: Even just walking down the street, many women don't feel safe. But are they?
In the US, that depends on where in the country they live, according to new research by ValuePenguin.com, a financial research firm that created weighted rankings of 285 American cities based on rates of murder, rape, or stalking charges. For instance, female residents of the Chicago suburb of Naperville, Illinois, are much less likely to be victims of violent crime or stalking than those in Anchorage, Alaska, all else being equal.
"Hopefully this will give people some numbers to sink their teeth into when talking about issues like sexual harassment and rape culture," says Padmini Parthasarathy, an analyst at ValuePenguin.com. "And maybe some women will start voting with their feet."
Here are some other highlights and lowlights of the report (note that we're using "rape" to mean incidents of female sexual assault, excluding statutory rape):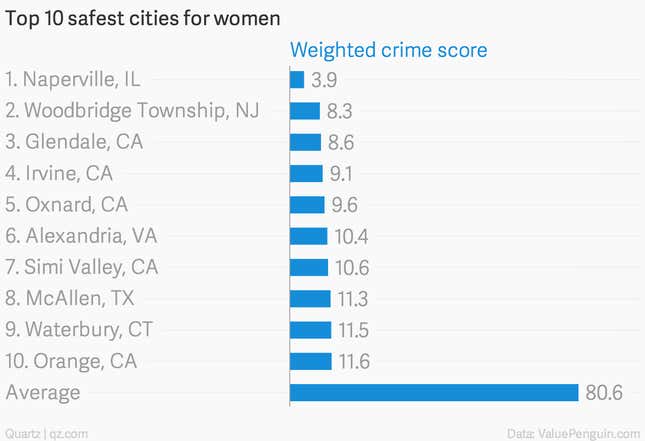 Safety in suburbs. As you can see in the chart above, many of the safest cities for women, based on ValuePenguin.com's analysis, are suburbs of big cities like Chicago, Los Angeles, and New York. (A low score denotes a lower rate of crime against women.)
Fresno, San Francisco, and New York top the list of the safest big cities—meaning those with populations of more than 500,000. In general, the size of the city didn't matter that much; the average crime score of 98 for the 33 big cities wasn't that much higher than the average of 78 for 252 smaller cities.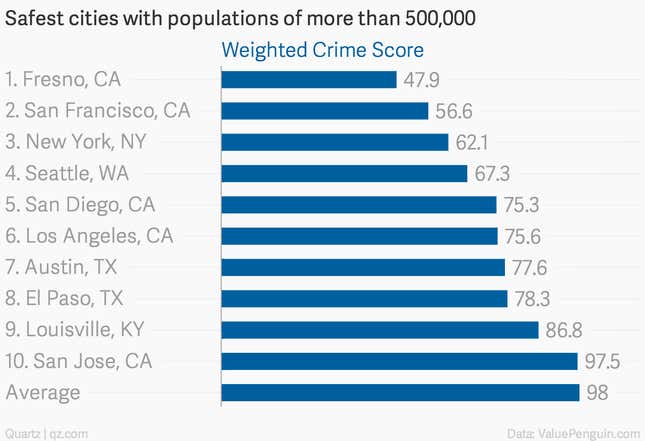 Oklahoma City and Colorado Springs are the largest on the list of most dangerous cities for women.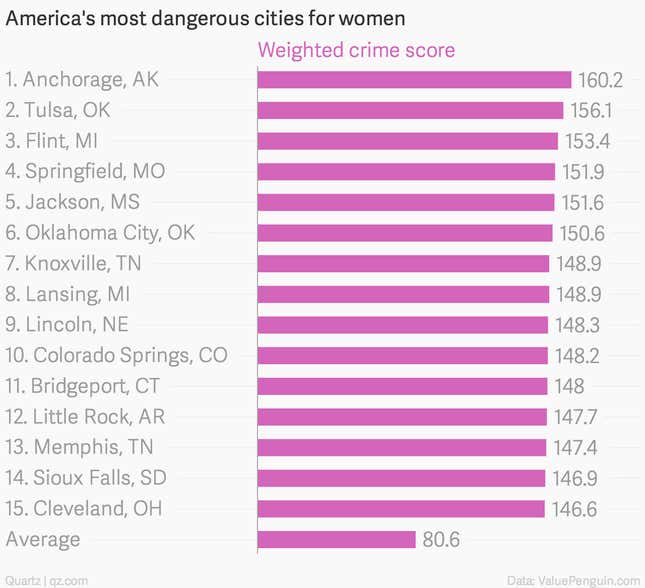 Head to Miami, women. Of course, if a city has high overall crime rates or an unusually high proportion of women, it could skew its ranking. Controlling for those factors, ValuePenguin.com found that the safest cities for women include Miami, San Francisco, Atlanta, Fresno, Hartford, CT, and the New Jersey cities of Paterson and Newark.
And avoid Denton, TX. The cities that were unusually dangerous by that calculation included Sioux Falls, SD, and Lincoln, NE, as well as the Texas cities of Denton and McKinney (the former was number one), the Colorado cities of Aurora and Centennial, and the Oklahoma cities of Norman and Broken Arrow.
Incidence of rape in Bridgeport, CT, is "pretty astronomical." The Connecticut city has about 239 female rapes per 100,000 residents, which Parthasarathy calls "pretty astronomical" considering that the runner-up, Flint, MI, with 95.6 female rapes per 100,000 residents. Connecticut officials argue the data are skewed by the high number of rapes allegedly committed over long periods of time by three men charged in 2012 (though it seems that only two of these alleged criminals preyed on females).
Watch out in Oklahoma. Two Oklahoman cities—Tulsa and Oklahoma City—top the list of the top 10 most dangerous cities for women. Michigan was the only other state with two cities—Flint and Lansing—in the top 10.