About 7 years ago, Google founded its People Analytics team, which collects and uses data to bolster the company's own management practices. (You can thank this group for the death of Google's infamous brain-teaser interview questions.)
The group had a simple founding mission, according to Google's executive Prasad Setty, who gave a talk at Google's re:Work conference in October, at the company's Mountain View headquarters.
"All people decisions at Google should be be based on data and analytics," he said. "Initially we aspired for living up to a really strong form of this mission statement, we wanted analytics to spit out people decisions."
Google was founded by, and is still dominated, by engineers. So as it started to hire thousands of people and needed to think more deeply about management over the last few years, it took an intensely data-centric approach. But not everything can be distilled down to an algorithm: even for Google's engineers, automation has its limits.
For instance, in the early days of the People Analytics team, the group built an equation to help streamline the process Google uses to decide to which of its software engineers should get promoted. This is a pretty involved process. Decisions are made by committees of senior Google engineers. They meet off-site—the Santa Clara Hilton is a favorite spot, according to Setty—and review hundreds of nominations for promotion. 
The People Analytics team thought a group of efficiency-minded software engineers would prefer an equation do some of the work. Here's what Setty's team came up with.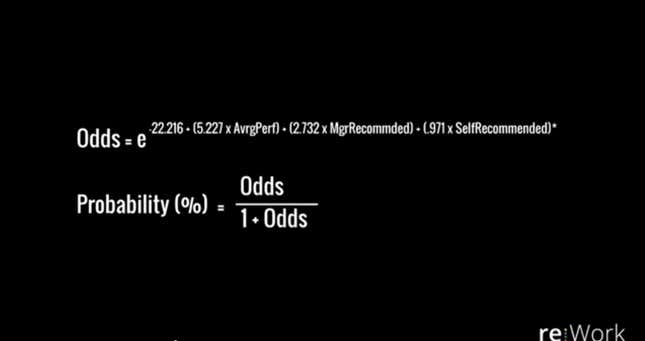 It's not pretty, but apparently, it worked.
"We found it was reliable, it back-tested very well, it was stable across multiple cycles, and for almost a third of our promotion decisions, with 90% accuracy, we could just use this model to make the right decision," Setty said.
The People Analytics team was thrilled. They thought they were about to save Google's hiring committees a third of their work, letting the engineers focus on the toughest decisions.
The engineers hated it. And it never was used to make promotion decisions at Google.
"They didn't want to hide behind a black box, they wanted to own the decisions they made, and they didn't want to use a model," said Setty, who headed up human resource analytics at financial services firm Capital One before joining Google.
Setty's takeaway is that people need to make people decisions. The People Analytics group exists to arm decision makers with better information, not to replace them with algorithms.
That insight has helped drive Google's approach to human resources and management.
The People Analytics group is in many ways fundamentally reshaping the way Google hires. For example, the company now de-emphasizes GPAs and university pedigree in favor of squishier attributes, such as "intellectual humility" and "learning ability."
Here's the full video of Setty's presentation:
Photo via Anthony Quintano