When students pick a university and a major, they're not always conscious of the debt burden they're assuming. What you study impacts what you earn in a pretty substantial way. A new report and interactive tool from the Hamilton Project shows exactly how much tougher, say, drama majors in the US have it than engineers.
The dataset makes some assumptions and isn't perfect. It keeps the interest rate constant, picks an average outstanding loan amount on graduation ($2,650), and doesn't account for students who go on to attend graduate school. But it gives a good sense of what the median student faces.
On average, students across majors pay out 14.1% of their monthly income in their first year out of school, and 7.6% after six years.
Graduates with certain majors end up paying a much higher portion of their income on average, particularly early in their career. It's as much as a quarter of income for some. Here are the majors with the heaviest burden for the first year of repayment. (The full range of majors is available here.)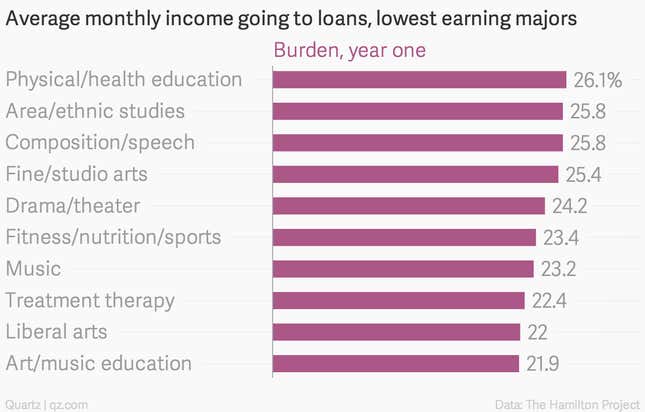 Income rises relatively quickly after graduation, with most majors paying below 10% of their monthly income after six years: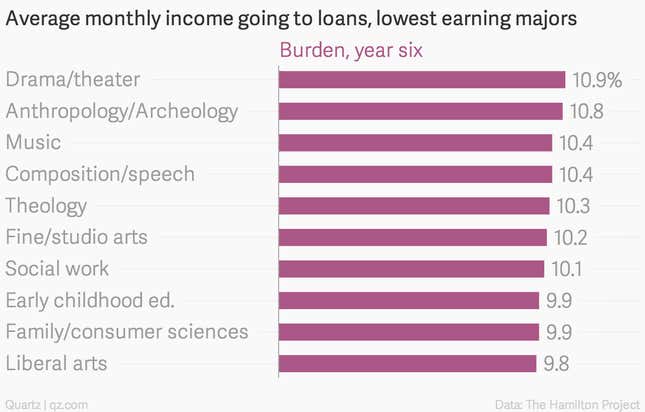 For those looking to pay off loans easily, engineering is the answer. Here are the top 10 majors that have the lowest relative debt burden after one year, along with the rate six years in: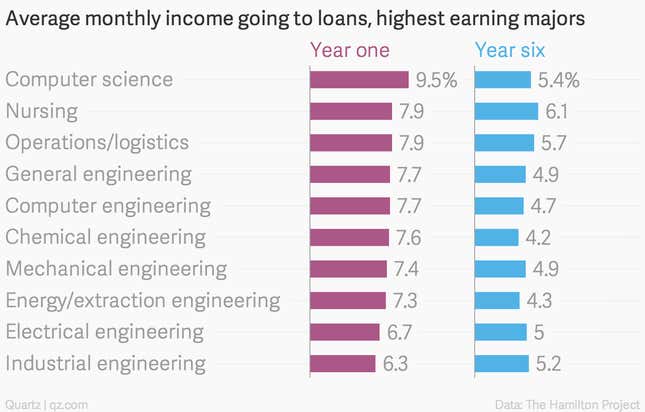 But for many majors, the first years out of school are extraordinarily difficult. The Hamilton Project's report argues that this makes a strong case for income-based repayment to avoid placing an undue burden on some students when they're just getting started.