Chinese bloggers are discreetly commemorating the birthday of Hu Yaobang, the reformist Chinese official whose death started the wave of student protests that ended in the deadly June 4th, 1989 crackdown.
Hu's controversial legacy—his ideas for political reform were opposed by officials in the communist party and eventually got him dismissed, but supported by Chinese students who rallied in Tiananmen Square on the day of his funeral and for weeks after—has only recently been restored. Even last year, searches for his name on the Chinese micro-blog Weibo on the anniversary of his death were blocked.
But on what would have been his 99th birthday, Chinese bloggers were able to reminisce freely about the former party chairman best known for rehabilitating China after the chaotic Cultural Revolution and coming up with economic reforms that Deng Xiaoping later spearheaded. Weibo users posted old photos, emoticons of candles, and eulogies.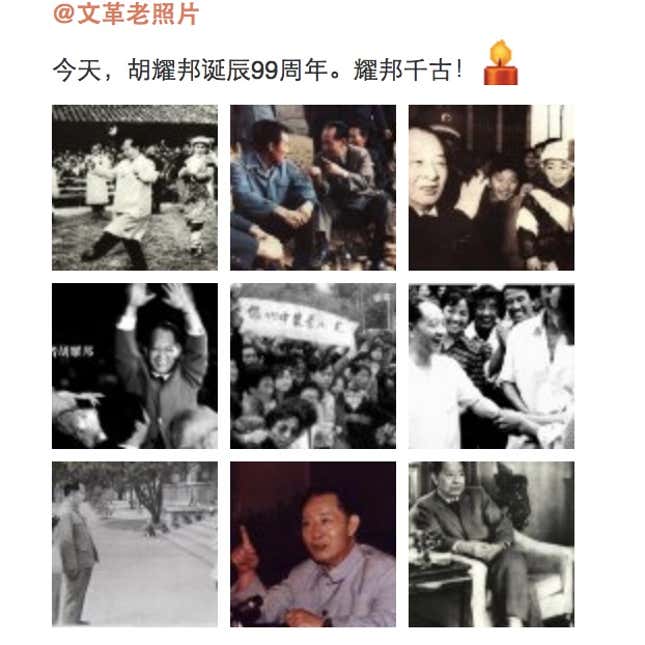 "This was China's Gorbachev," one user wrote (registration required). "Without him, China would already be the Soviet Union." Another, obliquely referring to the protests and violence that followed Hu's death said, "In history this is a pillar of disgrace." An article in the China Youth Network describing Hu as an "uncorrupted role model" and "intimate friend of the people" was forwarded over 5,000 times.
The fact that Hu can be discussed openly may be a signal of some openness. Hu, who died of a heart attack during a morning Politburo meeting, was not officially commemorated until 16 years after his death, in 2005 when then president Hu Jintao sanctioned holding a memorial for him.
But part of the nostalgia for Hu is also a reflection of broader public cynicism about entitled privileged Chinese officials—one of the reasons why Xi Jinping has launched an aggressive campaign against corruption among officials. Hu campaigned to eradicate bribery and graft within the party, one of the reforms that the protesters in 1989 rallied behind. One blogger wrote, "Hu's greatness was that he didn't see himself as great, stripped the mystery from politics and returned to earth. He was an honest and powerful man."