LOS ANGELES—Martin Riese doesn't drink US tap water. "I mean, I use it to brush my teeth," he says. "Have you smelled it?" But he can rattle off many European locales where he enjoys the tap water. His favorite is Flensburg, Germany. (Riese is German.) For a quaffable tap water outside Europe, he recommends Clearbrook, British Columbia in Canada.
Riese is the general manager at Ray's & Stark Bar, a restaurant at the Los Angeles County Museum of Art. He's also the "water sommelier"—the only one in America, he says.
Ray's & Stark has a 44-page, sewn-bound water menu, designed by Riese. With one bottle per spread, an index, and an introduction, there are 20 waters, from as near as Beverly Hills (his own brand, 90H20), and as far as Fiji and Norway.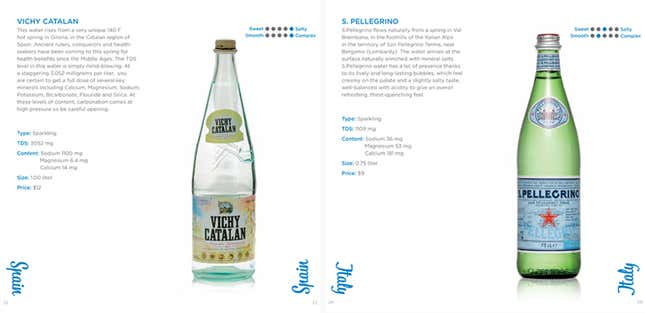 Each page gives a qualitative and quantitative description of the water. A source description like "nestled among beech wood and chestnut forests on the slopes of Mount Gazzaro," for Acqua Panna, is followed up with data about its sodium, magnesium, and calcium content, as well as the total amount of dissolved solids in the water.
Those solids are important for health, according to Riese, especially when you're trying to stay hydrated. Vichy Catalan, a $12 bottle on the menu, has more electrolytes than Gatorade, according to Riese. The most expensive water on the menu is the $20 Berg (that's for a 750 ml bottle), made of water harvested from icebergs.
The water on Ray's & Stark's menu costs $12.64 per liter on average.
Riese says he became fascinated with water when he was a boy traveling with his parents and tasting the differences between local waters. Eventually, he received a certification from the German Mineral Water Trade Association and came to the US on an O-1 visa—a permit given to "individuals with extraordinary ability or achievement."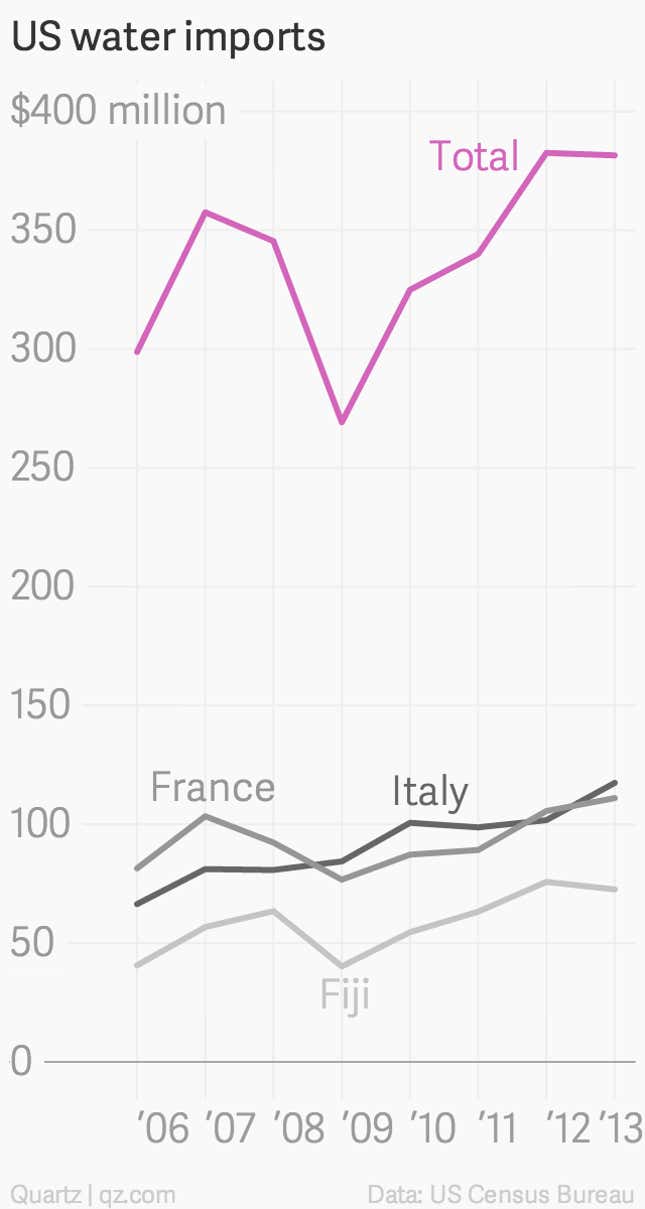 Americans are seemingly becoming more fascinated, too. US water imports grew 10% in value from 2008 to 2013, and are up 9.9% year-on-year through September 2014. The top suppliers are France, Italy, and Fiji. Indeed, 42% of Fiji's exports to the US is water, more than any other good, according to data from the US Census Bureau.
He doesn't drink coffee, but Riese can tell you which water to use to make a cup: "You want to balance the bitterness, so you're looking for a mineral water with very low mineral levels, and no carbonation whatsoever." To make pasta or dough fluffier, he recommends carbonated water. "When I make pasta, I use Gerolsteiner."
Back to that menu. Its utility becomes apparent immediately upon trying two waters, side by side: one was mineraly and crisp, the other smooth and soft. When giving a tasting to Conan O'Brien in September, the late-night talk show host spit out one of the waters he didn't like.
A different utility was apparent to Ray's & Starks, when Riese introduced the menu in 2003: Water sales jumped 500%.