The fourth Thursday of November, when the US celebrates Thanksgiving, is Instagram's busiest day of the year. More than 10 million photos mentioning Thanksgiving were uploaded to the social network that day in 2012, and Thanksgiving 2013 was the most active day on Instagram to date.
This year, dozens of consumer brands and publications are hosting contests challenging people to Instagram their Thanksgiving dinners. Even if you're not participating in one of those, you may be feeling the pressure to up your Instagram game this holiday. Quartz asked food photographers and chefs for tips on making a meal look as mouthwatering on camera as it smells (and hopefully tastes) in real life. Here's what they told us.
 Ideally, you've got a recent version of the iPhone
We're assuming you have a modern smartphone. Each year's model has a higher-quality camera than the previous one, so being an iPhone 6 owner gives you an immediate advantage over other Instagrammers. This is the first piece of advice we got from Jenn Louis, the executive chef and co-owner of Lincoln Restaurant and Sunshine Tavern in Portland, Oregon.
James Ransom, who shoots many of the gorgeous photos accompanying articles and recipes on Food52, says that not only is iPhone photography "really fun," it's also easy with the iPhone's standard camera app, which allows users to control exposure and focus. Remember that you can tap dark spots on the screen to brighten or darken an image accordingly.
Try your darnedest to photograph food in natural light
This is another thing Louis, and everyone else, mentioned right away. "Daylight is going to make the photography instantly better," says Hunter Lewis, the editor of Cooking Light. Lewis, who's also worked at Southern Living, Bon Appetit, and Saveur, where he ran the test kitchen, says that the traditional afternoon start time of Thanksgiving dinner should make this easy. "The best part about Thanksgiving is that we're cooking during the day."
If there isn't a lot of natural light in your kitchen, budget just a smidgen of extra time to take dishes aside—put them on a table next to a window—and shoot them where the sun is shining.
If you don't finish all your food prep before sundown, heed Ransom's warning that "the number one thing people do wrong [in food photography] is shooting with all the lights on in a room." Multiple sources of light produce multiple shadows, and light has "different temperatures to it," so sometimes it casts a warm, yellow glow while other times it makes objects glow green. For these reasons, both Ransom and Louis advise illuminating a dish with just one light when you stage it for a photo.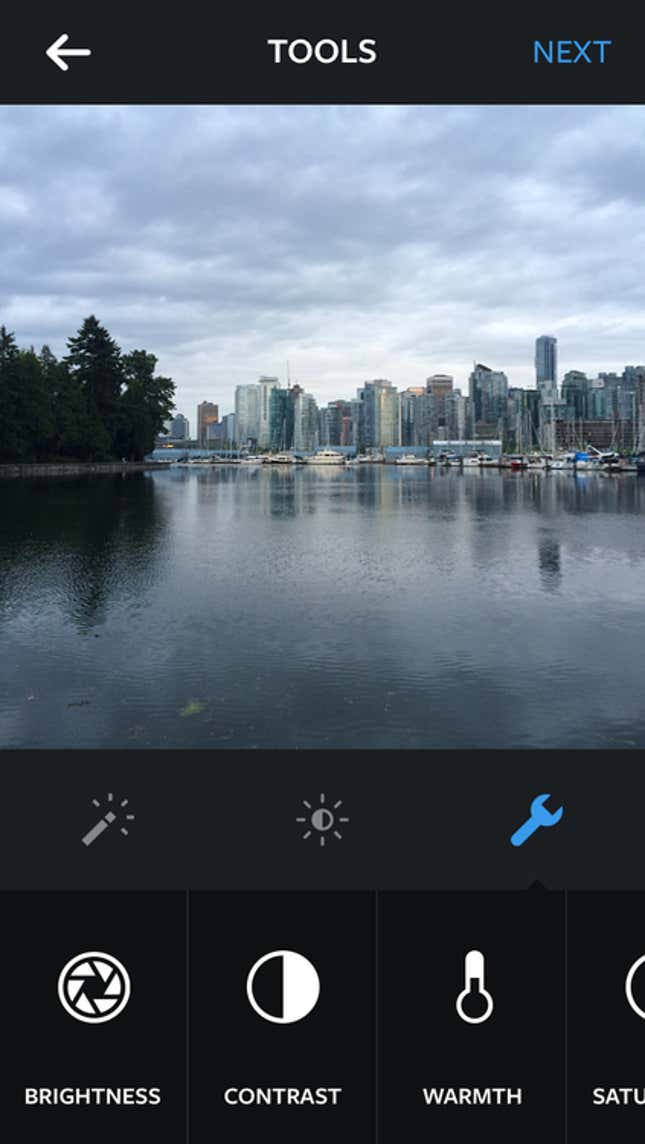 Don't rely on Instagram's filters
Ransom gets a lot of utility out of Apple's plain Camera app, but he also loves VSCO Cam, which is free (and available for both iPhone and Android) and offers many more ways to filter and adjust your photos than Instagram does.
Louis likes to edit her photos in Instagram without setting filters. So, she'll leave the filter selection on "Normal" and instead tap the wrench icon, which presents options for adjusting brightness, color saturation, and more.
It's not all about the food
Thanksgiving may be the only US holiday we have that's focused purely on the feast, says Lewis, but "there's no feast without people." Don't ignore the party surrounding the food.
"If you're going as a guest," he says, "I would shoot more documentary-style," as things are coming out of the oven, being moved around the stove, and spilled. If you can't control the lighting in a relative's house, and plucking a pie dish off the table for the sake of photographing it next to a window provokes raised eyebrows (or temper tantrums), just shoot from the hip.
Many families have special tools and cutlery that only get used at this time of year. Highlight those objects, suggests Lewis. "Everyone's got their 'thing' they pull out for this holiday, whether it's a turkey baster or a gravy separater." (Or maybe a deep fryer, if fried turkey is your thing.)
This year, electric knives supposedly are making a comeback in kitchens around the US.  "I want to see everyone's collection of vintage electric knives," Lewis laughs.
Don't go overboard
It's not necessary to photograph every dish on the table, but if you do, be selective about what gets shared on social media.
And remember, there's no need to compromise how food tastes for the sake of making it more photogenic.
"There's no lie" to good food photography, Cooking Light's Lewis says—except perhaps when it comes to turkey. The centerpiece of the Thanksgiving meal does occasionally require tricks, he concedes. But he doesn't suggest trying this at home—capturing the Norman Rockwell look is something best left to the professionals, it seems.
For the rest of us, the raw or half-eaten look might make a more interesting shot.
For the rest of your meal, the main secret to beautiful photos is "good recipes and really fresh ingredients," Lewis says. If you have those, "the food's gonna pop more." (Note how the fresh herbs stand out next to the turkey in the shot below, which Oprah Winfrey posted to Instagram last Thanksgiving.)
And remember, not everything needs to look beautiful to be memorable.
"Some things are just ugly, and I think that's okay," says Louis, who cooked at an Outward Bound camp in North Carolina before attending culinary school and opening her restaurants. "I really recommend that people don't get too hung up on visuality."
Yes, the visual aspect is the main focus when you're instagramming Thanksgiving. But in real life you've also got smell, texture, taste, tradition, and hopefully awesome dining companions contributing to the experience.