Since his inaugural letter to shareholders in 1997, Amazon CEO Jeff Bezos has pledged to "to focus relentlessly on our customers" and ignore "short-term profitability considerations or short-term Wall Street reactions."
He has proven true to his word. Amazon is routinely praised and criticized for its unorthodox business model that puts customers above shareholders. But with its stock price struggling this year, investment bank Nomura argues the company can no longer afford to ignore Wall Street:
No Amazon employee receives more than $160K in annual cash compensation; any remuneration above that level is paid in company stock. Therefore, because continued weak stock-price performance could hurt employee morale and retention, and hinder the ability for to attract industry-leading talent, it follows that management would not view stock weakness lightly.
Amazon's top cash salary of $160,000 is more than triple the median US household income in 2013, but in the fiercely competitive market for talent that is the technology industry, it is not excessive.
Bezos himself drew a cash salary of just $81,840 last year. Even counting stock-based compensation, he is one of the lowest paid CEOs among major corporations. Plenty of top executives have drawn meagre salaries and received most of their compensation in stock, but to have a company-wide limit on salaries is highly unusual. And a flagging stock price means the dollops of equity awarded to employees to make up the difference will be worth less.
Don't forget, Amazon has also been criticized for the low wages it pays to employees for the "soul crushing experience" of manning its warehouses. And the company has one of the highest staff turnover rates in the tech business.
To be fair, while the stock price is struggling this year, it has performed strongly over just about every other timeframe. Here it is over the past 10 years against some of the companies with which it competes for talent. It doesn't hold up against Apple—who does?—but outperforms Google.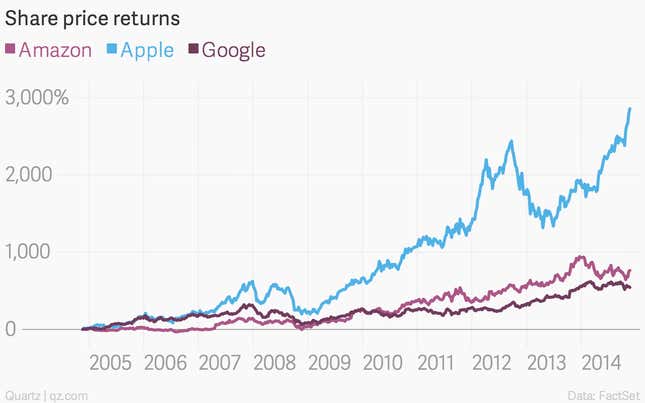 Even so, the flight of talent suggests Amazon's compensation philosophy needs reassessment. If the company wants to dominate the future of consumer purchasing and the internet then maybe it's time for that self-imposed salary cap to go.