Facebook's future depends on its ability to figure out—and dominate—the mobile internet the way it quickly grew on the desktop web. While not everything Facebook launches is a hit, the company has executed impressibly in mobile and is one of the world's top mobile companies.
Top of the charts
Most obviously, with now more than 1.12 billion active mobile users, Facebook is dominating the app charts, as noted by App Annie. Four of the top 10 apps on the Apple iOS App Store and Google Play most-downloaded charts in October were Facebook-owned apps: Facebook Messenger (no. 1), Facebook itself (no. 2), Instagram (no. 4), and WhatsApp (no. 6).
Facebook's overall user base is still growing, though mainly in developing markets, and mainly on mobile. In more established markets, Facebook's acquisitions of WhatsApp and Instagram will help the company combat the apparent exodus in younger users.
One-fifth of all mobile data
In a report released this week, Facebook now accounts for about one-fifth of all data used on mobile phones. When it comes to viewing content on a phone, Facebook is only just behind Google's YouTube for data usage. Facebook mobile traffic is up about 5% from the first half of the year.
Sandvine, the company behind the report, says it believes the increase is "directly attributable" to the autoplay function that Facebook introduced on mobile video over the course of this year. This means every time someone scrolls by a video on their Facebook newsfeed, the video will start playing, unless they have turned the autoplay function off. The spike in data usage seems to suggest that most people haven't turned that function off.
Video, of course, uses a relatively high amount of bandwidth. And autoplay video prepares Facebook users for autoplay video ads.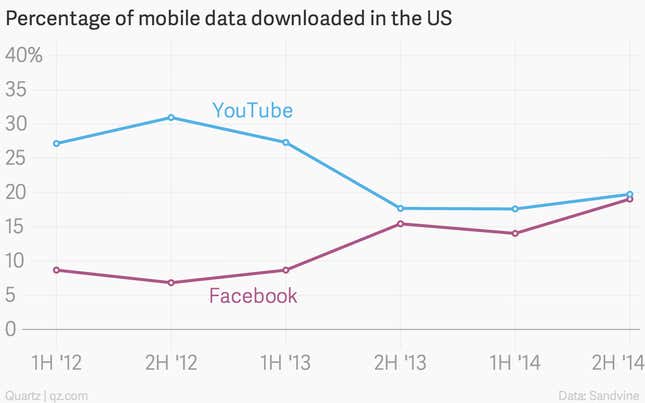 Two-thirds of revenue
Facebook's advertising model is rapidly shifting to where its users are. It wasn't always clear that Facebook would succeed in mobile advertising. But it has. Mobile now accounts for two-thirds of Facebook's advertising revenue.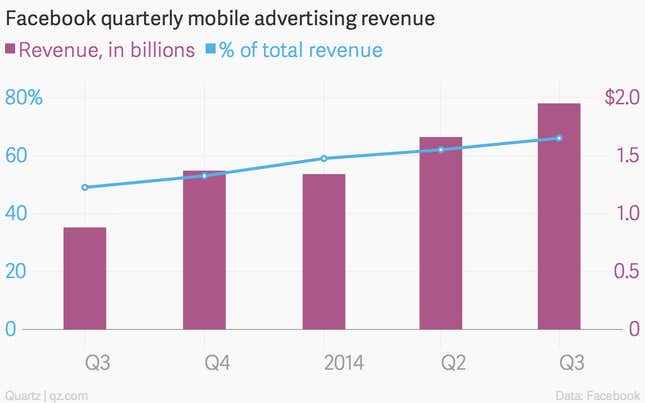 Not all winners
Not everything Facebook has done on mobile has been a big success. Facebook released Facebook Groups, a group-messaging app, on Nov. 18. The app fell out of the top 100 most-downloaded apps on the US iPhone App Store after just a week, according to App Annie, and has yet to break into the top 300 apps on the Google Play Store.
Facebook Paper, the mobile app that curates your Facebook news feed and topics from the news, released back in February, is not in the top 1,000-most downloaded apps in the US App Store.
Facebook Slingshot, the company's Snapchat clone—developed after it was unable to purchase Snapchat—fell out of the top downloads days after its release. Poke, its original Snapchat clone, was pulled from the App Store earlier this year, although presumably to make way for Slingshot.
Although CEO Mark Zuckerberg has committed to creating "single-purpose" mobile apps, the real value from Facebook's app onslaught might be to provide a proving ground for Facebook's main successes. The small team behind Facebook's newest app experiments, Creative Labs, could translate its best ideas into new features to increase engagement on the Facebook and Messenger apps. And if one of the new apps becomes a big hit—such as Messenger—that's even better.
Finding new revenue streams
The upshot from Facebook's mobile success: Messenger, and mobile more generally, could eventually lead Facebook to new revenue streams beyond advertising. Advertising accounts for about 92% of Facebook's revenue, according to the company's most recent earnings report.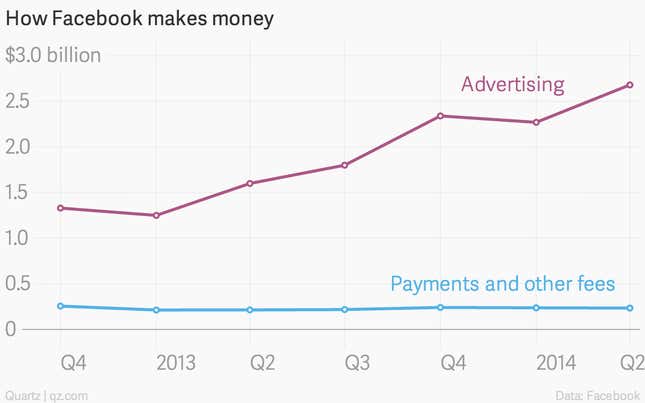 Facebook has a structure in place to accept payments from its site and mobile apps, but almost all of the roughly $250 million per quarter it generates through payments comes from games hosted within Facebook's website. Facebook recently hired David Marcus, PayPal's former president, to run its messaging business. So stay tuned for potential developments here.