Barcelona's Lionel Messi is the best soccer player in the world right now, maybe the best of all time. Every year the Argentine adds another record or trophy to his name. Here are some of the records he has demolished.
Most goals scored in Spanish history
On Saturday, Messi broke the record for all-time top goalscorer in La Liga: 253 goals in 289 matches. With that, Messi finally overtook the record set by Athletic Bilbao legend Telmo Zarra back in 1955. Incredibly, none of the great strikers who played in Spain over the years could beat the record set by the Basque—and then it was beaten by Messi, who isn't even a striker.
Cristiano Ronaldo, Messi's great rival—the Foreman to his Ali—has scored 197 so far but only joined La Liga in 2009. Messi started playing for the Barca first team in 2004.
The majority have been scored with Messi's left foot and inside the penalty box. Zarra scored his 251 goals in 15 years at Athletic Bilbao. Messi broke it in 10 years. He scored his first La Liga goal at the age of 17.
It goes without saying that Messi is the all-time top goalscorer for Barcelona as well, with 368 goals in all competitions.
Most goals scored in Europe
Messi jointly holds this record with Raúl but seems likely to claim it all for himself soon enough. They both have 71 goals in the Champion's League. Raul, a Real Madrid legend who is currently playing for the New York Cosmos, scored his last European goal in 2011.
Ronaldo is just behind the two of them, with 70 goals, meaning that by the end of the season, either Messi or Ronaldo could smash the record to pieces. But the ratio of goals to games in European play for these three greats tells another story:
Raul: 71 in 142 games = 50%
Messi: 71 in 90 games = 79%
Ronaldo: 70 in 107 games = 65%
Messi is also the all-time scorer of hat-tricks in Europe, with four in total.
Most goals scored in a season
The Argentine scored 73 goals in a single season in all competitions in 2011. That includes an incredible year in the league.
In 1953, Zarra scored 38 goals in the league—and that record stood until Ronaldo put 40 goals away in 2010 and then Messi smashed that the following year, with an insane 50 goals. That means Messi scored around a fifth of his entire goal tally in La Liga in one year.
The following year, he set another record—for the longest scoring run ever in La Liga. Messi hit the back of the net in 21 consecutive matches, scoring 33 goals.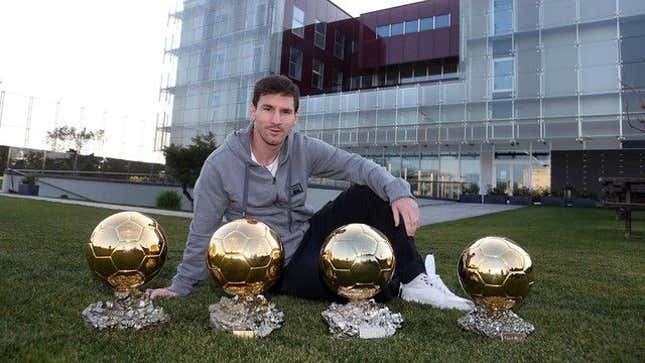 Most "best player in the world" awards
Not only has Messi been voted the best player in the world four times, he won them four years in a row—from 2009 to 2012. He also the youngest-ever multiple winner, as he was aged 24 years, 6 months and 17 days at the time.
And with all these records broken, keep in mind that Messi is only 27 years old. His current coach thinks he will set "unreachable" records.