Despite geopolitical tensions in Crimea, volcanos in Iceland, and a shaky economic recovery in the eurozone, international tourism to Europe is thriving; it grew by 4% in the first three quarters of this year, according to the European Travel Commission's 2014 trends report released this month. All countries but one reported growth in arrivals from the beginning of 2014.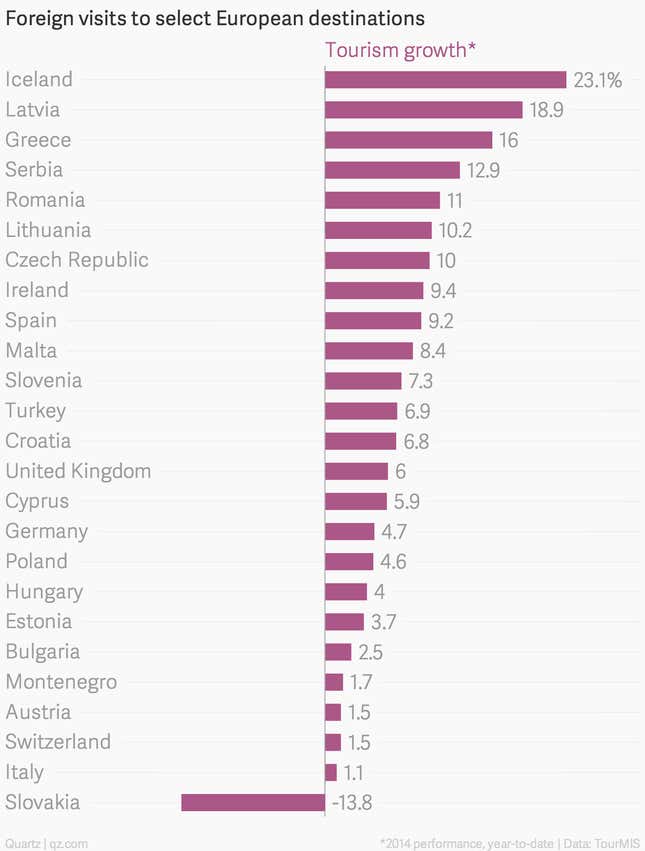 While Iceland holds the top spot, growth in visitors slowed in summer versus earlier in the year, when efforts to drive off-season tourism had a significant effect. Spain's growth in arrivals didn't even place it in the top five. However, it was the country with the highest growth in the number of overnight stays by foreigners, with 12% growth by that measure.
Croatia, one of the countries that saw a decline in visitors in the first quarter of the year, posted 6.8% year-to-date growth in arrivals as of September, proving its role as a summer holiday destination. Turkey's growth, meanwhile, largely is attributed to an influx of arrivals from Russia as a result of the Russia-Ukraine crisis. Serbia also benefited in that regard, recording 17.9% growth in arrivals and 30.8% growth in overnight stays by Russians alone. Total arrivals and overnights in Serbia grew 12.9% and 9.3% respectively through June. (The end month for the year-to-date data varies based on the latest available data provided by each country's tourism board.)
Slovakia, the only country that posted a decline in the number of visitors, also fell in the number of overnight visits by 11.2%. It's a drastic change from the ETC's report for the third quarter of 2013 report, when it posted the second-largest increase in arrivals—around 16%. The ETC attributed the falloff to unfavorable weather conditions and the appreciation of the Czech koruna, and noted that Slovakia, being a landlocked country, is less likely to see growth in the summer months.
The most popular destinations vary by country of origin. Visits by German travelers grew fastest for the Baltic states of Latvia and Lithuania, while visits by Russians grew fastest for Greece, followed by the U.K. and Serbia.
Americans flocked to Iceland, meanwhile, with visits from US travelers growing nearly 30%. They also showed strong interest in Lithuania, where the number of nights spent by travelers from the US jumped 56.6%.
For travelers from Japan, where the central bank's monetary policy has weakened the yen, cheaper destinations like Greece, Montenegro, and Estonia, drew the most significant increase in interest.