When SpaceX, Elon Musk's space company, challenged a patent for landing reusable rockets at sea owned by rival Blue Origin, the space company founded by Amazon's Jeff Bezos, the motivation wasn't entirely clear: While SpaceX had been investing heavily to develop reusable rockets, it hadn't announced any kind of sea landing platform.
Now, all is revealed: In October, Musk said in an interview that the company had a "50%" chance to land a rocket on a floating platform in the next year, and last week the floating platform appeared to be complete. It makes the motivation behind their challenge of Blue Origin's patent—diagram seen below—far more obvious.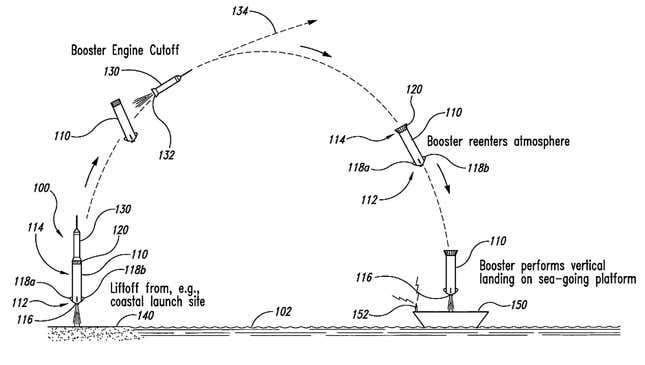 The case is still playing out before the US Patent and Trademark Office's review board. Today is the deadline for Blue Origin to respond to SpaceX's challenge, and standard procedure suggests that a decision will be made next summer, hanging on whether Blue Origin can demonstrate original innovation in its design. SpaceX argues that it cannot.
But, if Blue Origin can protect its patent and SpaceX can make its system work, that would set the stage for a far bigger legal fight over the rights to reusable rocket systems.
Regardless, SpaceX is pushing on with its attempt to land a rocket stage over water, possibly as soon as its next launch on Dec 16, which will carry a load of supplies to the International Space Station. Reusable rockets have been a target of SpaceX for some time now: The company has spent years developing the technology to land a rocket booster after use, which could reduce the cost of launches by tens of millions of dollars.
The company has been developing fins to guide a rocket stage back to earth after they carry their cargo into space:
The company says the previous two attempts to test the reusable stage have successfully brought them down to a controlled landing in the sea, although neither has been recovered.
This new floating platform could change all that.