In the next few days, a time-honored tradition will play out across America, as hordes of people go to the movies over Thanksgiving weekend. If you're one of them, chances are you'll watch a sequel.
The three biggest movies out this weekend, based on box office projections reported by the LA Times, are all sequels: Mockingjay – Part 1, the third installment in the Hunger Games franchise; Penguins of Madagasar, technically a spinoff but from the Madagascar computer-animated franchise that has spawned three films already; and Horrible Bosses:2, an old-fashioned followup to a surprise comedy hit from 2011.
It is now well-established that Hollywood has a sequel fetish. And this simple pie chart from Nomura makes it obvious why.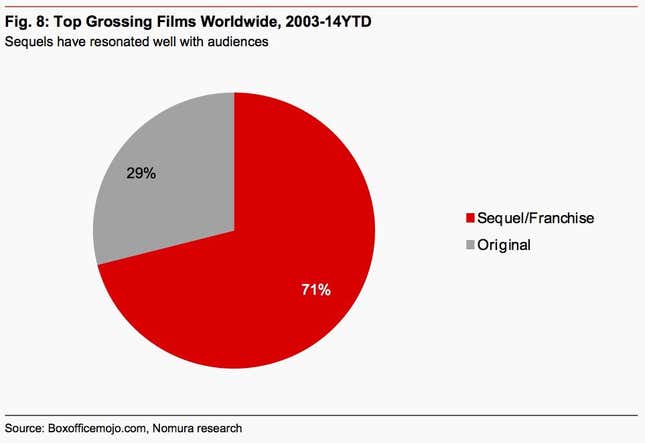 Put simply, sequels reliably make more money than originals do. At a time when fewer Americans are going to the movies, they appear to carry less risk.
But Hollywood's sequel fetish probably won't be enough to salvage it from a dismal year overall at the US box office in 2014.
Last year the previous film in the Hunger Games series, Catching Fire (itself a sequel) had the best Thanksgiving weekend, in nominal terms, for any film ever, according to Rentrak, when it grossed $110 million. This year things are not looking as bright. Mockingjay – Part 1 has been met with tepid reviews, and despite having the best opening weekend for any film released in 2014, it hasn't kept pace with its predecessors. Projections are for a gross of up to $60 million, nearly half what Catching Fire drew a year ago.
Perhaps some sequel fatigue is kicking in. It's worth remembering that Frozen, a computer-animated musical made by Disney, was last year's hit, and the second-best performance for a film over any Thanksgiving weekend. It went on to gross more than $1 billion globally and become the biggest animated feature at the box office ever. And it was an original—a reminder to Hollywood that sequels aren't the only path to box office success.