It's no secret that the global population is aging. We're living longer than ever and are healthier until much later in life. But we're still struggling to adapt to this changing demographic—and some are struggling more than most.
So if we are going to get old, where should we do it? Which country in the world will take the best care of us? Which country pays the closest attention to the needs of older people and makes the best use of their skills?
The aging population is the outcome of extraordinary developments in technology, medicine and public hygiene. Equally important are changes to our lifestyles. More of us are eating better and regular exercise is now a fundamental part of many people's lives.
But until relatively recently, our understanding of the capacities and vulnerabilities of people in older age has been tied to pre-industrial preconceptions about aging. In the eyes of many people older people are still a burden rather than a resource.
The increasing availability of data on old age is changing this though. A good example is the Global AgeWatch Index, produced by HelpAge International. This provides credible comparative information on the wellbeing and quality of life of older people across the globe. The evidence generated by the index has helped us identify what makes it possible for older people to fare better.
Head north
The latest index tells us that the best place to grow old is Norway. Here, you will be among the richest pensioners in the world and will enjoy a supportive, age friendly environment. Or, if that doesn't take your fancy, Sweden, Switzerland and Canada are other good options. These countries are particularly good at offering quality health and social care systems and provide better access to employment for their older citizens than other countries.

The values of the Global AgeWatch Index provide a measure of the potential that each country has to match the best-performing country in the sample. For example, Sri Lanka's overall index value of 51.7 means that older people's well-being in Sri Lanka is 51.7% of the best performing state (100), giving it a shortfall of 48.3 percentage points below the best performing country, Norway.
It includes information in four areas to give a fuller picture of how well cared for older people are. It measures health status by looking at life expectancy at age 60 and the psychological well-being of older people. It takes into account income security by looking at whether pension incomes are adequate and cover enough people.
The personal capabilities of older people are also captured by investigating education and the extent to which older people are employed. And it considers how far their home countries offer an enabling, age-friendly environment – can older people there feel safe in their neighborhood? Do they have access to crucial public services? All these are important considerations that make for a better life in old age.
Apart from Japan, all of the top 10 countries are in Western Europe, North America and Australasia. Israel and Estonia also join the top 20 this year. The top scoring countries enjoy a rich standard of living, have high-coverage pension systems, high levels of healthcare provision and supportive social environments.
The UK comes in 11th place. It has a poor position in comparison to other European countries with respect to poverty among pensioners. It also lags behind others in the psychological well-being of older people. One dimension in which it scores relatively better is the enabling age-friendly environment—it ranks third in the world for that.
The analysis shows how important social and external environments are in determining older people's ability to live well. One important factor is personal safety and another is access to public transport. These are key to older people's quality of life, enabling them to access services (such as healthcare and shops) and friends and family.
A combination of low personal capabilities and a restricting external environment can have a serious impact. This prevents older people from taking advantage of opportunities like making social contacts and reduces their resilience to threats that affect them during old age, such as ill health and disability.
Don't book a flight yet
Toward the lower end of the league are countries that have been slower to improve pension provisions and employment opportunities for their older citizens. There are fewer chances to access free healthcare and less community care and subsidized transport. Many African nations place at the lower end of the spectrum, including Ghana, Uganda and Morocco, which comes in 83rd place.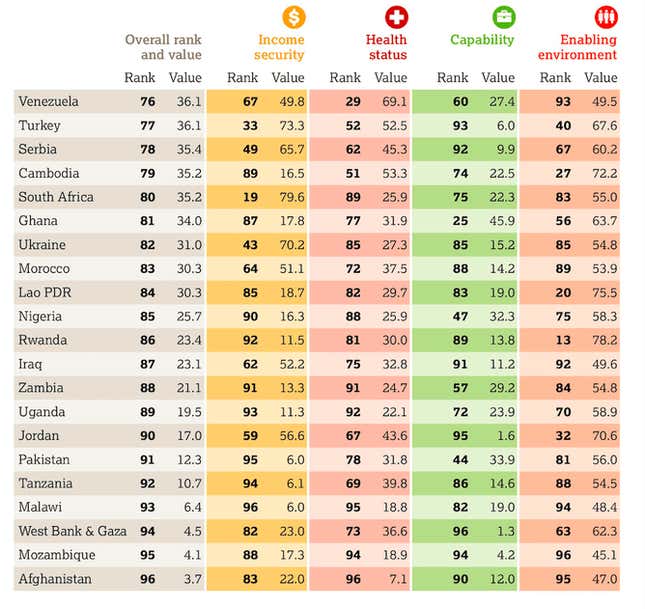 Ukraine ranks towards the bottom, having scored badly across three out of four categories, including the health status of its older population.
The older populations of the three lowest-ranked countries, the West Bank and Gaza, Mozambique and Afghanistan, account for less than five per cent 5% of the total population. This points to issues that reduce people's chances to survive to old age in these countries.The countries need to take action now to prevent the young people of today from living in poverty in their old age.
Latin American countries have been improving in this respect. Chile leads a cluster of countries in the region, ranking at number 22. Part of this success is attributed to the expansion of social pensions across Latin America.

These kinds of pensions are said to a game changer for older people. Tax-financed, non-contributory, social pensions have the potential to create a basic regular income for some of the very poorest older people. In comparison, contributory pensions have not lived up to the expectation to support older people in low and middle-income countries. This is largely due to the fact that many people in these countries work in the informal sector and consequently do not qualify for formal pension schemes.
Top-scoring Norway first introduced its universal rights-based pension in 1937, long before it achieved its current high-income status. Sweden, which has recently celebrated 100 years of its universal pension system, also rates highly in this metric. Both systems were put in place at a time when these countries were what would now be called "emerging economies." Similarly, the best-performing African country, Mauritius (38), introduced a universal pension back in 1958.
No contest
Overall, there is a significant disparity between the nations at the top and those in the lower third. On income security, for example 26 countries in the index scored less than half the top values set by Norway and France. By income security, it means that almost all pensioners have a pension income entitlement, and the pension receipts afford a decent standard of living.

The results in the 2014 Insight Report of the Global AgeWatch Index also point to clear evidence of mismatches between advances in longevity and the evolution of policies that empower older people. In particular, many sub-Saharan, Middle Eastern and Asian countries achieve less than one-third of the desirable level of quality of life and wellbeing.
A clear message is that greater social policy priorities, including social protection and universal social services are needed to improve older people's wellbeing, while at the same time making systems of welfare provisions more sustainable.
It's important to note that the persistence and impact of social and economic restrictions accumulate over a person's lifetime. If a person struggles throughout their life, they will be worse off in old age. Human development must therefore be promoted across the life course; building resilience at all stages of life to enable people of all background and abilities to live a better life in old age.