Who was the best soccer player in the world in 2014?
FIFA, the ethically-challenged arbiter of the world's most popular sport, has proposed a short-list of three for the Ballon d'Or, the top individual accolade: Cristiano Ronaldo, Lionel Messi, and Manuel Neuer. Like most sports awards, fans are rooting for their favorites—but unlike many others, it's hard to make a statistical case that one player is more valuable than another. That often makes the award merely a measure of prolific goal-scoring—but as any manager will tell you, that's probably not enough to carry a successful soccer team. How can we improve?
Get better statistics.
Soccer comes with fewer starts and stops, a bigger field, infrequent scoring and more players in action at once than most well-measured sports, so it's just hard to get a handle on what factors separate victory from defeat. It's  even harder to separate an individual's influence from a team's result—which at least Microsoft seems to have figured out. Only recently have we seen more serious statistical efforts, but that data is largely proprietary and hard to obtain for analysis.
Don't forget about goalkeepers.
Messi and Ronaldo are forwards, which makes it easier to compare their play, but Neuer is a goalkeeper, and no one has really found a way to compare the value of goalkeepers to outfield players—much to the 'keepers' detriment. Should a goal stopped be treated equally to a goal scored? How much should quality defenders influence our judgement of a keeper—and how much should quality midfielders influence our judgement of a forward? Add in Neuer's unusual willingness to leave the penalty area and play as an outfield defender, and you've got another wrinkle.
Weigh competitions more fairly.
The voters in the Ballon d'Or—international coaches and captains, as well as journalists—are expected to consider performance in professional competitions (which, for the best, can include a national league, a national cup and the international Champion's League) and while playing for their countries' national team, which this year means the World Cup.
That requires factoring in the strength of different leagues and even different teams. Neuer's Germany won the World Cup, and only twice has the award been given to a player whose team didn't in a World Cup year. Ronaldo, the favorite for this year's award because of his record scoring for his professional team, saw his national team eliminated in the early stages of the tournament—but does that reflect more on him or the quality of his team? Meanwhile, Messi's Argentina lost to Germany in the final, but he won an award as the tournament's best player. How do you weigh those factors?
But, the voters might not be too far off.
One effort to quantify player performance comes from Luis Nunes Amaral, a physicist who studies complex systems. On something of a lark, he and some collaborators developed a metric to track players during the 2008 European Cup, treating the team as a network and prizing those players who kept possession of the ball (so that opponents couldn't score) and set up scoring chances (so their team could). Not surprising, the Spanish team's supreme artist of passing, Xavi Hernandez, came out on top in that tournament's rating. Amaral launched a start-up to update and expand this metric, selling their analysis to teams and player agents.
He kindly made us this chart, showing some top players in the last four seasons in La Liga and the English Premiere League: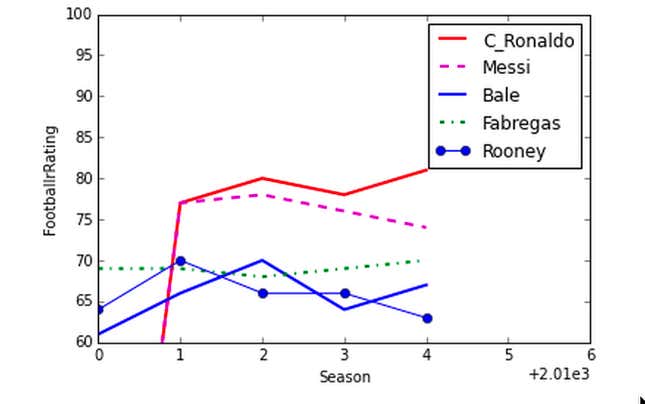 In a word, dominance by the two leading contenders for the award, and in particular, by the favorite. But this alignment between statistics and popular opinion may be because Messi and Ronaldo are such outliers—the best players, Amaral says, reside around 70 on his ranking, with Messi and Ronaldo jockeying for the top spot in the 80 range. "There have never been players like Ronaldo and Messi," Amaral says. "Those two guys are so extraordinary, so remarkable."
Amaral says that soccer is in a "pre-moneyball situation, and analytics could play a much more important role in these kind of decisions." Perhaps in a few years, when age brings Messi and Ronaldo's current run of excellence to a close, soccer statistics will have advanced enough that when the outliers aren't obvious, we'll still be able to know who's best.