China has upset its neighbors again. Just days after leaders from China and  Southeast Asian nations agreed to disagree over a patch of ocean to which almost every country in East Asia makes some claim, China slyly claimed the area for itself in its new passports.
The passports include a map of China with a dashed outline of what China calls the "South Sea"—a chunk of the South China Sea that includes parts of the "exclusive economic zones" (under the UN Convention on the Law of the Sea) of the Philippines, Brunei, Malaysia, Indonesia and Vietnam. The area, home to the Spratly Islands, is believed to hold major reserves of oil and gas, and serves as a key shipping route; various countries have competing claims to it. This photo of the passport map was posted by a Sina Weibo microblogging account for state-owned People's Daily: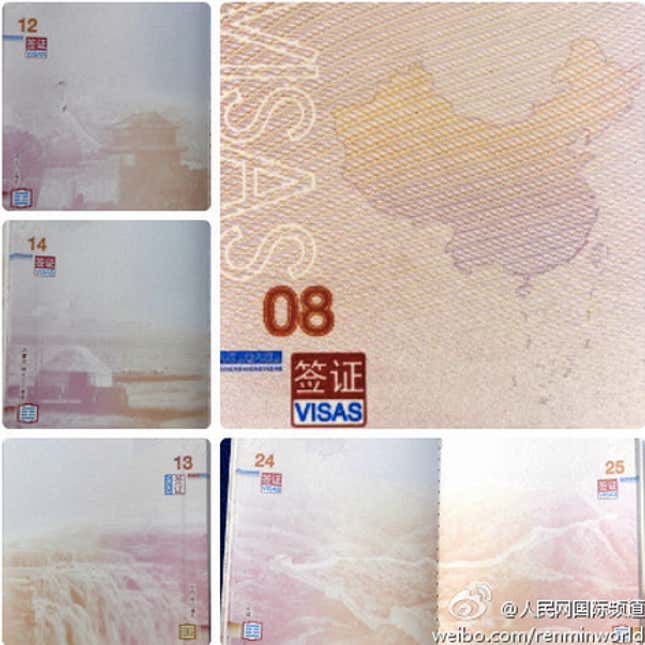 Compare this with a map of the area (via the BBC)
It's a cheeky move for Beijing because it forces other countries to tacitly but officially acknowledge China's territorial claims when they stamp the passports of Chinese visitors. The foreign secretary of the Philippines told reporters he "strongly protests" the new passports. Even Vietnam, an ally of China's, sent a diplomatic note demanding the "erroneous content" be taken out. China's foreign ministry has responded that the map "wasn't targeted at specific countries."
We've already seen China and Japan duel over territory through US and Japanese newspaper ads. Is the War of the Passports next? Images in the new Chinese passports also claim two Himalayan regions that India says are its own. According to Reuters, India is planning to issue visas with its version of the Sino-Indian border. The two countries fought a brief war over the issue in 1962.
Beijing also took a more complimentary tack in claiming Taiwan as its own (China says the island, which has operated as an independent country since 1949, is just a renegade province). One of the Chinese passport pages features an idyllic scene of Taiwan's Sun Moon Lake, a popular tourist spot in central Taiwan. A picture of the page was posted by a blogger in Beijing: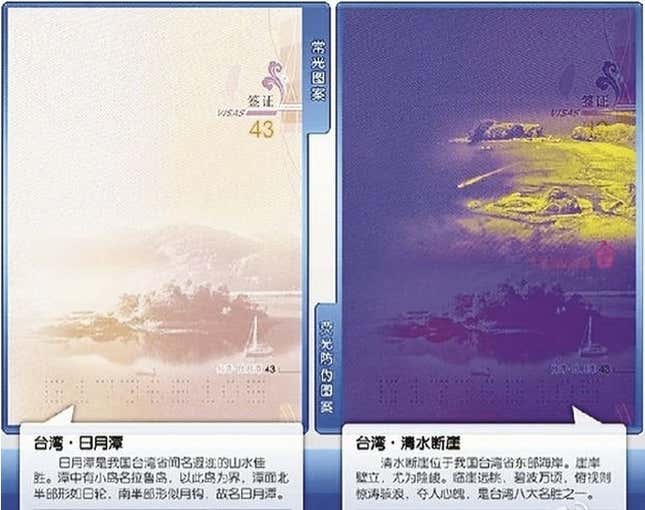 It remains to be seen whether Taiwan, Vietnam or the Philippines will start refusing Chinese passports on the basis of the map. Taiwan's mainland affairs council called the new passports a "total ignorance of reality." But in the face of China's massive economy and army, they may not have much choice.