Protesters took to the streets of Manhattan en masse tonight, just hours after a Staten Island grand jury announced that officer Daniel Panteleo of the New York Police Department (NYPD) would not be indicted for the killing of an unarmed black man, Eric Garner.
The case, which dates back to July, has been closely followed around the world since a video of the fatal encounter, captured by a bystander, was uploaded to YouTube and widely shared on social media.
In the video, Panteleo, a plainclothes officer, approaches Garner, accusing him of selling "loose" cigarettes and threatening arrest. Garner resists before Panteleo slams him against the sidewalk and employs a tactic referred to as a "choke hold"—a practice banned by the NYPD in 1993—gripping Garner's neck tightly. Garner, an asthmatic who weighed more than 300 lbs., repeatedly shouts, "I can't breathe," before he stops moving. He was pronounced dead at the scene.
The city's medical examiner declared it a homicide in August, but jurors felt there was not enough evidence to charge Panteleo with a crime.
New York City mayor Bill DeBlasio called it a "painful day" for New Yorkers.
"I can't breathe"
Hundreds of protesters began the march in Manhattan's Union Square, marching uptown in hopes of disrupting the city's annual Christmas tree lighting ceremony at Rockefeller Center in Midtown Manhattan.
They chanted "I can't breathe," mimicking Garner's final words, as a massive police motorcade rode nearby. At several points, they tried to lose the officers, running in different directions to block vehicular traffic.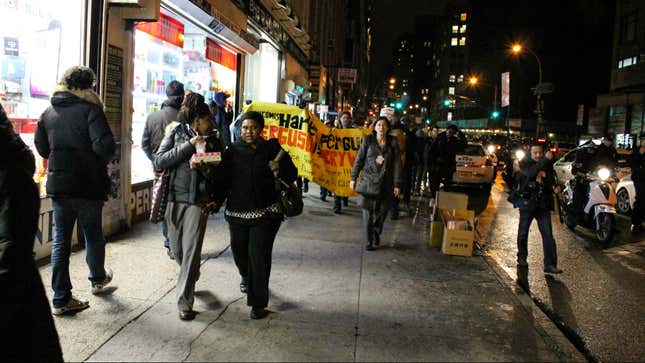 Many were enraged but said they were not surprised, given that just a week ago a grand jury did not indict police officer Darren Wilson for the killing of another unarmed black male, Michael Brown, in Ferguson, Missouri. "We're tired of police officers killing black men and people of color with impunity," says protester John LaSalle, 44, of the Bronx. "And when people give a little faith to the justice system [in the US], the justice system denies giving justice to the people."
LaSalle, who is the founder of a group called the Copwatch Patrol Unit that monitors police behavior across the city, was not alone in his dismay. For Nakim Christmas, a 24-year-old performing arts student from Queens, the frustration was painfully personal. Christmas, who is black, marched mostly in silence, holding a placard with the phrase "To my unborn son" written across it.
"I'm out here today because I don't want my future son to have to fight these same battles for equality," Christmas says. "I want him to grow up without fear of being criminalized for the color of his skin. This is for him, and for Eric Garner, Michael Brown, and so many others."
As protesters approached Rockefeller Center, they encountered steel barricades and a squadron of officers dressed in riot gear.
At 47th Street and Sixth Avenue, only a few blocks away from the tree-lighting ceremony, there was a chaotic scene as police threatened to arrest any demonstrators who did not leave the street and protesters attempted to plow through the barricades.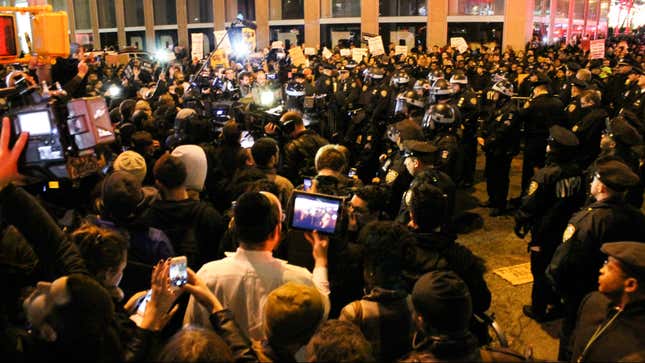 They remained there, in a virtual standoff with police.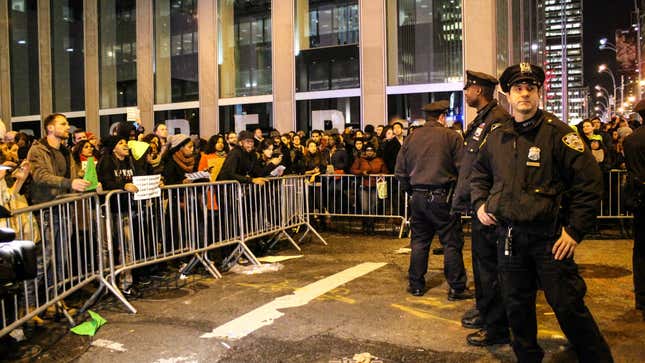 A group of a couple hundred then marched west toward Times Square, where they joined with a larger group.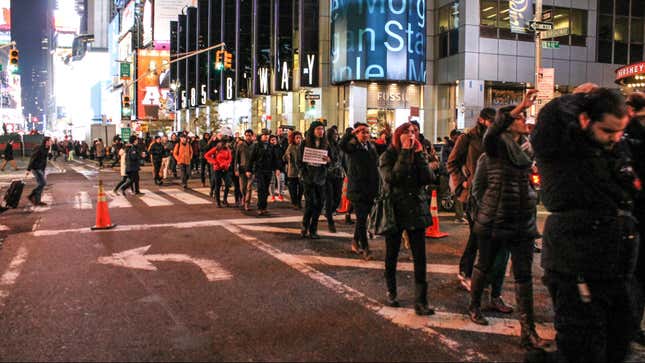 Together, they moved to West Side Highway, a major thoroughfare, where they reportedly were joined by thousands more and succeeded in shutting down traffic for a number of hours.