On Dec. 3, social media was aflame after a grand jury in New York decided not to charge a white police officer who was caught on video holding a black Staten Island man, Eric Garner, in a chokehold that led to his death. New Jersey Senator Cory Booker, one of two African Americans in the US Senate, posted this column to his Facebook page: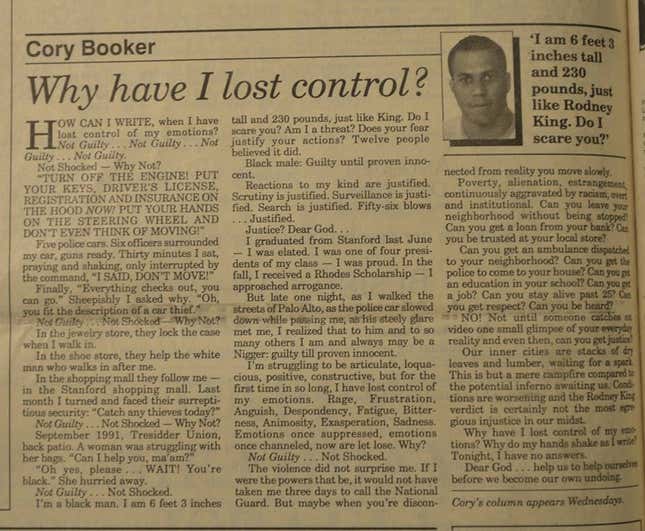 Booker wrote the column for the Stanford Daily newspaper 22 years ago, when four white police officers in Los Angeles were acquitted of assault of Rodney King, a black man, even though the beating was caught on tape.
He wrote then:
I'm struggling to be articulate, loquacious, positive, constructive, but for the first time in so long, I have lost control of my emotions. Rage, Frustration, Bitterness, Animosity, Exasperation, Sadness. Emotions once suppressed, emotions once channeled, now are let lose. Why?
The response that stands out, though, is that he's not surprised.
Not Guilty… Not Shocked.

I'm a black man. I am 6 feet 3 inches tall and 230 pounds, just like King. Do I scare you? Am I a threat? Does your fear justify your actions? Twelve people believed it did.
He writes, in beautiful prose, of the prejudice he experienced while attending Stanford—from police officers, mall cops, a woman who needed help with bags.
But late one night, as I walked the streets of Palo Alto, as the police car slowed down while passing me, as his steely glare met me, I realized that to him and to so many others I am and always may be a Nigger: guilty till proven innocent.
The column—and the context—are a reminder that much is the same, if not worse, for black Americans today as it was in 1992. The police who beat Rodney King actually went to trial, while the Staten Island and Ferguson officers won't see any charges at all. (Booker also shared his column on Twitter last week after the Ferguson decision).
Booker's response as a politician today was very different from the column he wrote as a 23-year-old:
I am saddened and deeply troubled by the tragic events that ended in the death of Eric Garner. My heartfelt condolences continue to go out to his wife and six children. This should not have happened. This could have been prevented. Eric Garner's death should be further investigated by federal authorities and it should constructively contribute to a broader national re-examination of our entire criminal justice system. We need significant reform and vast improvement. I am committed to working with others to accomplish this urgent objective.
Last week, Booker posted a similar response—dissatisfaction, a pledge to work to improve the situation—after a Ferguson grand jury also decided not to indict a white police officer who killed black teenager Michael Brown:
My thoughts and prayers go out to the family of Michael Brown and the entire Ferguson community.

I echo their calls for peace and nonviolence.

More violence is unacceptable.

Michael Brown's legacy must amount to much more than tragedy and violent protest – it must be a catalyst for meaningful conversation and ultimately substantive improvements in policing and the overall US justice system.
Our nation will not come to agreement on all of the issues surrounding the events in Ferguson.

Yet, we can agree on and advance strategies to make our criminal justice system more reflective of our common values.

We have work to do.
Booker has leverage today as a lawmaker that he didn't have in 1992, arguably more power to change a highly flawed system—his responses this week and last reflect that. But his most powerful response, the one that resonates most, is the one he wrote 22 years ago.