There's plenty that can go wrong when journalism meets climate change science. Blame it on conflicting ideologies or political motives, or simply on a misunderstanding of a complicated body of indicators, but misconceptions and misstatements abound.
That's why Emmanuel Vincent, a post-doctoral associate at Yale, decided some real-time fact-checking of popular reporting on the subject was in order. He started a project called Climate Feedback, gathering a group of scientists to review and provide feedback on climate reporting on the web.
Vincent partnered with the web application Hypothes.is that is creating a browser plug-in, so that Climate Feedback's scientists and experts can annotate news stories, blogs and scientific articles with community-reviewed commentary, references, and insight. Each article is rated overall for its accuracy.
To participate in the reviewing process, scientists apply to Vincent's project and prove their credentials in climate research. The project will take off with official evaluations of articles starting in 2015.
In an interview with Salon, Vincent said that journalists tend to exaggerate or oversimplify the science. "In some cases… journalists know they are distorting the facts, but they may have to follow a given editorial line," he said.
For example, Climate Feedback used as sample a recent editorial in the Wall Street Journal by a scientist claiming that "Climate Science Is Not Settled," which the project's scientists gave a score of 0.5 out of 4, or "very poor" in its scientific quality.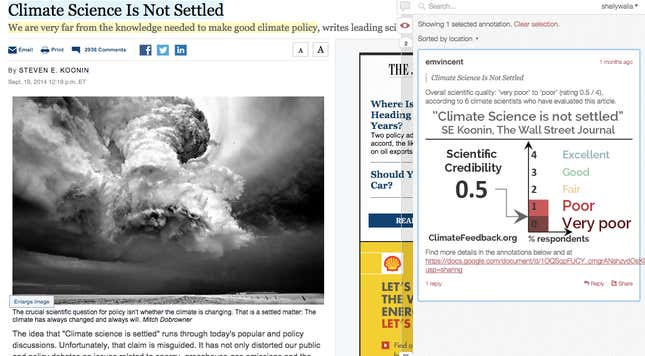 Six climate scientists, who reviewed the article, annotated several instances of misrepresentation in the Wall Street Journal article. For example, in response to "The climate has always changed and always will," a postdoctoral student at Columbia University, Alexis Berg, argues, "Climate change in the past was, by definition, not man-made. Current climate change is."

At present, the project is focused on "highly influential articles," and is taking no position on whether the left-wing or right-wing media does climate journalism better. The two challenges the project faces, Vincent told Salon, is getting journalists and readers to install the plug-in and getting enough scientists and experts to comment on each article.