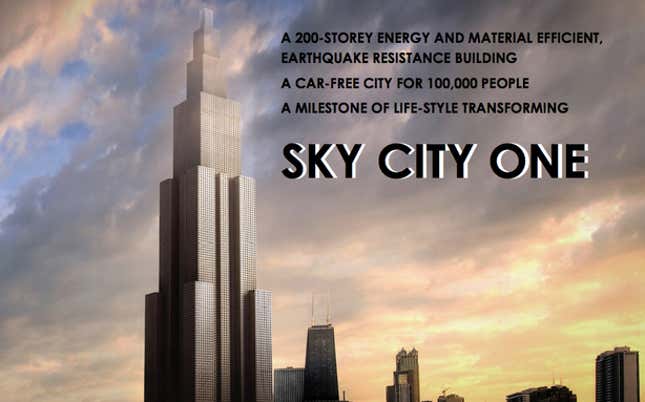 A Chinese company thinks they've simplified the construction process so much that they can build the world's tallest skyscraper in 90 days.
Broad Sustainable Building Corporation will lay the foundation for their "Sky City" project this month. The company, famous for building tall buildings in ridiculously short time spans, plans to construct a 220-story skyscraper in 90 days, with construction starting in January and finishing in March. Sky City, if successful, will be 10 meters higher than the current tallest skyscraper, the Burj Khalifa in Dubai.
How do they plan on doing it? BSB eschews architectural beauty for simplicity. Their building are tall and block-y. They essentially make buildings out of lego blocks, but in real life. The National Post has a nice graph explaining how they plan on achieving their 90 day goal. "Traditional construction is chaotic," BSB chairman Zhang Yue recently told Wired magazine. "We took construction and moved it into the factory." BSB prepares the pieces offsite and then brings everything together so it slides in easily when construction begins, exactly like Lego blocks. By breaking everything down into simple blocks piled on top of one another, it allows them to build at an amazing pace — their goal for Sky City is 5 stories a day.
Don't think they're coming out of the woodwork to try this, either. BSB already constructed a 30 story building in 15 days:
Once completed, Sky City will be contain low-income housing, luxury condos, a hospital, a school,  and retail space. And, BSB claims, it'll be strong enough to resist a 9.0 magnitude earthquake. In theory, if a grocery store moves into one the retail spaces, you could be born in Sky City and never have to leave.
This originally appeared on The Atlantic Wire. Also on our sister site:
The Macy's Thanksgiving Day Parade Confetti Was Confidential
So, How Did Those Wal-Mart Protests Go?