As China's economy has slowed and property markets dropped, there has been plenty of concern about the massive debts incurred by state-run and private companies. Now there are signs that companies large and small are looking abroad to borrow enough money to stay afloat.
The latest quarterly report from the Bank for International Settlements, which collates data from 60 central banks, shows cross-border bank lending to China jumped 47% to $1.1 trillion in the second quarter, compared with a year earlier.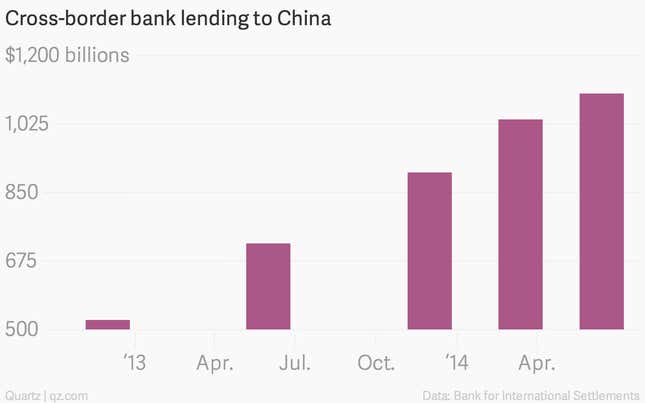 Cross-border lending to China has increased more than five-fold since the 2008 financial crisis ended, making China by far the most indebted emerging market on an absolute basis, and the seventh-most indebted country as a percentage of GDP.  BIS does not track lending from Latin American or Russian banks, so these figures may be smaller than the actual loans outstanding.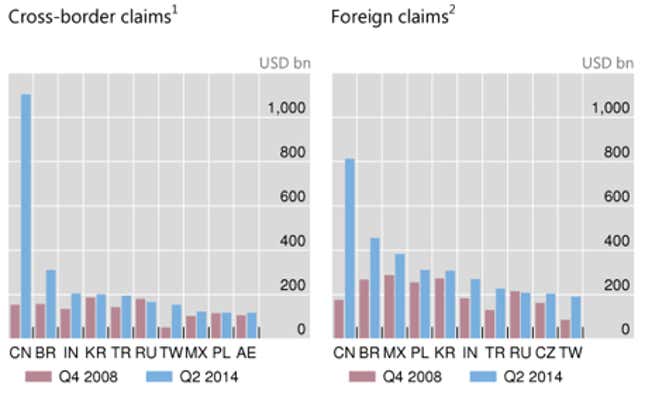 The rise in cross-border lending means that bad loans in China aren't just a problem for Chinese banks. "Contrary to prevailing wisdom, any vulnerabilities in China could have significant effects abroad, also through purely financial channels," warned Claudio Borio of the BIS.
One key factor behind the surge was "transactions between mainland and overseas offices of Chinese banks," which are recorded as cross-border loans to China, BIS noted. But even when these were excluded, loans to China by non-Chinese banks were over $800 billion—about twice as large as those to any other emerging market.
As Quartz has reported, the banks of Hong Kong are the most exposed to China, followed by the UK and the US. Some Hong Kong banks are already feeling the pinch as loans to Chinese companies deteriorate (paywall). If the Chinese economy continues to soften, expect banks around the world to suffer as well.