College football is a big deal in the US.
Amateur games played by university students draw huge crowds (particularly in the American south and midwest) and command enormous TV audiences on Saturdays. This means it's also a big business, and one that is about to get much bigger. For the first time in over a century, this year there will be a four-team playoff to determine the national champion.
Yesterday in a special selection show, the four college teams—Alabama, Orgeon, Florida State and Ohio State—were selected to compete in next month's playoff. Two other teams (Baylor, and Texas Christian University) were unlucky to miss out. The outrage over their omission arrived on cue.
It's worth stepping back for a second to think about who the ultimate beneficiaries from this change will be. Not the student athletes, who don't actually get paid for their extremely dangerous, and potentially life-threatening pursuits. Not the universities, either: big-time college sports arguably pose more of a risk to university finances than strengthening them. Moody's estimates that 90% of all big-time college athletics programs actually lose money.
This means they require subsidies (from alumni donations or elsewhere), which divert money from education and academic research. The huge capital-works programs colleges engage in for jaw dropping training facilities and stadiums are often debt-financed, making it more expensive for universities to borrow to fund other investments.
But the one undeniable winner from the new playoff system is ESPN—and by extension, shareholders in its corporate parent, Disney. As the chart below shows, ESPN has locked up broadcast rights for pretty much all of the most attractive college-sports properties, including the new football playoff, for the foreseeable future.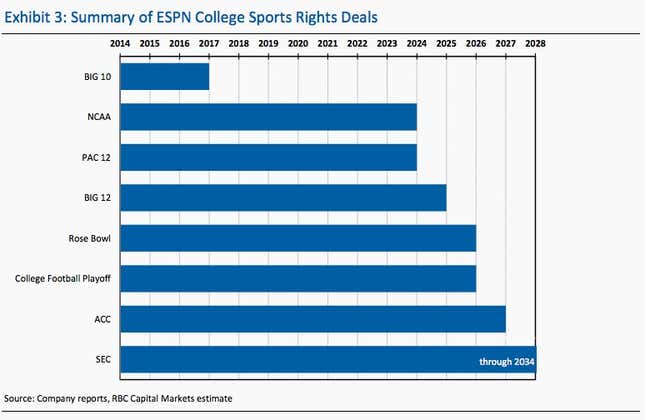 The history of college football is littered with controversies over which team can claim to be the country's best. The new playoff system may or—more likely—may not settle the debate. But it's a safe bet it will be good news for ratings at ESPN.