HONG KONG: The main protest site for the 'Umbrella Movement' is expected to be cleared later today by police, after 74 days of occupation at Admiralty, near the city center. At the site, there's an air of nostalgia—a man plays a mournful harmonica version of "Auld Lang Syne"—but also energy.
The protesters and their supporters are spending the remaining hours taking graduation photos and selfies, salvaging iconic parts of the site—like the "Lennon Wall" of thousands of Post-It notes. Some are leaving final messages in chalk along Harcourt Road, signs that say, "We will be back."
One supporter scribbled this two-line poem:
The dark night gave me black eyes
I use them to look for light
The poem is a poignant, if dark, final message of rebellion. Titled "A Generation," the short verse was written by the Chinese poet Gu Cheng, whose family was sent to the countryside in Shandong province to raise pigs during the fanatical years of the Cultural Revolution. The poem was seen as representing the youth of the Cultural Revolution, seeking knowledge and a brighter future.
After Gu returned to the city and gained fame as a writer, the communist party branded his poetry as too decadent and contrary to socialist values. Gu lived in exile in New Zealand until 1993 when he attacked his wife with an axe, killing her, before hanging himself.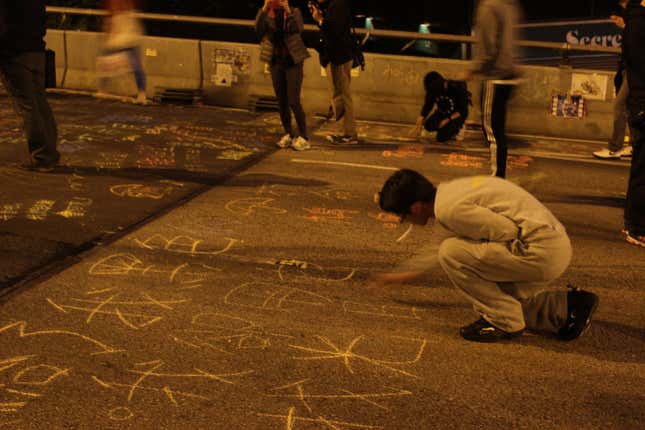 For the protester who wrote the poem on the street, Owen Kwok, an actor, the lines are about overturning the values that his generation has been brought up with. "This government raised us with certain values, but we don't need these anymore. This generation wants democracy, freedom, justice, not wealth or things," Kwok, 33, told Quartz. (Protesters in Taiwan's Sunflower Movement have also co-opted "A Generation" for a new journal on democracy in Taiwan.)
The poem is also about moving forward, now that the protests are likely coming to an end. Kwok said: "A  lot has happened. We came out together to protect the students. We've seen our government's worst side. I don't want to leave, but there's no choice now but to find some other method for this movement."