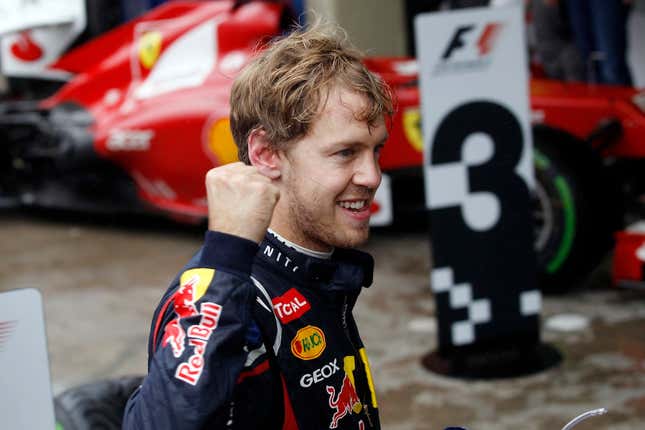 The Formula One contestant list is a veritable multinational hodgepodge: Germany's Sebastian Vettel, the young racing prodigy who claimed his third Formula One victory at the Brazilian Grand Prix the weekend of Nov. 25, is a German national, sponsored by an Austrian team (Red Bull), and driving a French car (Renault). The winner of the Brazil race itself, Jenson Button, is a Brit with the motor team of Vodafone McLaren Mercedes: UK sponsor, German engine.
But hang on a minute. With this cultural cornucopia, there is a glaring omission: in the list of 24 drivers at the Brazilian Grand Prix, there is not a single American.

America's absence is especially odd since one of the recent Formula One races (Nov. 16-18) was held in Austin, Texas. There have been American drivers, but few and far between. The last time an American driver won a Formula One Grand Prix event was back in 1978, when Mario Andretti took the checkered flag in the Netherlands.
One can't help thinking this is illogical. Racing isn't like professional soccer or curling; something that Americans don't do. Americans love race cars. They collect Matchbox toy racecars as kids. Furthermore, Nascar in the US has such a huge following that it led to the coinage of the term "Nascar Dad" (a vaguely defined quasi-conservative voting demographic). To say nothing of the Indy 500.
Well, there is at least one major difference between Formula One and Nascar.
This is a diagram of some Formula One tracks, taken from an online "guess which track?" quiz: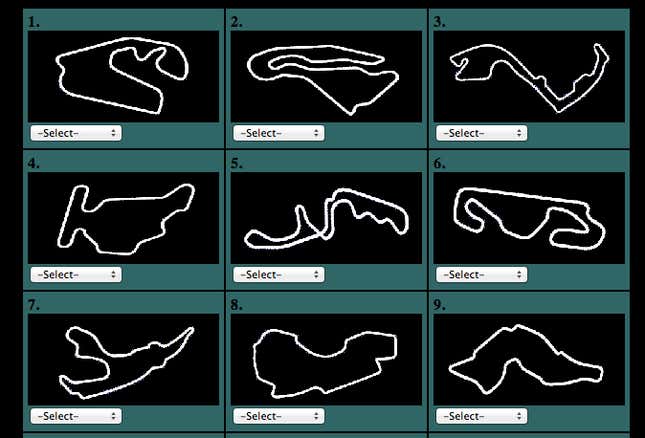 …and here is a list of some Nascar tracks; notice a shape pattern: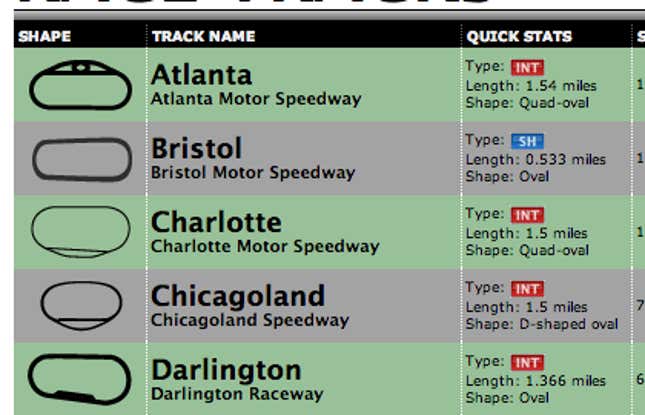 The former are amoebic, and all somewhat varied. The latter are ovals. There are those who would suggest that Americans are too fond of their ovals to wrap their heads around the varied terrains of the typical Formula One track.
Paul Weaver, who covers Formula One for The Guardian, is not the biggest oval fan, and wishes Americans would see the beauty of a winding road. He told Quartz, "I've written pieces about America's insularity." He explained that Formula One is harder and better than its US counterparts:  "Formula One is a lot more skillful than Nascar or Indycar Racing. [Formula One] is a lot faster, they've got tracks that don't go round in circles, they have complex circuits with bends…. Even lesser drivers in Formula One who go into Nascar or Indy tend to do very well. Formula One is recognized globally as the peak of global car racing."
He added: "A few years ago, I made the mistake of saying Americans don't understand [Formula One] because it's not American, and [it] doesn't have enough crashes, so it's not as superficially exciting as Nascar." But, he added, he's since changed his tune. He points out that Formula One and America actually have a long history together.
"If you look back, Formula One was involved in America. The Indy 500 was part of the Grand Prix," a relationship that lasted from 1950 to 1960.
The Austin Formula One event earlier this month had a respectable attendance, filling or nearly filling (sources vary) a 120,000-person capacity track. But, said Weaver, a large part of that audience was from Mexico, Latin America, and South America.
A potential bit of good news, though, both for Formula One and for its US fans: reportedly, the sport will, at the end of 2012, wrap up its 17 year broadcast partnership with Fox Sport's SPEED network  and will instead be shown on NBC. Whilst SPEED is a premium cable channel, NBC has a potentially wider audience, though it remains unclear whether NBC intends to run the races on its main network or on its sports arm, NBCSN.