These days, it seems everyone and their moms are sporting a fitness tracker, but new analysis from the Acquity Group suggests that smart home devices, like thermostats, fridges, and security systems, will see the biggest gains in US consumer adoption in coming years.
According to the group, Americans expect to first upgrade their thermostats and security systems, but look more than five years out, and smart fridges will be the big winners. Acquity projects that by then, they will be found in more than a third of American homes–surprising given how infrequently consumers upgrade durable goods (case in point: smart TVs). What's more, the firm, a digital marketing arm of Accenture, reports that 59% of consumers say they're willing to pay a premium for smart refrigerators.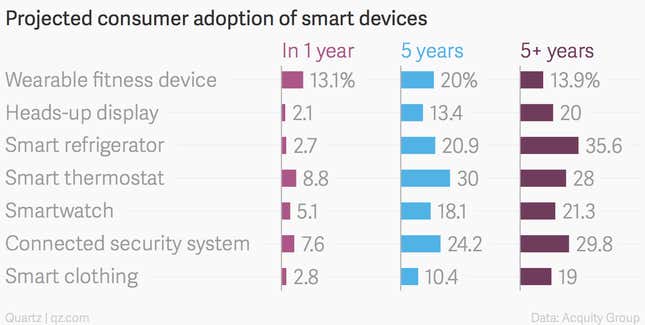 It's interesting to note that for all the buzz surrounding Google Glass—and a new crop of competitors that includes Intel and Luxottica—Acquity forecasts adoption for heads-up display will lag behind almost all types of smart devices. Only sensor-laden clothing will fare worse.