This item has been corrected.
Imagine you're a kid and every toy you owned was locked up in one box. When your mother does let you play, she will open the box and let you choose what you want. You know the box will soon close so you choose the toy which you know will be fun because you are not sure how fun the other stuff is. Sometimes, she even takes out just one toy that she likes while keeping the rest locked. Then she puts it in front of you and actually expects you to have fun with it.
This is exactly how I have been treating my kids, ages 7 and 10, with their iPad minis. I originally gave it to them because I thought it would be educational and saw that my kids had an easier time reading e-books and thus were more likely to read them than paper books. However, after I made the mistake of downloading Minecraft Pocket Edition everything went downhill. They virtually ignored all the other games and books. I finally put a lock on the iPad so they couldn't play unless they had permission. But doing that meant that I had also locked them out of the educational apps and e-books, which were the very reasons why I had originally purchased the iPads.
They would often take screenshots and play games that took up so much memory on the iPads that I barely had any space for apps of my own like Dropbox or Evernote. Minecraft also took up a whole gigabyte on my son's 16 GB iPad. We didn't want to move Minecraft to the PC because we were afraid that he'd connect to people without our permission.
Having dealt with this problem long enough, I decided to see what other options were out there. With the help of another family who were also iPad owners, we looked at some Android and Windows tablets that had easy parent controls, effective security, and content that would please the children. Additionally, just like a locked box full of desirable and undesirable toys, the iPad became the tablet with Minecraft and apps that Mom likes. Whenever I unlocked the iPad, the children would play only Minecraft and ignore the other games. Because this always happened, I thought about how getting two tablets, one to use freely without a passcode to do schoolwork, read books and play educational games and a locked tablet with Minecraft and other games of which I wanted to limit usage. Thus, we chose to look at low cost tablets.
There are tablets other than the iPad mini that are good if you are on a budget:
$249.00; 7.9" screen, iOS 8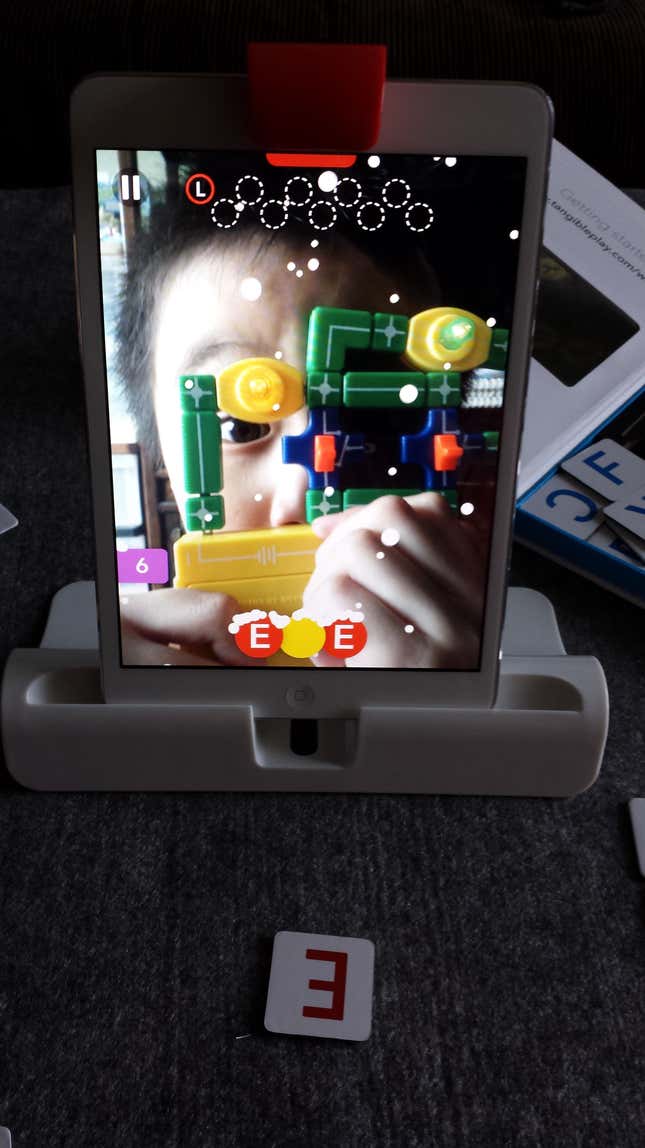 Pros
Clearly, the screen resolution, the device design, and the functionality is great. I love my iPad mini as it is very reliable. However, as a parent, the greatest draw of the iPad is the apps. There are games we like such as Tiggly Shapes (ages 18mo+) and OSMO (ages 6+), which are not yet available on Android or Windows tablets. We also use the Voice Dream Reader text-to-speech app heavily and that is also not yet available on Android or Windows.
Cons
While it may not be fair to compare an old model to the newer units, this older model is still more expensive than most of the tablets we tested and the gigabyte storage is not expandable. Moreover, security is not user-friendly. Guided access, which is part of the section in Settings to increase access for persons with disabilities, contains a feature that will lock a child into a particular app and also set a time limit for that game. A separate restrictions code will allow you access to change internet, app buying and video settings but once an app is in the tablet, the only way to restrict access to it is to lock the child into a singular app so that she has no freedom. Passcodes to enter the restrictions area can be different than entering a passcode to unlock the iPad itself or the guided access mode. You'd want to keep the same code for everything but kids have a tricky way of peeking when you input a code. Then you'll have to change it again—but you must change all three separately and if you forget to change one and accidentally lock yourself out, you have to go to factory reset which means starting from scratch. (You can recover your games, apps, probably pics too if they are in the cloud, but the process can be cumbersome and may require you to reset it using a computer.)
Additional specs
16 GB not expandable, 1024 x 768px resolution, Camera Front 1.2MP/Rear 5MP, Battery: 10 hours, Processor: Dual-core A5 chip.
$149; 7" screen, Android 4.4
Pros
Our tester for this tablet, a computer programmer, did a thorough examination for Quartz readers. He downloaded games that his 7-year-old son had played on his Android phone, like Angry Birds GO and Plants vs. Zombies, and felt that due to the processor and screen size, his son played more accurately and scored more points when playing on the tablet. Like the other Androids we tested, this offered multi-account capability including restricted accounts for children. However, our tester found that the tablet worked most smoothly when not in the restricted account mode as games played within the restricted account would sometimes freeze and the tablet would have to be restarted. Additionally, restricted accounts do not allow access to Google Hangouts and Google calendar, which he wanted for his child. Thus, he decided to let his son use the ASUS in a regular account mode and just use Screentime Labs, a locking app to prevent use of the internet and to put time controls on the tablet.
Cons
It's not an iPad so you're unable to use some great iPad games such as the OSMO. Using restricted profiles, kids are not able to access certain apps such as Gmail, Dropbox, or Google hangouts but third-party apps like Dropbox Mailbox is a good workaround to give your child email access. Using it without a restricted account is a good idea for older children ages 8 and up since they will need to start learning to use calendars, email, and hangouts. No matter what, you'll need an app lock if you don't use a restricted account for your child.
Additional specs
16 GB expandable to 64 GB, 1280 x 800 px resolution, Camera Front 2 MP, Rear5MP, Battery: 9 hours, Processor: Intel® Atom™ Z3745
$129.99, 7" screen, Android 4.4
Pros
This is a great tablet for young children under six. It is affordable and comes with a number of pre-loaded apps and ebooks. Additionally, Kurio has exclusive "motion games" for swimming or racing where body movement in front of the camera is used to control the player in the screen. It offers parental control for dummies: A menu provides the list of everything you want to allow your child to do and you don't have to make the changes from within his user profile. I love how I can make an app unavailable to them for an indefinite period of time without having to delete my child's progress. I found Kurio's proprietary Genius Filtering system, which helps parents filter out inappropriate content by age or create a customized filter to work well. Kurio Techs offer 24 hour assistance and I did test at 3 am—someone was able to chat with me online.
Cons
The graphics could be better. The user interface had a bit of a crowded look to it. The tablet comes with a cover as it protects corners and edges but it doesn't look very shockproof as almost the entire back is exposed. I think this design was to help allow kids to easily use the Kurio stand to prop up the device for kids to use the motion games. A thicker cover would require removing it, which kids can do but they usually don't put it back on. A zip-up cover that comes with a stand inside is available for separate purchase if you are concerned that your child may drop the device. We also found using the Knuckies cell phone attachment could help here as it allows children to hold small tablets more securely. The Knuckies manufacturer advises to only use it with phones but these mini-tablets are so lightweight, a Knuckie can even act as a temporary stand and best of all, Knuckies can be transferred to your next tablet.
Additional specs
16 GB but expandable up to 32GB, 1024 x 600 pixels, Battery: Camera Front:0.3Mpx / Rear: 2.1Mpx, Processor: Intel® Atom® Z2520–1.2 GHz Dual core
$149.00, 6" screen, Fire OS 4
Pros
If there were a tablet where you could set-it-and-forget-it, this would be the one. It offers excellent device protection with a great bumper cover and two-year, no-fault warranty for breakage and spills. There is very little setup and it comes with tons of content including one year of Amazon Free Time Unlimited service ($2.99 per month), which gives users access to over 5,000 apps, books, and videos. These apps are really free so you don't have to worry that your child will beg you for more power-ups when you are on an important phone call. The controls are heavily locked so your child has much more freedom to access the abundant apps and games within this wide but still limited zone of appropriate content.
Cons
This is not ideal for a child that is eight or older because the controls are very tight and there is no Google play store on this Android tablet. You can only purchase apps from the Amazon App store. There is a large selection but our tester dad, the computer programmer, wanted more apps and wanted to find them more easily. Additionally, some picture books were shown as two pages per screen, which was just too small. There is only 8 GB for storage, making everything rather Wi-Fi dependent which can be troublesome once you leave home.
Additional specs
8 GB not expandable, 1280×800 resolution, Battery 8 hours, Camera: Front VGA/ Back 2MP, Processor: Quad-Core: 2 @ 1.5 Ghz + 2 @ 1.2 GHz
$179.99, 7" screen, Android 4.4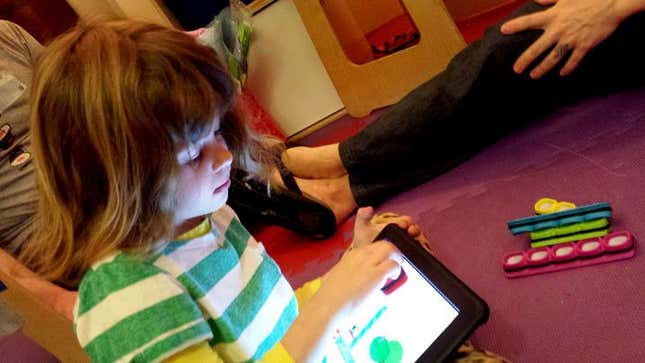 Pros
Like the Kindle, the 7" NOOK is an Android with multi-user format but does come with Google play store. It comes with some pre-loaded content as well. Users have the option to choose from the play store or NOOK's curated app selections in the NOOK Shop. I personally tested this one with my 10-year-old and we were pleased the graphics, the game selection for the Google Play store as well as the speed. I also own a Samsung Galaxy S4 smartphone, so the interface looked familiar even though using the multi-user format was new to me. Using a familiar interface makes a remarkable difference in preventing the kind of frustration that comes with setting up security controls. Additionally, the NOOK has a ton of books available for purchase classified as "Read to Me" where at the start of the book, the user could choose to have a book read aloud to her with a pre-loaded narration or could decide to read it by herself. Every one of the "Read to Me" books I ordered had a "Read and Record" option. This meant that I could record my own narration of a book to my child and he could listen to it anytime he wanted.
Cons
Like the other Android tablets, the restricted profile doesn't allow for access to Google Hangouts or Dropbox. Additionally, while I really like the Read to Me books, my kids also wanted the e-book app to highlight the words while it's being read like the way Voice Dream Reader does. I also wish that these books were offered on a monthly plan to bring costs down because the Read and Record function is a definite treat worth the money.
Additional specs: 1280 x 800 px resolution, 8 GB expandable to 32 GB, Camera Front 1.3 MP/Back 3 MP, Battery: 10 hrs, Processor: Quad-Core 1.2 GHz Marvell PXA 1088
$179.99, 8" screen, Windows 8.1
Pros
Windows is still playing catch up in getting fun games for kids but it has one powerful advantage that Android and iPad users don't: the familiarity of Windows. Even if you don't own a cellphone, chances are high that you know how to use Windows. That already puts you one step ahead because a major obstacle in figuring out controls is frustration due to new interfaces. Additionally, Windows allows you to do much of your monitoring and setting restrictions online. You can establish which hours a computer cannot be accessed, read reports on sites most visited, name of sites blocked, and even how many hours your child played a particular game in the week. The tablet is lightweight, affordable, and paired easily with a keyboard with cover using Bluetooth 4.0. Windows also allows for multiple user accounts—so I created an account to be used more freely, including restricted internet and games, but then created another one specific for Minecraft use to which the kids cannot access without a password. Time limits for either account can be set. Lastly, because it is Windows, this can essentially act as a child's first computer since you have a one-year free subscription to Microsoft Office 365. There isn't a USB port for a mouse but you can buy a Bluetooth one designed to work well with Windows.
Cons
Windows doesn't nearly have as many games as Android or iOS. Downloading programs for your child to use in their restricted accounts had to be done separately, which was a bit of a pain. Additionally, if you wanted to buy a keyboard and mouse set you have to buy both a Bluetooth mouse and keyboard and you will likely have to charge your keyboard separately from your tablet (two plugs). Lastly, I did not find any choices for kid-appealing designs for a mouse or for tablet cover that contained a keyboard. I dislike black covers for kids because it is hard for them to spot.
Additional specs
32GB, 1280 x 800 px resolution, Battery: 11 hours, Camera Front: 1.2MP / Rear: 5MP, Processor: Intel® Atom™ Z3735G
$329.00; 10.1" screen, Windows 8.1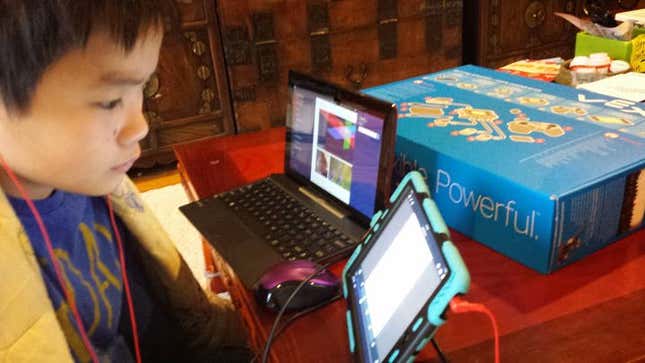 Pros
While this tablet costs more than $300, I explored its use to see if it could replace the need for a computer. My son was thrilled to test this product because his computer had recently died and more importantly, he knew I was looking into downloading Minecraft on the computer as Minecraft's computer edition has many more features. It even plays soft music while your child plays. As with the Toshiba Encore 2, I was pleasantly surprised by our ability to maintain safety since I could also make multiple user accounts here. For this 10-year-old, I made one user account for games that needed to be locked down and another user account with open access and limited internet for homework, research, and programming his robots. Microsoft Office Home & Student 2013 is also included with this tablet.
Cons
There are very few cases that appear to be effective in impact resistance for this tablet if you want to make it work with the keyboard dock. Most likely dropping is less of a problem as this is better for an older child (8+). Finding a cover that protects while allowing your tablet and dock to close together properly was tough. We were able to find only one hard case. Additionally, there is no rear-facing camera, so this is ideal for an older child who may already have a phone camera or tablet camera.
Additional specs
1366×768 px resolution, 64 GB, Camera Front Only 1.2 MP, detachable keyboard dock, Battery: 11 hours, Processor: Intel® Atom™ Bay Trail-T Z3740 Quad Core
Correction: the price of the ASUS Memo Pad is $149, not $79.99, as previously stated.
Hal Eager and Doug Mercier contributed to this article.