A 9-year-old boy had some advice for Chinese president Xi Jinping: plan a mission to Mars and lose some weight. According to the Zhengzhou Evening News in China's central Henan province, a primary school student named Niu Ziru wrote a letter for a school project to "Grandpa Xi" with his thoughts on the country's space program, as well as some health tips.
Using a popular nickname for Xi, Niu wrote, "Xi Dada, You could lose some weight. You don't have to look as slim as Obama. It's all right to look like Putin!" The letter was never sent, but the student's father posted it on the messaging app Weixin. It quickly went viral and was picked up by Chinese media, according to the South China Morning Post.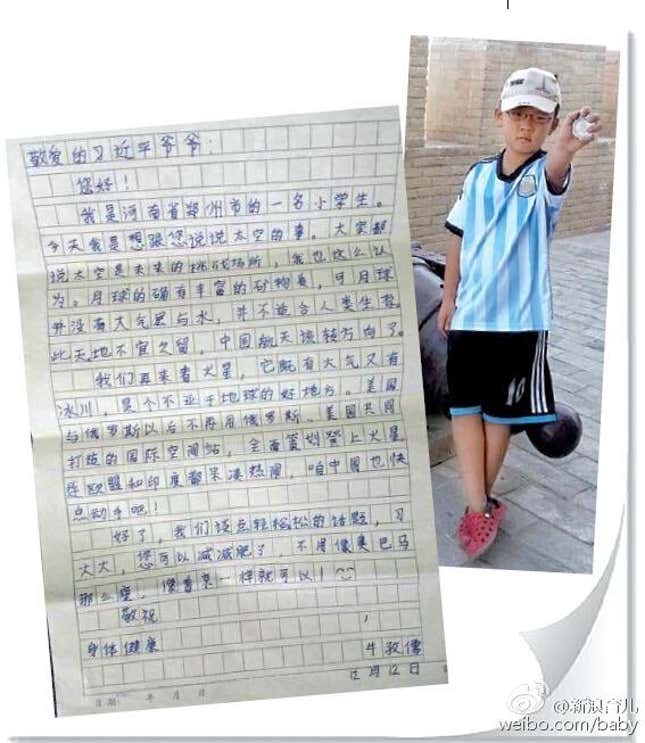 Whether or not the letter is authentic—Quartz was unable to locate the father of the letter writer on Weixin or other Chinese social media platforms—the Chinese government isn't amused. The Zhengzhou Evening News' story and reports of the letter in other media, including state-run Xinhua, have all been erased from the Chinese internet. A search for Niu Ziru's name on the microblog Weibo, which is often censored, turns up no results. On Baidu, several links to stories about the letter appear to be broken.
Here is the text of his letter in English:
Dear Grandpa Xi Jinping,
Greetings! I'm a pupil from Zhengzhou, Henan Province. Today I want to say a few things to you about space. Everyone believes the next big challenge is space. I think so too. The moon, for sure has rich minerals, but it doesn't have air and water and is definitely not suitable for human life. This is not a good place for a long stay. It's time for China's aerospace program to change directions.

Let's have a look at Mars. It has both air and glaciers, so it is not inferior to Earth. Eventually, the United States and Russia will no longer use the international space station and they will land on Mars. Even the European Union and India will join in the fun. Let's hurry up!

Okay, we should include some lighter topics. Xi Dada, you could lose some weight. You don't have to look as slim as Obama. It's all right to look like Putin! :)

Best regards,
Wishing you good health

Niu Ziru

Dec. 12
And in Chinese:
敬爱的习近平爷爷:

您好!

我是河南省郑州市的一名小学生。今天我是想跟您说说太空的事。大家都说太空是未来的挑战场所,我也这么认为。月球的确有丰富的矿物质,可月球并没有大气层与水,并不适合人类生存。此天地不宜久留,中国航天该转方向了。

我们再来看火星,它既有大气又有冰川,是个不亚于地球的好地方。美国与俄罗斯以后不再用俄罗斯、美国共同打造的国际空间站,全面策划上火星,连欧盟和印度都来凑热闹,咱中国也快点动手吧!
好了,我们该谈点轻松的话题,习大大,您可以减减肥了,不用像奥巴马那么瘦,像普金一样就可以!:)

敬祝

身体健康

牛孜儒
Additional reporting by Zheping Huang.