China has embraced Christmas in recent years, without attaching any religious meaning to it or reuniting with family. It is simply seen, particularly by people in their twenties as a good time to go out to have fun with friends, or, even better, with a romantic partner.
"Almost anything seen as Western is used to evoke Christmas: teddy bears, the Seven Dwarves, fairground carousels or even steam trains," as the AFP reports, and yes, there are plenty of plastic Santas holding saxophones, as The Economist notes. (Personally, I think the association comes from the popularity of Kenny G in China, but no one knows for sure.)
Here's how China celebrated this year:
Apples, again, were the go-to romantic gift
Young men who find it hard to choose gifts for girlfriends will turn to apples – ordinary ones, but packaged in luxurious boxes that sell for many times the original price—as the Chinese word for apple, pingguo, sounds similar to the word for Christmas Eve, pinganye, which means "silent night." This year, special "peace apples" with nothing special but the name sold for as high as 188 yuan, or $30 for each, as Chinese media reports. There's plenty of creative packaging, like this "Apple 6" box.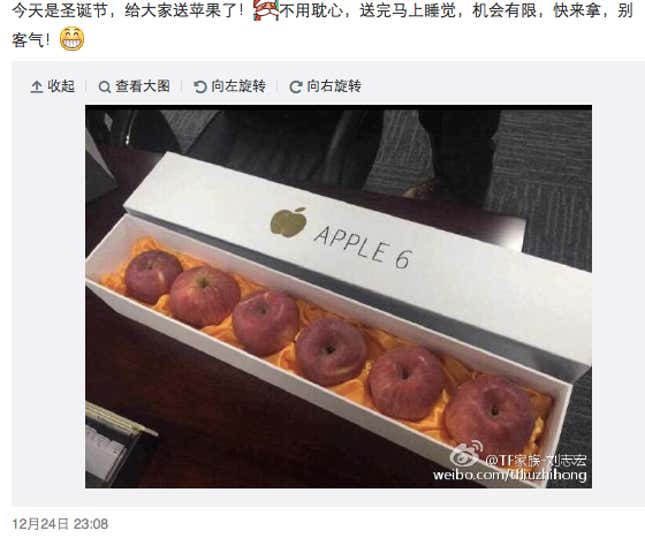 Single dogs got some Christmas cheer
Christmas is widely seen by China's youth as a holiday for those in relationships. This year, there were plenty of singles complaining in chat rooms about the fact that every holiday in China seems to be like Valentines Day. One wrote Dec. 25 on Weibo: "The so-called Christmas is for couples to show their love, and to hurt a single dog like me."
The phrase "single dog" is commonly used by single netizens to mock themselves. This year, an off-color adaptation of Jingle Bell for those "single dogs" went viral online, which begins "Single boy, single boy, single all the way."
Millions went to church
How many people consider themselves Christian in China is somewhat unclear—the official figure is 23 million, but the actual total is estimated at 100 million, in part because some Christians attend underground churches that don't consider Beijing the head of the church.
Despite an ongoing crackdown on religious buildings, Christmas church services around the country have become so popular that some churches have started allocating tickets, as Al Jazeera reports. Here's Beijing's state-sanctioned Catholic church South Cathedral on Christmas Eve: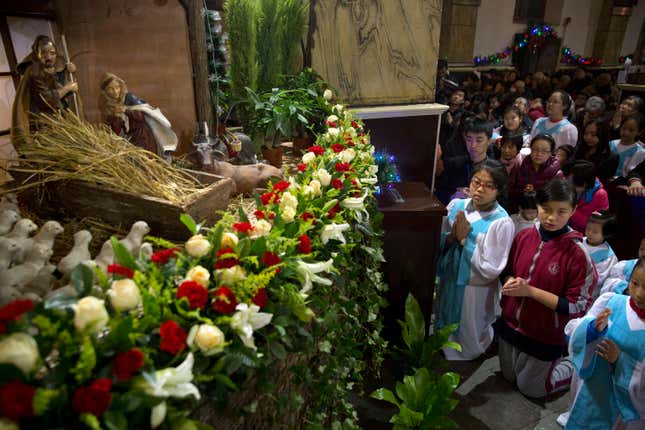 Christmas's popularity inspired a backlash
This Christmas Eve, a group of Chinese students took to a shopping street to protest their compatriots celebration of the Western holiday. They set up in an ancient street in the central shopping district of Changsha, the capital city of Hunan, as this photo slide show in Xinhua shows.  The protesters placards say " Resist Christmas. Chinese people shouldn't celebrate foreign festivals," and "Don't be bought by an Apple."
In one widely-circulated photo, men dressed as Santas, albeit in blue, squat on the ground, apparently defeated by the envoys of Chinese traditional culture.
Also on Christmas Eve, a university in Xi'an in northwestern China, banned students from celebrating the holiday, and organized a mandatory three-hour screening of propaganda films on Chinese traditional culture. Students told state-run Beijing News that teachers guarded the doors to punish those who intended to escape.
The official Weibo account of the school's Communist Youth League the school tried to explain officials actions in a post (link in Chinese):
In recent years, more and more Chinese have started to attach importance to Western festivals. In their eyes, the West is more developed than China, and they think that their holidays are more elegant than ours, even that Western festivals are very fashionable and China's traditional festivals are old fashioned.
Banners strung up on campus read "Strive to be outstanding sons and daughters of China, oppose kitsch Western holidays." Many Sina Weibo users reacted with outrage, calling the school's operation "barbaric" and "shameless." "The children of the high-rank officials are celebrating the true foreign festivals abroad, while the civilian's children can't experience something exotic at home," one blogger commented.
Xi with Santa was an online hit
Whether the Communist Party is for or against Christmas, president Xi Jinping appears to endorse Santa Claus, as this widely-circulated photo from the "Learn From Xi" fan group shows. (It's from a trip Xi took to Finland in 2010, when he stopped by the "official home" of Santa Claus.)