Most people are accustomed to the image of a heroic Bruce Willis in the five Die Hard movies rescuing whatever needs rescuing: his wife, an airport, New York City, or the planet. But Russians associate the American actor's steely stare with something else too: Since 2010, he has fronted ads for Trust Bank, a mid-sized private lender.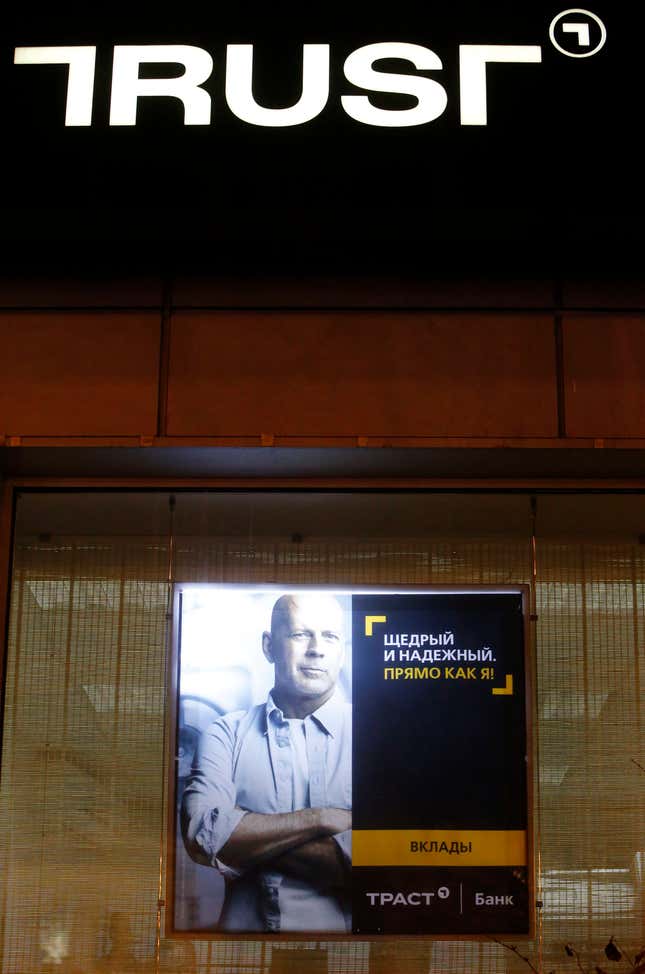 "Trust is like me, except it's a bank," reads the caption of one ad. "I'm a badass. Trust Bank is too!" says another. But not any more: Trust is getting a serious rescue.
Today the Russian central bank said it will loan Trust and another bank, Otkritie, which is overseeing its recovery, up to 127 billion rubles ($2.4 billion) in bailout money—a major increase over the 30 billion rubles announced for Trust just a few days ago. According to Reuters, this sum represents nearly 13% of the money that the Russian parliament approved last week in an emergency cash injection for the banking sector. It's also the second-biggest bank bailout in Russian history, though Trust is only the country's 32nd-largest lender.
Of course, this all comes on the back of Russia's catastrophic currency collapse. Russia's finance minister yesterday told parliament that the crisis was over and "the ruble is now strengthening," but it slid again today after a meager 4-day rally. President Vladimir Putin also took the step of cancelling the traditional 12-day-long Christmas and New Year break for government officials.