Italy has had a couple of tough years.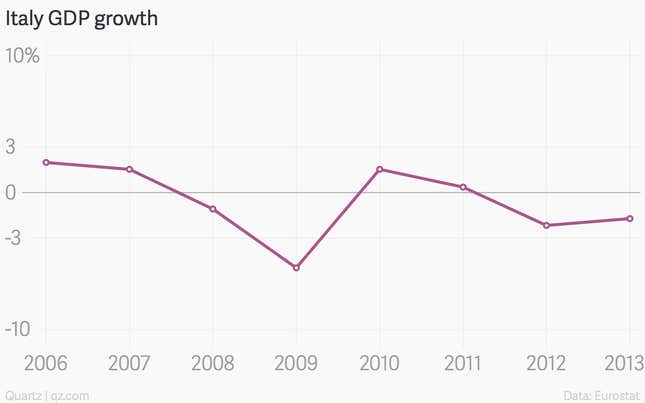 The country plunged into a deep recession in 2009 and has yet to recover. The EU estimated GDP growth for 2014 is -0.4%, and the forecasts of 0.6% growth for 2015 don't look particularly encouraging.
But not all is lost. According to a new study commissioned by UCIMU (link in Italian)—the association of Italian manufacturers of machine tool, robots, automation systems and ancillary products—"Italy is among the only five countries in the world to have a manufacturing surplus of over $100 billion."
Between 2008 and 2013, notes the study, Italy's exports grew by 16.5%—better than Germany (+11,6%) and France (5.9%), thanks particularly to one industry that is going strong. It's not food, or fashion—which has been feeling the consequences of the recession (pdf, p.7; Italian)—but non-electronic machinery: with a surplus of $53 billion, it accounts for nearly half of Italian exports ($113 billion).
Whether it's packing or wrapping machinery ($2.5 billion in net exports), motorboats ($1.6 billion), or taps, valves and similar appliances ($4.5 billion), Italy's machinery exports are significant (pdf, 22, in Italian). Indeed, it's surpassed only by Germany and Japan: