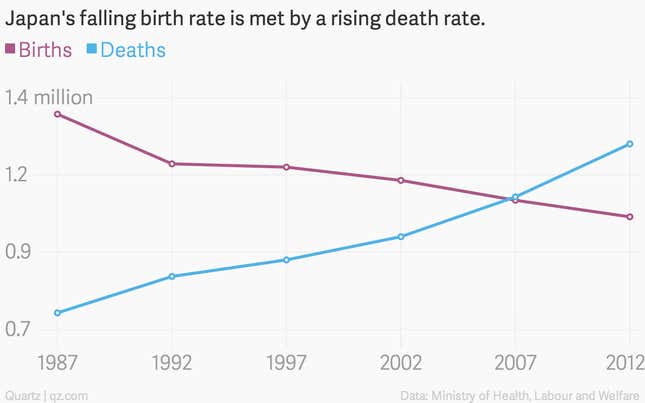 The numbers: The number of births in Japan is estimated to be just 1.001 million in 2014, the lowest on record for the fourth consecutive year. The number of deaths in the same period is thought to be 1.269 million, for a net population loss of 268,000.
The takeaway: That makes 2014 the third year running that Japan has suffered a net loss in its population, as the country's demographics tilt further toward old age. Earlier last year the government said that 15% of its population was elderly, and 40% of Japanese are projected to be over 65 by the year 2060.
What's interesting: Prime minister Shinzo Abe has made fixing Japan's declining birth rate a primary objective, but he faces several tough obstacles. Encouraging more women to have children involves creating a work culture that supports mothers in work, and Japan's corporate culture favors men and emphasizes working long hours (paywall).
And despite Abe's attempts to encourage women to "have it all"—meaning a career and a kid, or maybe two—his own party hasn't gotten the message. Abe's own finance minister recently told audiences on the campaign trail that Japan's demographic problem was caused by people "not having children," a comment widely considered to be a criticism of women, rather than the culture that makes it difficult for them to juggle work and family.