There's good news for those who resolved to travel more in 2015. Overall, ticket prices will be cheaper globally, thanks to lower fuel prices, and a forecast economic pickup in some regions that could help drive flyer demand and airline capacity. That's according to a data-heavy report (pdf) by online travel agency Expedia and the Airlines Reporting Corporation predicting air travel trends for 2015. Despite many industry reports indicating that prices will remain flat or even slightly increase in the new year, Expedia's experts believe that many popular routes will be more affordable in 2015. Here's a look at some of them.
In the US, most air ticket prices are expected to drop slightly. That's thanks to strong GDP growth forecast for 2015, paired with decreasing unemployment and overall seat capacity forecast to increase by 5% (it's in the double digits for destinations in the Caribbean and Mexico.)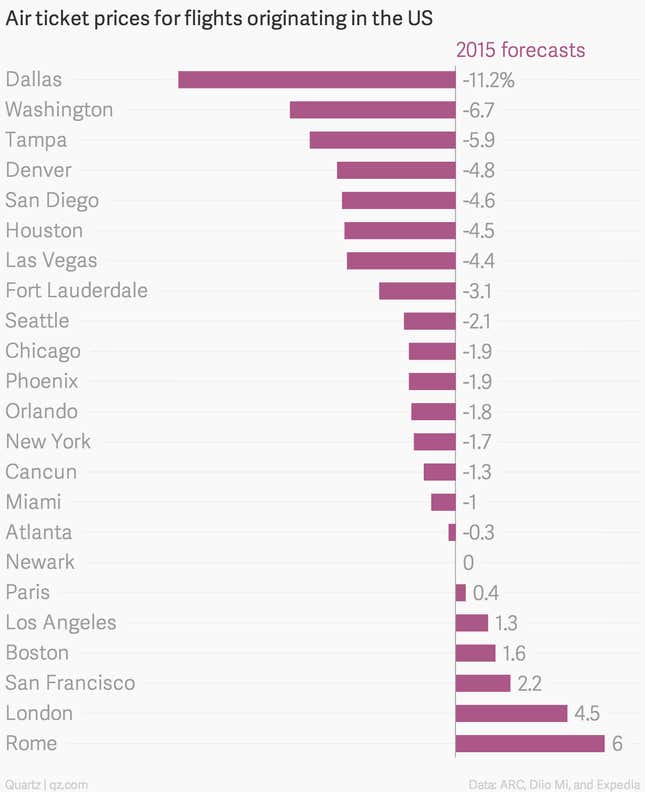 While international airfares look like they're going to get pricier, fares from within the US to destinations including Dallas, Washington, DC, and Tampa are likely to see a significant drop. That's not to say that pesky airline tack-on fees won't keep climbing.
In Europe, the trend is the same among its top destinations, with local routes seeing fare drops and trans-Atlantic ones going up.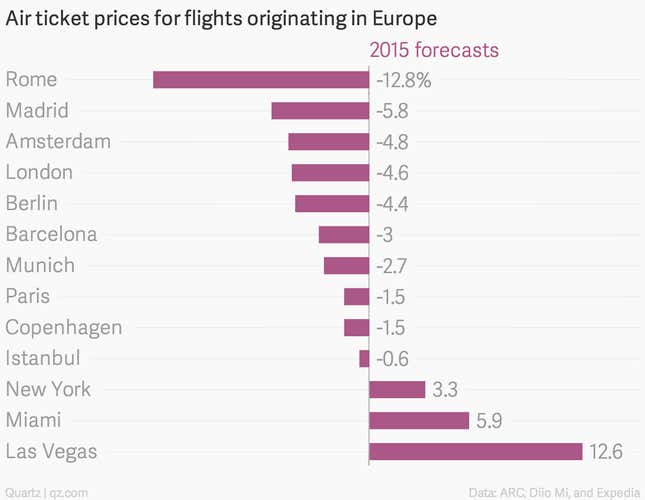 You should take the European airfare forecasts with a grain of salt. While capacity is expected to grow by at least 6% in 2015, the region's overall economy remains in question, showing signs of a possible "triple dip" recession, in addition to the unresolved political and civil unrest in Russia and Ukraine, all of which could affect demand.
Unlike the US and EU, Asia-Pacific regions are expected to experience flat ticket prices or slight increases to top destinations in 2015 because of slowing demand linked to factors including Japan's recession and China's slowing growth.