China's Xiaomi sold over 60 million smartphones in 2014, continuing the fast growth that has made it the most-watched upstart gadget maker. Its 2014 shipments were more than triple (paywall) the number the privately held company sold the year before.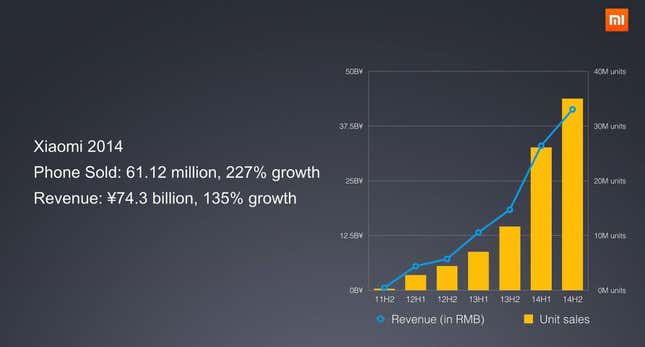 Xiaomi CEO Lei Jun posted the sales figures on his Weibo account from one of his company's phones, saying Xiaomi posted 74.3 billion yuan ($11.97 billion) in pre-tax revenue in 2014.
Xiaomi's Redmi phone and phablet range, which run a version of Google's Android software, have proven popular—TechCrunch said that they accounted for a third of the company's sales at one point. Xiaomi also just announced the Redmi 2, a modest update of the Redmi 1S. The Redmi 2 is priced at just 699 yuan ($112) and is available first in China.
To keep up its fast growth, Xiaomi needs to keep producing attractive, relatively high-powered phones for developing countries. The company has previously said it wants to sell over 100 million smartphones this year. Research group IDC has noted that nearly half of the smartphones shipped in India in 2013 cost under $120, and that the "race to the bottom" in the low-cost smartphone market will be driven by demand in African, Middle Eastern, and Latin American markets. Despite having to suspend sales over a patent dispute with Ericsson, Xiaomi sold over one million phones in its first five months in India.
Xiaomi plans to announce a new flagship phone later this month, which may help the company sow its seeds even further afield. ("Xiaomi" is the Chinese word for millet—the cheap, fast-growing cereal that's found almost exclusively in Asia and Africa.)
Lei previously has said that Xiaomi is planning to enter new markets this year, including Brazil, Turkey, Mexico, Thailand, and Russia, and some people believe Xiaomi has the potential become China's "first global consumer brand." It's unlikely the devices will be sold in the US or European markets soon, given the growth plan the company has laid out.
Lei has been called the Steve Jobs of China, and designs of some Xiaomi devices so closely mirror Apple products that Apple design chief Jony Ive blasted the company, saying "I think it's theft, and it's lazy."