The 2015 Consumer Electronics Show kicks off tomorrow in Las Vegas, but if early indications are anything to go by, this year's gadget fest is going to have everything you could possibly need to take the greatest selfies ever.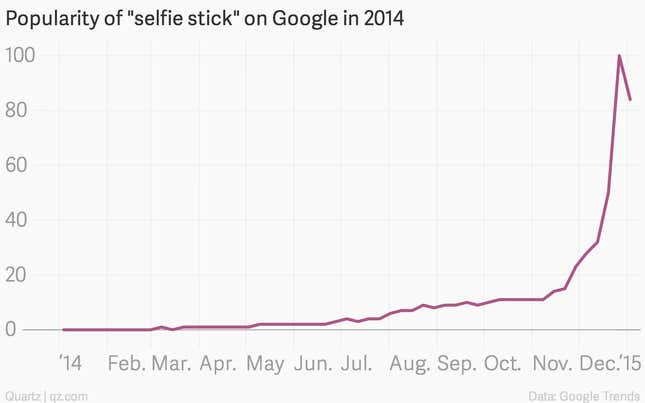 The selfie stick had a banner year in 2014, but here's the bleeding edge selfie tech that's been shown off at CES so far.
Selfie flash addition
If your selfies are coming out too dark—most likely because the front-facing smartphone cameras aren't usually the best quality—Lenovo has the solution for you. The laptop manufacturer announced the Vibe Xtension Selfie Flash today, a small flash accessory that plugs into the headphone jack of any smartphone. According to early reports, it doesn't play well with every phone and doesn't actually flash—it produces light until you take the photo, meaning it also doubles as a very inefficient flashlight.
Surround selfies
The traditional straight-ahead selfies taken on your phone may soon be a thing of the past, if IC Real Tech's Allie has anything to say about it. The Allie has two 360-degree cameras, allowing users to capture stills and videos of themselves, and everything around them. Expect these to be the next thing that blocks your view at concerts.
Wide-angle selfies
ASUS announced the Zenfone 2 today, which boasts a front-facing camera with an 85-degree field of view, meaning Ellen won't need to enlist Bradley Cooper's services to get everyone into a selfie at this year's Oscars.
Curved-screen selfies
LG also announced a new smartphone today, the curved G Flex2, which includes "Gesture Shot," which LG says makes it easy to "capture the perfect selfie with a simple hand gesture recognizable from up to 1.5 meters away."
High-definition selfies
It hasn't been officially announced yet, but HTC is expected to announce a new version of its Desire phone during CES. The Desire A52 is reported to have a 13-megapixel front-facing camera—10 times higher resolution than the iPhone 6 has—which will make for some truly stunning selfies.
Selfie drones
While these haven't been shown off yet, the Kickstarter-funded Zano is set to debut at CES. Zano is a tiny, automated drone that can follow its owner around taking selfies. As Zano is so small and battery-powered, it can be taken just about anywhere you'd be wanting to selfie.

These lot might find the Zano useful.
Selfies are quickly becoming one of the defining stories of CES 2015: